Environmental Impact during the Pandemic: Earthwise
Meet Earthwise, a student-run environmental club founded by North Hollywood High School juniors Khushi Jain and Alexandra Wyckoff. This collective is helping our planet and spreading environmental awareness to as many people as possible. 
Alexandra found her passion for environmental science through her passion for politics. Seemingly unrelated topics, the former wove its way into the latter through momentous protests and movements. Its rise in media attention caught her eye and made her want to tackle the issue of environmental science because "it really does affect every person" and she was interested in seeing its connections with multiple issues such as race and economy. 
For Khushi, the experience was a bit different. As a child, she understood the importance of conservation and yelled at her parents when the lights weren't turned off. Quite the contrast to Alexandra, Khushi was always opposed to being involved in politics and never saw environmental science as part of this field. However, during her high school years, she came to see that the two subjects were inextricably connected and saw the bigger picture of taking group action. Because Alexandra and Khushi both realized their love for environmental science, they decided to team up and create Earthwise as a means of sharing their passion and developing it alongside others. 
Before the pandemic, the club informed members of various volunteer opportunities and they worked with various organizations such as TreePeople and Heal the Bay. One specific volunteer activity involved removing the invasive species Black Mustard from the Sepulveda Basin. At school, there was more of a focus on holding discussions and talking about current issues.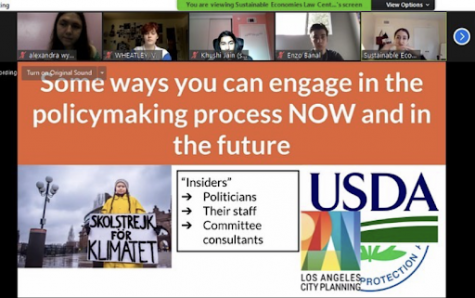 With the onset of the pandemic, many forms of environmental activism ceased and physical interaction was limited. Initially, the club "just paused" because of the general uncertainty associated with all aspects of school. But this year, the club has rebounded by holding weekly meetings on specific topics such as habitat destruction. Meetings include club presentations, action-oriented discussions, and related games such as Kahoot. The goals during these meetings and in general are to "spread awareness and educate the people on what the issue really is and then focus on action items." Because most group activities have been canceled, the club has been transitioning into finding more individual pursuits. Alexandra mentioned that "with Heal the Bay, they had an event where you can independently in your neighborhood or beach or river, pick up trash and record how much you're doing." 
A strategy that Alexandra mentions to achieve their goals and increase group membership is being pushy: "You have to reach out to people, constantly remind people that you exist. While it may be your focus, it's not everyone's focus." Another strategy is talking to the administration and reaching out to teachers about promoting short messages in Zoom classrooms. Kushi emphasizes that their goal is not to make club meetings like another class but to have engaging and fun activities so that people hear about the club and join. The group also caters to a wide range of audiences, providing various opportunities such as contacting representatives and going outside. Regarding social media platforms, the club has mainly used Instagram for a school-based community. Recently, the group decided to expand with TikTok because as Alexandra says, "its algorithms are super geared to reach out to anybody."  This platform not only serves as a way for members to post educational videos but also as a way to promote meetings and updates.
One major event that they held was a workshop that brought activists from around the world to talk about critical issues. Khushi and Alexandra originally formulated this idea in July and through their efforts, they received a total of 12 speakers. When they originally made a Google Doc, they first wrote out a list of issues to cover such as climate justice and then researched related organizations and businesses and activists. Here, Khushi mentioned that organizations such as Heal the Bay and LA Forward were very helpful in providing speakers. Interestingly, she also pointed out that many of these organizations have designated faculty who interact with the youth. 
At first, it was discouraging for them to see a lack of response but local organizations really helped them out. Organizing the event was a lot of trial and error but because the workshop ended up being successful, it spread the message that anyone can host such a workshop if they are passionate about something that is not receiving enough attention. In response to a question about the online challenges associated with an event, Alexandra stated that "The nice thing about hosting a workshop is that it's so much easier in the sense that you don't have to worry about the event being inaccessible." They also did not have to worry about a lack of internet because most of their reach was LAUSD students who had computers. A public setting would actually limit the audience because most high school students are unable to drive and obtaining speakers would be more difficult because of compensation and distance issues. Because of the virtual nature of the workshop, they were able to obtain speakers from Arizona, New Jersey, New York,… 
During breaks, they kept the event alive by playing music and allowing people to stay during breaks to talk with others. Alexandra added that "it was not only good to see the social interaction but it also felt hopeful." Many news topics can often be disheartening and disappointing but the youth involvement showed them that meaningful outcomes could be achieved through group participation. If they had a future workshop, Khushi would want to bring any youth activist who has helped make a difference locally while Alexandra would really want to bring Congress representative Alexandria Cortez because of her vocal support for the Green New Deal.  
Prior to the pandemic, Alexandra says that she has seen a lot more people becoming active due to factors such as the presidential election and people sharing their concerns on social media. Khushi says that the pandemic served as a wake-up call because people realized that clear skies without pollution were possible in polluted cities. She also stresses that once the pandemic is over, people can not return to their previous ways of living because they are not sustainable.
Going forward, both Khushi and Alexandra believe that we need to tackle all environmental issues because of their interconnectedness. It is difficult to pinpoint one particular issue to address because problems with one issue lead to problems with another. Instead, "a new normal is what we need." 
Leave a Comment