A North Hollywood Campus Transformation
An update on the school's construction.
Larger classrooms, modernized buildings, and other features. This renovation will change the school for the better and promote a new image.
A promising future lies ahead for North Hollywood High School. The project is now expected to cost approximately three hundred million dollars, which would make it the largest modernization project in LAUSD.  
In this immense project, there have been multiple levels of the district involved along with architects, designers, asset management, construction workers, and contractors.
From the school, assistant principal Xavier Chavez serves as the administrator, and others such as Principal Rosales and teachers are also serving roles. As an administrator, Chavez takes weekly walks with the contractors and construction people and hosts Zoom meetings in order to make sure all interests are met.  
Because of the careful planning that has gone into this project, many potential controversies and arguments have been avoided.
Class disruptions were avoided by having construction on the other side of most classrooms. Concerns over animals have also been addressed by keeping them away from construction.
Although trees were cut down, the net amount of trees is expected to increase from 220 to 300 by the end. An arborist inspected every tree and analyzed which trees would be better to chop down. Chavez adds that because other schools in the area such as Grant have undergone construction before North Hollywood's, many other issues have been bypassed. 
Since the beginning of construction, softball fields and classrooms have been leveled to create room for the new Kennedy building. The music room and locker rooms have also been removed.
Because these rooms are necessary, temporary versions have been installed in the baseball field.
As Chavez puts it, "…they shifted what was on the Colfax side of campus to where the baseball field is now in preparation for the new building on the softball field."
Additionally, because the music room is no longer accessible because it is a site of construction, workers have added pathways and fences to get on the football field. People used to walk through the road running next to the band room to get onto the field.
Because this pathway has now been lost, a fire lane has been added starting from room 175 out to the football field. The emergency bin on the football field has also been moved to the blacktop north of the west gym.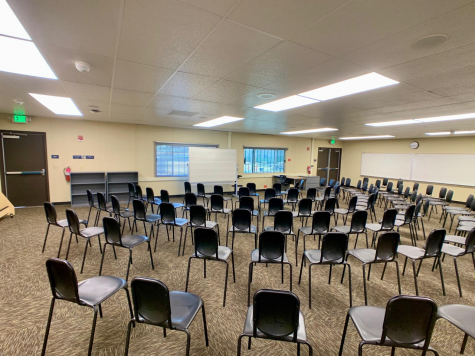 In order to complete this project, various phases need to be finished.
Phase Zero involved the already mentioned demo and prep-work. Phase 1 is the new Kennedy and gym, Phase 2 is retrofitting the old Kennedy and Frasier buildings, Phase 3 would build a new auditorium, and Phase 4 would demo all of the Randolph area and turn it into a sports complex including a softball field, baseball field, and gym. 
Chavez summarizes that "the west side of campus would be athletics and the east side on the corner of Colfax would have the new classrooms and the auditorium."
He also mentions that the number of phases is not exact: "It is three phases but will probably feel like four because we will have a building until they build a new one."
Each phase will take time to complete. Chavez estimates that the new Kennedy and gym will be finished in two years. It will also take about two years to make adjustments to Kennedy and Frasier. And another year for the auditorium and fields. Chavez says that "an optimistic estimate would be five years without any issues." 
In terms of potential, Chavez believes that the most exciting addition is the Kennedy building, which will bring about 50 classrooms, a new science lab, and robotics rooms: "It has a great design, with a mixed balcony outdoor look to it."
Sports fans can look forward to a state-of-the-art gym with two stories, new locker rooms, and multiple practice courts. The overall layout is very beautiful and will feature a landscape perspective. 
Unsurprisingly, the pandemic has altered many aspects of the construction plans, including the time component.
The slowdown has been due to agencies not operating in their normal fashion.
Chavez also mentions a benefit that because there are no students on campus, "the crew has been able to bring in safety equipment faster." 
Overall, he believes that the project has been advancing slightly faster because it has been easier to deal with regularities.
For example, there was a pipe in the agricultural area that would have led to a shutdown but because of no students, this problem was fixed easily. 
For additional information, Chavez recommends the CBI and video on the NHHS page.
There are also social media accounts such as Instagram tracking visual progress.
He emphasizes that this project is very transparent and open to questions. And he also states that although students may be able to see the construction at school, they may not see the result: "In order for something to be done well, it takes some time."
Even so, this progress is an exciting journey for everyone. 
Leave a Comment