Picture Day Abruptly Canceled
Another Disappointing COVID-19 Setback
North Hollywood High School had initially planned a school ID picture day for the week of December 14th in what would've been a major step towards a return to campus. 
But, like many other events in 2020, it was later canceled due to COVID-19 safety concerns.
NHHS announced this following a stay-at-home order issued by the State of California through an Emergency Alert stating that "COVID-19 is spreading rapidly." 
Initially, the school had restrictions in place to maintain social distancing and other COVID-19 safety protocols to "ensure the safety of the students and faculty" according to ASB Vice President Hermione Zarazua.
The school planned to separate students by grade and last name to prevent any overcrowding of people. Zarazua confirmed that students would be "in a car throughout the process," though there was an option for students without access to a vehicle. 
Students had to follow a pathway going through the Magnolia Blvd. gate and stopping at the West Gym where they would get out to take their pictures, Zarazua explained. 
Masks were to be required at all times except when the photo was taken and Zarazua explained that "students and faculty will be wearing masks and stay socially distanced whether they are in a car or not."
Despite all these safety measures, the event was still canceled. According to Zarazua, the ASB President Jasmine Orellana and Assistant Principal Mr. Chavez confirmed the cancellation on Monday.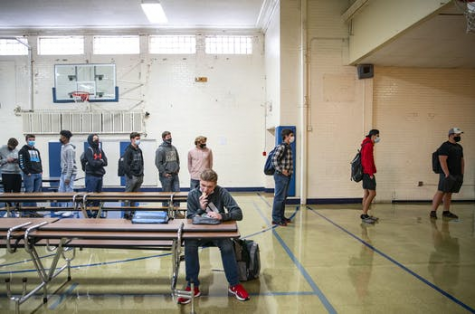 This is bad news for those who were hoping to make a return to campus early in the second semester. With no real progress being made towards adjusting schools to COVID-19 restrictions as well as rising infection rates across the entire state, a return to in-person school anytime soon seems unlikely. 
Still, LAUSD released a form allowing families to choose between online or hybrid learning when students can make a physical return to campus. 
North Hollywood also offered a "care package" with many items including a North Hollywood High School mask. This led many to believe that picture day was a test-run for a larger return to campus.
Zarazua explained that the event isn't necessarily a test run due to it only including a small portion of the school. She mentioned that "the factors included in this event aren't enough to make it a test run."
It seems students will have to wait a while to make a return to in-person school. Until then, students are urged to focus on mental health during these uncertain times and safely prepare for the upcoming finals.
Leave a Comment