Questionable Calls
LAUSD's Testing Program Faces Concerns as Cases Are on the Rise
LOS ANGELES, CA– In mid-October, the Los Angeles Unified School District launched a new program that would allow staff and students to get COVID-19 testing for free at various campuses. 
The program intended to get a consensus on the health of staff and students before the district could segue into hybrid learning. Additionally, the program provided a way for student-athletes to return to in-person team activities and potential practices ahead of the second semester. However, with cases on the rise and loopholes found in the program, the plan has become murky as of late.
The process of testing doesn't appear to be the problem, in fact, the process of testing has been a success for most LAUSD students. "It was a smooth process", commented football team captain Israel Gonzalez, "I had an appointment and it was very quick. The whole thing took about 5 minutes. And the best thing about it was that it was not painful or uncomfortable at all." 
Students get tested in a gymnasium and usually get their results within one to two days. In that sense, the program is encouraging as it gets quick results and the process is done safely. However, for student-athletes, who were required to get tested by their coaches, there remains a big loophole in the program that could throw off the entire plan.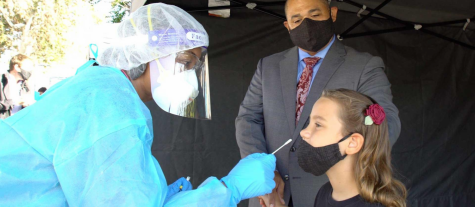 Due to the HIPAA (Health Insurance Portability and Accountability Act), coaches and school administrators are legally not allowed to ask for testing results from the athletes. For a student-athlete to attend a team activity, they just need proof that they have had a testing appointment set up. They don't need to be tested at that moment, they just need proof that they will take a test. Many LAUSD coaches have expressed concern over this loophole, as it does not provide clarity if all the athletes are negative.
An anonymous athletic director highlighted the hypocrisy with LAUSD's rules regarding the privacy of a student's health. "We can see their physical, but not the test results?" The loophole in the program could legally allow a student, who is unknowingly contracting COVID, engage in a team activity simply because they showed proof that they have a scheduled appointment. 
Fortunately North Hollywood has not come across this loophole as no teams have engaged in in-person activities since before the pandemic began. And with the current trend in cases, even with the testing program, it doesn't look like teams will be gathering anytime soon.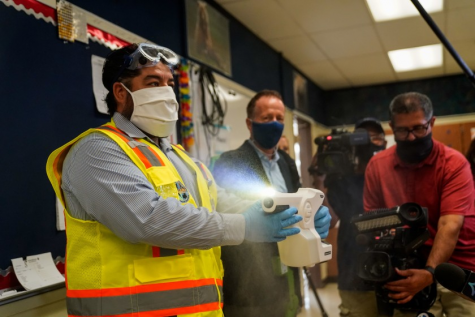 "At this point, with us going into a 2nd lockdown, I don't know if it's just a matter of testing [that will allow us to go back to playing]", said NHHS girls soccer member Francesca Cariga, "It's hard to consider [people] following socially distant measures… we need better measures." 
Testing has been a good first step, but concerns over the loopholes in the program and not enough extensive measures have caused the return of sports to look bleak at this time. The hope is that the new stay-at-home order will cause a decrease in cases that could potentially allow teams to reunite and initiate plans like how they did in September. LAUSD also has ambitions of expanding the program to required weekly-testing for the athletes if the season is underway.
However, that's just optimistic speculation right now. Unfortunately for these athletes, they will have to do the thing all athletes hate doing: wait.
Leave a Comment