Teachers express concern over returning to school in the COVID capital of the world
While COVID-19 rages on in Los Angeles, the conversation about teachers returning to school heats up.
After weeks of being a global leader in daily COVID-19 cases, numbers are showing a sharp decrease in the number of cases in Los Angeles over the past three weeks. However, this doesn't indicate that anything is over. Los Angeles County is one of only 11 counties averaging over 5000 cases per day, and three of the other counties are also in Southern California.
Though the extremely high number of cases coming from Los Angeles and surrounding areas are partially due to the large population of the area, there is still a major cause for concern because it is listed as having "extremely high risk" for COVID-19, according to a guide made by the New York Times and Johns Hopkins Bloomberg School of Public Health.
With the distribution of vaccinations speeding up, the conversation of returning to school campuses has become much more relevant, and with that, health and safety concerns arose. 
Teachers across the country expressed concern over the lack of safety measures being taken to protect them combined with the rushed effort to return to classrooms. Most recently, teachers in Cobb County Georgia protested in defense of their health. 
With the vaccination of students remaining unknown due to the age restrictions on vaccines and the priority of at-risk people, health care workers, and senior citizens, teachers are currently the biggest hurdle towards returning students and teachers to class safely.
Teacher unions and California legislators are struggling to find a compromise to safely reopen schools. Lawmakers, officials, and teachers are actively looking for a solution that will be best for the entire California public.
North Hollywood High School teachers, like most other California teachers, emphasized the importance of vaccinations in their eventual return to in-person schooling. English teacher Mrs. Halajian explained that "it is very important for students and teachers to return to school, as long as everyone is vaccinated."
Halajian pointed out the importance of in-person education and the many benefits it provides her and her students. "I get to see my students twice or sometimes three times a week; I miss seeing them five days a week and doing a variety of interactive group activities and helping them out individually," she explained. 
Halajian said she doesn't feel comfortable returning to school without both doses of the vaccination and she highlighted the fact that "there is so much we still don't know about the virus, which can strike anyone and can have long term effects."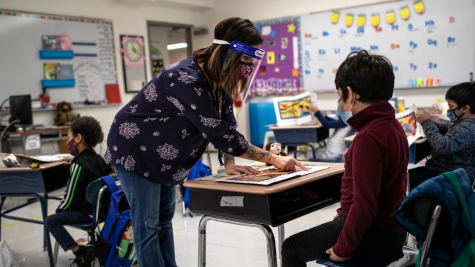 Another teacher, Mrs. Conde, expressed worry over the parents and guardians of North Hollywood students. Conde said that "vaccinations are needed for students and teachers. We wouldn't want a student to get their parents sick and put their health in jeopardy." 
Conde also cited a story about Atlanta teen Justin Hunter, who went back to school, and lost both his parents due to COVID-19. She said that she "would hate for that to happen to any of our students."
As for the future of LAUSD schools, NHHS teachers also weighed in. History teacher, Mr. Silveyra, said he believes "only elementary school students will return and as for high school students I think that the district might have small groups of special needs students."
Halajian also stated that while she isn't certain of the future she is "very hopeful that we will return to school next fall," but she cast doubt on the idea of a return earlier than that. 
With battles between unions and lawmakers, cases still at astronomically high numbers, and vaccinations still ongoing, there is no target date or predicted time of return for California in-person schooling.
Only time will tell when North Hollywood students can see each other again and how restricted their interactions will be. 
Leave a Comment