The Biden Administration's Issued Orders Thus Far
With the recent inauguration of Joe Biden, it is vital to acknowledge both his advances and pitfalls from his first days within office, indicative of if the "urgent" matters in which he preached are, in reality, to the administration, all that urgent.
Today, we lie in the wake of a new presidential era. And of course, especially in the midst of a pandemic, keeping up with the shifting political atmosphere is more than a hassle for the public majority; however, it is important to not only keep up with national events as they occur but to also see how present-day executive orders are relevant to us.
Biden has made numerous promises to Americans regarding issues that deal with socioeconomic class imbalances, educational & environmental concerns, and more. Whether or not he plans to fulfill these promises is yet to be seen, but here is a glimpse of what he has done so far:
Positives:
Jan. 25, 2021 – Signed an executive order banning discrimination against transgender military service members 

Rejoined World Health Organization (WHO)

Rescinded the Muslim bans

Jan. 26: Established an act preventing the Justice Department from renewing incarceration contracts with private prisons. Jan. 20

Enforced sex discrimination protections within the federal government

Jan. 28 Opened a tentative enrollment period allowing Americans who may be burdened financially sign up for health care benefits during the pandemic.

Jan. 20 Temporarily prohibited oil and gas activity in Arctic National Wildlife Refuge

Jan. 20: Rejoined the Paris Climate Agreement (whose main goal is to reduce global fossil fuel and carbon emissions).
Negatives: 
Directed airstrikes in Syria after one U.S. service member was wounded

Ordered certain energy and construction companies, such as TC energy, to cut thousands of jobs.

Obstructed future aid for healthcare centers unless said healthcare centers agree to charge low-income individuals for epi-pens and insulin shots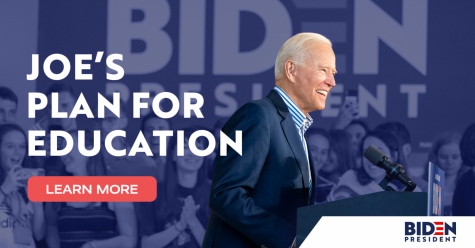 As for education, the Biden administration plans to carry out projects that will increase funding for both public primary/secondary schools and colleges, as well as address concerns dealing with the educational stigma around mental health.
 In short, Biden plans to double the number of psychologists/nurses in schools' mental health facilities, invest in schools to eliminate the advantage disparity between white to non-white and high-income to low-income districts and provide teachers with higher wages and more benefits.
In more recent news, American educator Miguel Cardona has also been appointed to replace the Trump administration's polarizing Secretary of Education, Betsy DeVos.
On March 3 of this year, Cardona & Jill Biden visited open public schools in Connecticut and Pennsylvania, with Cardona taking inspiration from the districts' multi-layered, regulated plan to further push, in his words, "the president's directive" of opening most K-8 schools before the end of April.
On the surface, Biden's push for equal education opportunities for all students as well as better quality of life insurance policies for school staff is promising. 
And though, through deeper observation, the budget to carry out these changes along with his planned "affordable for all" college would cost billions to trillions of dollars, people seem to be optimistic that he will be able to manage these pursuits. 
LAUSD school teacher Joe Kane is one of these people, stating, "Higher teacher wages and better mental/physical health centers are definitely necessary; public schools don't receive nearly as much care as they need. I have hope for the Biden administration's pledges, and I've also recently just taken my first vaccine shot, so that's one promise that Biden has already kept".
With the pace at which the administration has kicked off, the U.S. could soon potentially see significant positive changes in many areas of substance, notably those dealing with the climate crisis, healthcare, and education. 
However, though appealing, it is paramount for democrats to take full responsibility for the choices that Biden makes, good or bad, and to call for active change when needed—only then will our numerous problems meet some sort of amendment.
Leave a Comment