What is going on with AP exams?
At the start of the school year, many realized we would be online for an indefinite amount of time. 
This would mean that yearly exams such as the APs would be conducted virtually once again. Although many would have preferred doing these exams in person, they were confident in their abilities to take these tests online as they previously had the year before. 
However, this was before CollegeBoard decided to have the exams be the full-length tests they once were before the pandemic.
 This was a shocking surprise to many and mixed opinions surrounded the administration of these exams. 
Students along with teachers were not too content with CollegeBoard's decision. Many felt as though it was unfair to have students stress over an online exam during a deadly pandemic. 
There were various concerns raised, such as technical problems the exams may have. The 2020 online AP exams received a significant amount of backlash for system crashes. Many were unable to successfully submit their exams while others were completely unable to take them. 
Students questioned how they will be able to sustain a two-hour long exam without any disturbances
CollegeBoard assured students that will be able to fully resume their exam if any technical problems arise. This is a new feature in the digital testing app CollegeBoard has created for this year's exams. 
The app is to be downloaded on computers only that must fit certain requirements listed on the CollegeBoard website. The app became available on April 8th including its practice exams that students must complete in order to familiarize themselves with the online exam.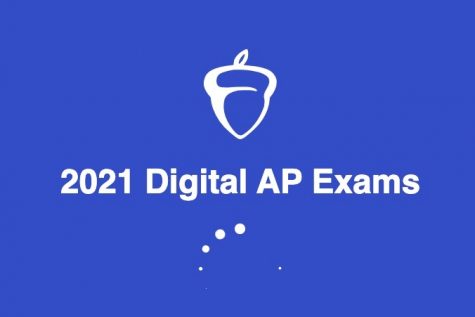 Many still were not content with the certain limitations placed on these tests. Such as not being able to go back to previous answers on the multiple-choice section due to security protocols, and having all exams start at the same time worldwide which many believed was unfair due to time zone differences. 
Students taking any AP World Language or AP Music Theory exam were also struck with an additional burden. CollegeBoard decided to administer these tests in person only.
 Students and teachers alike saw this as completely unfair as many are unable to take in-person exams due to health risks and other factors out of their control. 
"If for some reason we can't attend the exam for health reasons, or safety precautions, we have to wait a full year to be able to take the test," says Stephanie Lopez, a junior at North Hollywood High School.
 Many like Stephanie are annoyed with the unjust treatment CollegeBoard has created for these particular exams.
Others felt as though CollegeBoard wasn't transparent enough with updates on exams and were often left confused after reading the new information being released.
 "I don't like how CollegeBoard was always changing dates and key information as well as how they rushed us into downloading browsers and things like that" states Alyana Castor, another junior at North Hollywood High School. 
Many are grateful for the way their school has handled the entire situation. "Our school, thanks to Ms. Gonzalez, has carried AP exams amazingly with frequent contact and webinars," says Kayla Martinez from North Hollywood High School.
 "I also think our teachers did a good job at prepping us even though the curriculum is not the same," Alyana adds on 
However, these feelings are not transmitted across all LAUSD schools. Kately Fuentes, a junior at Grant High School states, "I think my school has handled the current AP exam situation poorly, they don't seem to have enough information to answer common questions asked by the students." 
The disproportionality surrounding these exams has affected students and teachers across the country. 
Everyone can agree that these test conditions are not ideal. However, many students continue to push through and work hard every day to be as successful as they can be on these exams.
Leave a Comment