How are Students Feeling about the UC and CSU Requirement for the Covid-19 Vaccine?
As vaccines began rolling out at a faster pace and have been reaching a wider spectrum of the population, many see this as a sign of hope.
Everyone, especially students, were looking for a solution that would lead us back to normality and the vaccines were just that. But although many wished we were back to our regular routines, not everyone agreed with the methods of achieving that. 
It was always made clear that these first rounds of vaccines would be optional though highly encouraged. No establishment up until this point had required people to receive the shot.
However, UCs and Cal State Universities in addition to other universities across the country, announced that they would begin requiring students to receive the vaccination in order to return to in-person classes this upcoming fall. 
"Together, the CSU and UC enroll and employ more than one million students and employees across 33 major university campuses, so this is the most comprehensive and consequential university plan for COVID-19 vaccines in the country," stated CSU Chancellor Joseph Castor. 
This came as a big shock to most as this would be the first time a significant institution like a university would be requiring this vaccine. These are two of the largest university  systems in the country, who accumulate hundreds of students every year as well as a large number of staff members.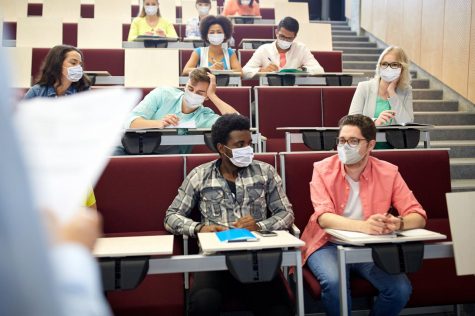 This requirement would impact many individuals and will change the ways in which universities handle students coming back onto campus. 
There were mixed emotions surrounding this news. Many saw it as something positive and as a stepping stone for the reincorporation of students on campuses. While others believed it was unjust for students to be forced into receiving the vaccine if they wanted to come back to in-person classes. 
Some argue that these vaccines aren't fully secure and do not have enough science-based research to back them up. Though others rebuttal and say that these vaccines are a preventive measure and that they will lead us back to a lifestyle before the pandemic. Speaking to a majority of students who are currently attending or will attend a university in the state of California seem to share the same viewpoint. 
"I believe that schools have the right to change their requirements as they see fit" expresses Tony Lopez, a Junior at California State University Northridge (CSUN).
When asked about those who may oppose the requirement at his school he responded, "There are very few conspiracy theorists/anti-vaxxers in a smart space like a university." 
Many like Tony are in limbo on whether or not they would like to immediately return to campus. "I feel slightly scared but I'm actually looking forward to it. If the covid cases are low enough and the precautions are taken such as covid testing and vaccines then I would be fine with going back," states Nicole Pineda, an incoming freshman at the University of California San Diego (UCSD). 
She adds that her school ensures to do weekly Covid testing for students who decide to return to campus this fall. Tony also states that his school plans to continue with the hybrid schedule into the fall as many universities have been offering it this year. 
Omar Flores, a graduating senior at CSUN shares his thoughts on the situation, "I don't think it should be mandatory but from my perspective, I'm glad that they are doing it so it can motivate more people to get it." He also adds that his peers feel the same way. 
Another graduating senior at CSUN offers a similar viewpoint, "I encountered many students who commute from different counties around Los Angeles, which having a vaccine requirement seems logical so that students don't cause a spread in campus and in their homes" states Daisy Ruiz. 
She expresses that there is a concern amongst students at Cal State Universities on whether the school will handle the return of students properly, "It makes me wonder how they will handle campus life, the library, cafeteria, gym, activities, and dorms", Daisy adds on. 
Jessica Cuevas who is an incoming freshman at UC Davis explains how Sacramento county and the university plan to handle the reinstatement of their students, "UC Davis expects to return to full in-person activities for the fall quarter". "They will make sure to continue monitoring local, regional conditions, and the public health guidance," Jessica adds on. 
She also comments on how some of her friends are feeling a sense of uncertainty when returning to school due to the housing situation and how that will work with the current Covid-19 situation. 
Nevertheless, many like Jessica are feeling comfortable with returning to classes this fall, "Davis is tight on their regulations. Staff members are frequently cleaning and masks are always needed. For this reason, I don't have much concern and feel comfortable returning to campus." 
Overall there are various emotions surrounding the requirement of this vaccine. People are curious to see how many students will begin returning to campus this upcoming school year.
Many see the possible outcome of this requirement as a sign of hope that we will soon live in a post-pandemic world. 
About the Writer
Cynthia Flores, Staff Writer
Cynthia Flores is in 11th grade and is a first-year staff writer. She is very involved with the school and her community. She loves to read and take pictures.