The Fruits of our Labors
Class of 2021 Gets the Chance to Celebrate Their Hard Work, and Here's How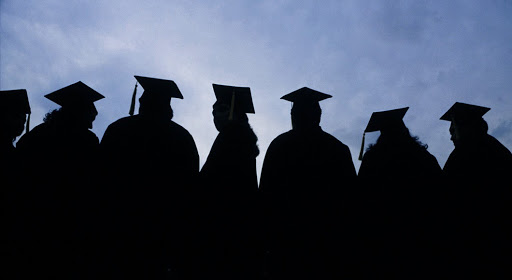 This school year has been a unique experience to say the least. It was virtually all online for most of it and students felt immense stress from various online courses, and for most seniors, this may have felt like a loss of their senior year.
However, seniors are beginning to see the light at the end of the tunnel now that an in-person graduation ceremony will be taking place.
This graduation will be at 6 PM on Friday, June 11th, but like other activities this year, there are modifications that make this graduation different  from all previous ones.
Every graduate who chooses to participate in the graduation ceremony will require a negative COVID-19 test, and afterwards, they will receive a daily pass, much like the ones used to enter campus for hybrid school and sports practice. 
The COVID-19 test must be completed within two weeks of the ceremony, so any negative COVID-test submitted on or after Friday, May 28th is valid.
North Hollywood High School will be offering on-site COVID tests for all seniors to take, and students have designated dates that they may go and will be listed below.
Thursday June 3rd

Last Name A-E: 8:30am-12:00pm

Last Name F-I: 1:00pm-4:30pm

Monday June 7th

Last Name J-M: 8:00am-11:00am

Last Name N-R: 12:00pm-3:30pm

Tuesday June 8th

Last Name-R-U: 8:00am-11:00am

Last Name-V-Z: 12:00pm-3:30pm

Wednesday, June 9th (Makeup Day)

 Last Name-A-L: 8:00am-11:00am

 Last Name-M-Z: 12:00pm-3:30pm
 The administration advises students to take their test at North Hollywood High as the results will go directly to the system and no extra work will be required, but students are welcome to go to a non-LAUSD related testing site so long as they do so ahead of time.
In addition to that, our graduates won't be lonely on their special day as students will be allowed to invite two guests to sit in the audience.
The two attendees are not going to be required to receive a negative COVID test, but will be asked screening questions upon entering and will have a temperature done on them.
The attendees will be asked to sit in the marked spots in the audience in order to guarantee that social distancing regulations are met.
Students will also be required to register their guests' names ahead of time to a Google Forms which has already been uploaded to Schoology.
There will be three entrances, all of which will open at 5 PM so it is advised that everyone gets there as early as possible.
The graduates will remain in the quad upon entering through the Magnolia Gate until the ceremony begins, and 
The diplomas, like always, will be distributed the following week and not at the ceremony.
For anyone else who would like to view this graduation and support our graduating Huskies, North Hollywood HS will be professionally live streaming the graduation on the North Hollywood High School YouTube channel so people can watch from home.
The ceremony will be recorded by Fifth Sun Studios and will include external lighting and multiple cameras will be recording in order to offer the best viewing experience.
Some may ask "Hey, so what about students that don't feel safe taking part in this in-person graduation, or simply do not want to do it?"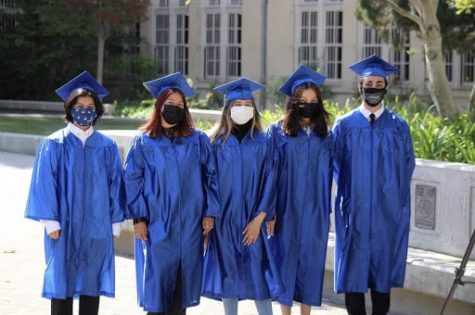 There will be a virtual graduation ceremony taking place as well on Friday, June 11th as well at 8 PM, which will be a roll call with all the students and their pictures.
Much like class of 2020's virtual graduation, the speeches for graduation will be pre-recorded for the virtual graduation, but will be spoken live as well.
According to one of our Assistant Principals, Mr. Chavez, both ceremonies "will be posted in high quality on YouTube."
Caps and gowns will be available on June 7th and 8th and will be distributed at various times depending on the smaller learning community, or SLC, that the student is in.
Students will also be returning textbooks, chromebooks, hotspots, and athletic uniforms at the same time, and the schedule for Senior Distributions is as follows.
June 7th

HGM- 8AM

Zoo- 9 AM

SAS- 10 AM
June 8th
HEA- 8 AM

Resident A-L- 9AM

Resident M-Z 10 AM
There will be caps and gowns for everyone and the school will assist in ensuring that all students receive ones that fit well.
In addition to that, the stoles for those in SLCs, cords honoring academic achievements, and complimentary yard signs will be given with the caps and gowns on pick-up day.
Many people asked the prices of the cap and gowns, and it is with great joy that North Hollywood notifies students that all of these items are free of charge as the school and district are ecstatic about the ceremony and want to do what they can for students.
There are no strict dress codes aside from the regular graduation attire, according to our administration.
Principal Rosales advises against high heels, though, as they may sink into the dirt and there's a higher chance of falling, and Ms. Aragon assures the graduates that shoes with wedges are okay.
Aragon emphasizes that no matter the type of shoe, comfortable shoes to walk in is what matters when going up steps and walking across the stage.
The rehearsal for the in-person graduation will take place the morning of June 11th, and though it is not 100% mandatory, it is highly recommended that everyone attends the rehearsal so that the real ceremony will run smoothly.
The tickets for graduation will be distributed at the rehearsal as well so it is imperative that students go for their guests to be able to attend.
Plus, it will be the final time graduates will be able to see their peers and laugh with one  another as everyone embarks on our separate journeys in this new chapter of life, and will be well worth the drive to school. 
Our assistant principal, Mr. Chavez, put it like this: "Don't think of it as a drive, think of it as a journey."
It is advised that students continue to check Schoology for updates from our assistant principals to make sure they are never out of the loop, and to finish off high school strong.
Leave a Comment