Helping Communities and Making Friendships
How such a popular club brings people together
In order for seniors to graduate, there is a certain number of volunteer hours they must have. Although it is a very crucial part of students' future, many dread the feeling of wasting their time and looking for animal shelters as well as other places that are in need of volunteers. Many students prefer to work alongside friends or people they are familiar with. 
Luckily, our school provides an organization called Key Club. Key Club is offered here at North Hollywood High and other high schools across the San Fernando Valley. It is the largest high school service leadership organization in the world. 
North Hollywood´s Key Club is a part of Region 7, Division 16 South White Tigers. This division is somewhat new, being created in 2015 when the original division grew extremely large. Our division consists of several schools including CHAMPS and Burbank High School. 
Instead of focusing on a singular way of volunteering, Key Club allows students to participate in a variety of volunteer opportunities. Each month, the club participates in one or more volunteer opportunities, usually taking place during the weekend. Key Club always finds a way to give back to our community with events ranging from making dog toys in the park to making sandwiches for the homeless.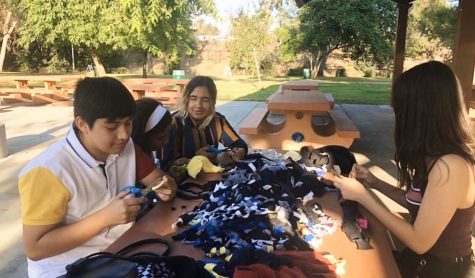 The best part is that Key Club is open to all grade levels! It gives all students the opportunity to make a difference in our community, along with making new friendships along the way. Daniel Mata, an 11th grader who is currently a member of Key Club discusses his inspirations from the club, explaining, "It has opened my eyes about how we as a generation need to all contribute to making the world a better, safer, cleaner place because quite frankly it's not about the community service hours anymore. It's about trying to live on this planet for as long as possible and it shouldn't just be volunteers." Daniel has been a member since his freshman year and he has grown friendships with many members of the club since then. The friendships he has built along the way allow him to enjoy the experience much more, as well as create long lasting memories.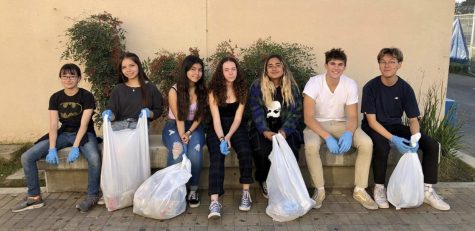 Our current Key Club President, David Garcia III, who is a 12th grader,  has also touched on this topic and his experiences with the club. David has grown from a member of the club to Club President and Inter-club Coordinator of 10 schools in our division.
Several students are interested in joining this club everyday, but they have certain things that hold them back. Whether it be the fear of not fitting in or being left out, that's not the case at all. David adds, "Don't be afraid of new opportunities placed in front of you. I started the second semester of freshman year because I was scared and it took a friend to motivate me to actually go. It may start off as something small like taking pictures and it will turn you into a spirited outgoing leader in charge of multiple schools events, which is where I am now. Don't let anyone tell you that you can't be a leader because you're younger. We all have to start somewhere and it helps establish your presence early". 
With being a part of such an amazing club for almost 4 years, it has changed him tremendously since the beginning in an extraordinary way. He confesses, "This club has made me into a fearless opportunistic leader that is always finding ways to help benefit others as well as offer ways to help others become leaders. I eventually started off with a small position and worked my way up to being the president of the best Club North Hollywood has had in years. I don't think I'd be the person I am today without Key Club."
All students start somewhere, sometimes needing a little push. Both of these outstanding students and many more have gotten the opportunity to be a part of such a memorable club. It has opened the eyes of many students about helping others. Although it is seen by many as a club to earn volunteer hours, it is unnoticed how many amazing friendships and memories got can gain throughout the experience of helping our community. 
"
I don't think I'd be the person I am today without Key Club.
— David Garcia
Leave a Comment
Your donation will support the student journalists of North Hollywood High School. Your contribution will allow us to purchase equipment and cover our annual website hosting costs.