The Bake Is on!
"Delicious Potluck Today!"
Bake What Your Heart Desires…
The NOHO Bakeology Club will be holding a potluck in honor of its last meeting of the semester! One December 12, the Bakeology Club president Lila Duarte and Vice President Cianna Marin plan on organizing the ultimate bake day to go out with a bang to culminate the end of the first semester.
In this meeting, everyone is welcome to participate by bringing a baked good of their choice. The potluck will be held in room 176 (Ms. Bunis's classroom).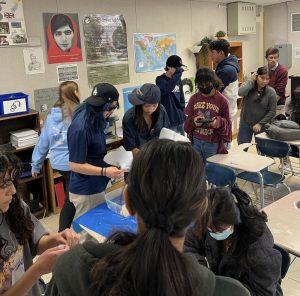 "Even though we're not going to have our president [Lila Duarte], we're still going to have our last meeting and we're gonna keep going strong…".
Vice President Cianna Marin makes clear affirmations that she intends on going out with a bang. She states that originally she didn't expect the club to be so successful but before she knew it, the whole room was filled to the point where they had to limit the amount of people allowed. 
"There won't be a specific theme, just bring whatever you want. You could even bring savory goods if you want. The more the merrier!". Cianna Marin wants to let all the students know that there won't be a specific theme and that she just wants everyone to bring their own share of food.
"Honestly all that really matters in this club is whether or not you had fun in the process…" she states. Above all, Marin believes that even if the product didn't come out the way you wanted it to, it's the thought that counts.
"To me this club represents a common community. I feel that we all contribute back to NOHO and I feel like we've established a consistent amount of people so we've kinda built this family."
President Lila Duarte encourages those who aren't already in this club to join and become a part of the community and build relationships with the other members. "There's so much more to this club than just cupcakes and cookies, I mean I've been able to create a lot of funny memories with my friends" Duarte states.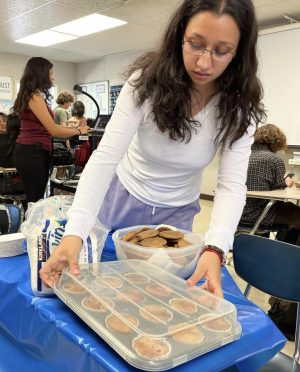 "Personally, I really enjoyed making my blueberry muffins, it's a recipe I've been progressing over the years and I feel that I've almost perfected it. And I'm super glad to have been able to bring them to this club" states Daphne Marin, the historian of the club.
Daphne Marin is one of the many joyful members of the club and always collaborates with her sister, Cianna Marin, to concoct these scrumptious desserts. Some include muffins, cupcakes, and bread as a whole. 
"She's struggled with making her goods in the aspect that perfecting the recipes is something that takes many tries. I've watched her put in the work, and it's nice to see how it's paid off", Marin states. She discusses the process of her sister, Daphne, baking and how it proves just how fun, yet challenging the baking process is.
Needless to say, they greatly believe that it's this struggle that makes baking fun because who knows, sometimes adding one more egg in the cake batter can make it more flavorful. 
"I usually don't like Mondays but this club gives me something to look forward to, especially on an empty stomach", states Steven Canas Garcia, one of the members of the club. Garcia goes on to say that although he doesn't think he can bake, he still likes to try the array of cookies and brownies that others have to offer.
Garcia says that it gives him motivation to want to try to create something. "Honestly, even if you think you are incapable of making something as delicious in your kitchen, just go for it because the worst that can happen is that you're stuck with a burnt cookie. In the end, it's still edible, somewhat", he states. 
The NOHO bakeology is a club that is unique and full of positive members who encourage all to come. The numbers of goods you can produce through baking are innumerable, so give it a shot.
Leave a Comment
Your donation will support the student journalists of North Hollywood High School. Your contribution will allow us to purchase equipment and cover our annual website hosting costs.