The Grand Poetry Slam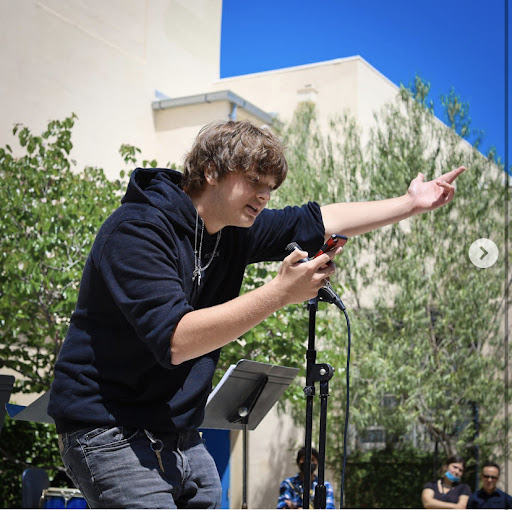 April is national poetry month in America, which led to a rise in poetry and creativity last month. With the encouragement of their teachers, many students at North Hollywood High School were able to find their inner-poet.
The effects of poetry month were school-wide. Mr. Hill, an SAS English teacher, had his students copy down famous poems in the quad. The students went out around the school before nutrition and completed this feat, writing in chalk. Once classes were let out, everyone feasted their eyes on the cacophony of symbolic, inspiring, and unique words sprawled across pavement.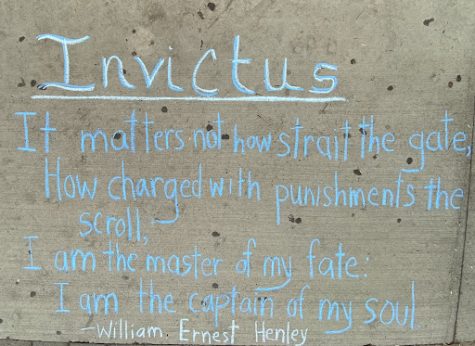 A student of Mr. Gough, another teacher in the English department, also held a poetry slam in his classroom. Students wrote their own poems and a few were selected to perform them in front of the class. Devin Zarabbi, coordinator of the event, was one of these students. Zarrabi's poem was about his experience in AP English Literature. He reflected over the ups and downs he had in the class. He also marveled at how Mr. Gough's dedication to their learning effectively prepared them for the AP test and English beyond high school. Ms. Rojas, the AP Government teacher, invited her class over to the reading. There was an open invite for all who were interested in witnessing the effects of words in motion. 
"It awakened a kind of questioning in me. I felt inspired to write my own poetry after seeing how my peers could successfully write their own pieces," says senior Christian Perez, who attended this event. It's safe to say many other students were inspired after seeing a fellow classmate bravely speak his truth in front of the class.
The biggest event of this national month was the poetry slam hosted in the amphitheater by Black Student Union (BSU). ASB member Cameryn Mitchell was a big organizer of this event. An audience gathered around to watch a select group of poets go on stage and recite their poems. One of these poets was Kaleb Sworland. He states that his poem was about utilizing a rough upbringing to do better and become better. This shows how personal poems can be for many people. They are a means of expressing oneself and healing from the past. Other speakers included Symia Williams, a senior, and Sally Lynch, a junior, who both wrote their own equally unique and thought-provoking poems.
"I love things like that," Kaleb says in regards to the poetry slam. "I wasn't nervous. I only found out about it a period before. I really wanted to do it at the spur of the moment." Kaleb's participation in the slam was spontaneous. He was at the right place at the right time. Other poets in hiding who are too scared to speak out can gain inspiration from his bravery.
Poetry isn't a set formula. There is no one way to be a poet. The events at North Hollywood exhibit how poetry is shaped to its writer, and no one poem is ever the same. Every student at the school has a different life experience and a different way of expressing themselves. Poetry had the ability to bring them all together. 
Leave a Comment