Christmas and Hanukkah: Two Special Celebrations!
Two Special Celebrations!
Everyone around the world practices different cultures. Within cultures there are Holidays that some celebrate and others don't, biggest example: Christmas and Hanukkah. 
Christmas and Hannakkah are both grand celebrations; the difference is they come from different religions and cultures. Christmas celebrates the birth of Christ while Hanukkah celebrates the history of Jewish people. 
Hanukkah is not much of a religious celebration compared to Yom Kippur and Passover. High time for Jewish Holidays is between September and October; Hanukkah is widely known for the fact that it is closest to Christmas. 
Christmas is a religious celebration of the birth of Christ. Christmas is one of the biggest Christian Holidays and is widely celebrated.
Often during the winter time you see many Christmas decorations such as lights, christmas trees, and other religious symbols. Christmas decorations often overrule ones of Hanukkah which is usually celebrated with Menorahs and food along with religious symbols. 
Christmas is celebrated differently depending on the family. Melanie, a student at NHHS describes her time leading up to christmas day "I would say it's just a traditional Christmas but we start celebrating on Christmas Eve and we stay up until the 25th." She expands by saying she and her family celebrate two days consecutively and go to church the sunday before.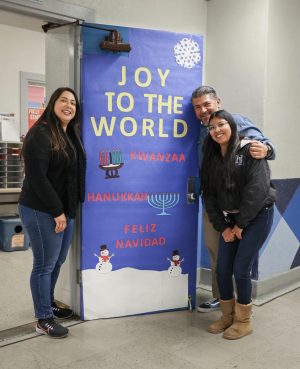 Amy Alaniz, another student at NHHS, expressed that her Christmas celebration wasn't so related to religion but her family uses it as a time to celebrate with each other. Alaniz celebration requires tons of delicious food and lots of fun. 
Ms. Bunis, a teacher at NHHS, celebrates Hanukkah. Ms. Bunis spoke about her favorite aspects of Hanukkah by saying "The thing I love about Hanukkah is that it's always in the winter when the days are shorter so it's sort of like this built in; I would say an adjective might be like cozy." Ms. Bunis further describes her time celebrating as "comforting, cozy and celebratory."
Rebecca Shavit, also a student at NHHS, expresses her Hanukkah as "simple." Shavit's Hanukkah looks more like receiving presents and reciting a couple of prayers while lighting the candles throughout the days of celebration. 
Ms. Bunis sums up her holidays by saying "I love joining my friends for Christmas parties and celebrations and stuff it's fun to get involved and then I like to you know do Hanukkah with my family and sometimes my friends who aren't jewish like to do Hanukkah things too because it's just a very fun celebration." The holidays are a time to come together to celebrate with friends and family.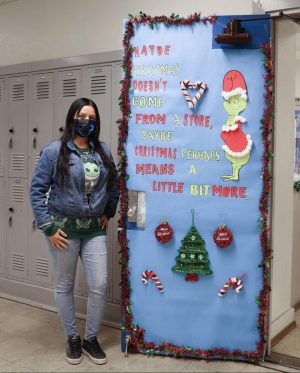 Many throw holiday parties which are used as a time to celebrate as one. Places like school have festivities whether it is a winter ball or even holiday grams to send to your friends; these are all examples of recognizing each other's differences and commemorating them. 
Give or take Hanukkah and Christmas are both times to celebrate with family and for some to practice religion. While the holidays, Christmas and Hanukkah, are different it is still a time when everyone comes together to have a fun celebration filled with life and happiness. 
Leave a Comment