Zoom High School
A switch to digital education
The current reality for students all over the nation is digital learning; all work is online and students attend classes over video using platforms like Zoom. This switch has led to many different responses from students. Some enjoy the change, but others prefer learning face to face. 
Students are used to being in classrooms, sitting at their desks in front of a whiteboard, collaborating in the same room with their teachers and peers. Sadly with the pandemic, students had to change their routine in order to protect themselves and the community at large. Many students do not like this switch because they find themselves learning better with face to face instruction. Sophomore Olivia Landgrebe stated, "I need someone like a teacher to physically be there to help because if they are not I feel like I don't learn anything." For some students, they find that face-to-face learning allows them to better communicate with their teachers and peers, which in turn allows for a better learning experience. So without that form of interaction, students feel unmotivated.
Some students are doing the work just to do it, and aren't retaining the information as much due to numerous distractions around them. Olivia Landgrebe added, "They (her family) can be very loud sometimes, so it's kind of a distraction when I'm in my Zoom meetings." With digital learning at home, there are many more unavoidable distractions students are forced to work through, whereas in school the classroom environment is carefully crafted to enable students to focus on learning. 
Digital learning also makes it harder for students to receive immediate feedback. Ashley Pineda-Alvarez claimed, "I don't have my peers or friends with me and I can't ask and get my questions answered on demand." Students are used to getting answers immediately from their teachers or peers, but with classrooms occurring online, sometimes it is harder to get a hold of others, leading to a significant lag time where the student is left uncertain on important concepts. Junior Evan Edmiston stated that with online learning, "It's not really connected… it feels artificial." Evan and many others find that it is more enticing to learn face-to-face because you receive immediate help and feel better equipped to face difficult content.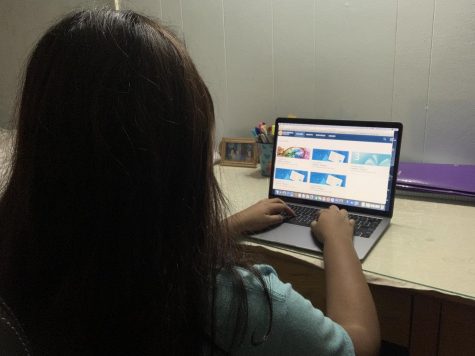 Although some feel this way, many other students feel the exact opposite and find digital learning just right for them. Students find that they generally have more time in their day. Junior Samantha Kulik found that she gets "so much more time to study when I'm not wasting 8 hours a day doing nothing at school. Plus I can do everything without ever leaving my bed."  If the students do not have to attend early Zoom meetings, they find that they have more time to sleep in and do other things besides sit in class the majority of the day. Junior Stephan Hahn finds that "because we are at home, teachers try to give fewer assignments. In my opinion, with fewer assignments, they were able to give assignments that were important. I don't have to deal with busy work teachers try to give so that we have something to do when we are at school." Students feel they are learning more essential information while gaining more free time to work on other things and relax. 
Some students find that another great aspect of digital learning is not having to wake up very early to get ready and commute to school. Stephan explains that he prefers online learning more because of transportation, "It takes me about an hour to get to school every single day riding the subway. I make sure to get to school early about an hour early just in case of any delays… through online learning, I don't have to worry about any of that." A number of students lose many hours of their day commuting to and from school. With extracurriculars and other time-intensive activities, students have less time to do homework, let alone get enough sleep. Digital learning allows students to learn in the comfort of their own home without the stress that comes with commuting at early hours. 
A lot of students do not enjoy digital learning, but many are looking at the positive aspects and are starting to adjust to a new form of education. We do not know how long digital learning will be the way we learn, but for now, it is our new normal.
Leave a Comment