I Went to the Protest in Beverly Hills that you know as a Riot
During the time I've been participating as a journalist for The Arcade, I've been trying different hats. Trend interviewer, copy-writer, and now on-site reporter.
As the news of George Floyd's death shocked the country and mass waves of protests rolled out calling for action, I knew it wouldn't be too long until kids my age would be involved. With my personal beliefs aside, I came to the Beverly Hills protest in Los Angeles in hopes of finding the voice within students. Why they attended, what they supported, and the opinions they left with. 
The houses that lined up close together near The Grove and Melrose are large extravagant houses with floor to ceiling windows, Spanish roofs, and driveways packed with expensive cars.
When you protest in Beverly Hills, you are lulled into a false sense of security. The town is too nice, and the citizens are too rich for looting and riots to happen.  
When I hopped out of the car, the scene that greeted me was a young white mother cooing at her toddler. He was holding a poster holding the words that have come to define the entire movement: Black Lives Matter. The toddler waved at me. 
It was then when I thought I had understood, a protest-where a white woman brings her child- would be a safe one. 
Grace Rothbart, senior at North Hollywood High School, couldn't recall a moment where she didn't feel safe. 
''The media sheds a negative light on these protestors but it's never violent until the police come. Everyone came together. Parents brought their children, people in cars honking and providing water and snacks to protestors, essential workers in their scrubs showing their support, and people carrying first-aid created a unity.''
However, Grace underlines that she left before she witnessed any physical violence, tear-gas or rubber bullets was dispersed. She had the fortune of leaving early, and because the memories she left the protest with was love, she can never testify to the destruction others have experienced. 
The drastic shifts between the noon and evening of the protest is something students always want to comment on. 
Hector Velazquez, another senior, who recently turned eighteen, highlights that he wanted to protest because it was ''an opportunity to show [his] support and be a part of something that wasn't retweets or posting hashtags. Going out felt more productive than anything [he]'d do on Instagram.''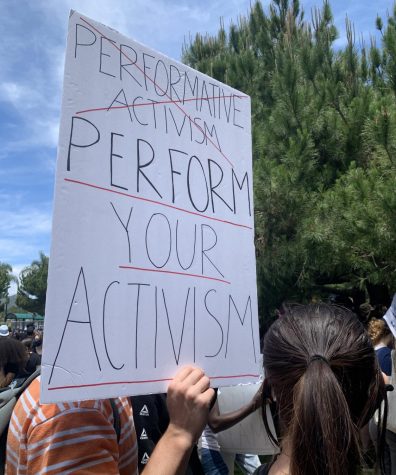 Still Hector notes his jaw drop and admits while he appreciates the sense of community, things ''got questionable towards the end when the first fire broke out.''
Not all students, however, have the same mentality. 
Senior Sascha Stevens asserts that the current movement feels disorganized and is not an avid supporter of the riots.
''I don't understand how people can learn about the success of MLK Jr's peaceful protests and still support vandalism and looting. Especially during a recession. To me, the economic backlash is the real lasting consequence…It'd be a crime to not acknowledge that this outcry is during quarantine. It seems like some people have conflated negative feelings toward quarantine with police brutality because things are going too far.''
Sascha introduces the intersection of COVID-19 and the current mass protests occurring in the country. For months, we have been told social distancing is key and these protests seem to throw all caution in the wind.
It is worth noting black Americans are dying of Covid-19 at three times the rate of white people. According to the (non-partisan) APM Research Lab, "Across the country, African Americans have died at a rate of 50.3 per 100,000 people, compared with 20.7 for whites, 22.9 for Latinos and 22.7 for Asian Americans.''
These mass protests want to illuminate the fact that the fabrics of our society is woven with systemic racism towards black folks in mind. Our police force is a major indicator of this systematic oppression. 
While mass-gatherings during this time have a right to make anyone nervous, there wasn't a single protestor I saw without a face-mask. 
At the Beverly Hills protest, people came in mariachi bands and big drums, advocating their cause through music knowing that shouting your chants will spread your germs faster when standing with other people. It provides an airway for the sickness.
But what happens when police officers constantly work against you, not allowing protestors to play music to their desired volume?
Right now, some protestors prioritize social justice over social distancing because ultimately they feel the state should work to keep you safe. Police officers shouldn't rip your masks off you to spray pepper spray or tear gas. In fact, tear gas will leave your orifices vulnerable to transmission of disease.  
The crowds of Beverly Hills were fairly heterogeneous, as there was no dominant racial group. It was a diverse crowd of many different skin colors and races. That said, you will notice how young the majority of the people are.
A lot of the protestors looked like kids I knew. Teens from the valley. Fresh-faced, lanky, and brimming with nervous energy.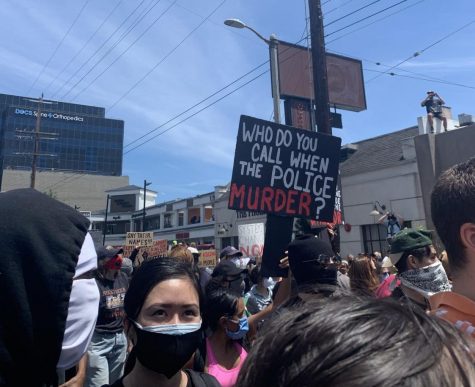 Now, when I say teens I want to underscore that I don't mean anyone younger than 17 or 18. There were kids protesting with their parents, but under no circumstance should a high school freshman or sophomore wander off to protests at Beverly Hills, Hollywood, or DTLA.
All the kids I have interviewed today are high school seniors for a reason. They understand the consequences of turning 18, and how in the eyes of the law, you are an adult. Your decisions are your own. 
We marched, and chanted  as we went into Pan Pacific Park and onto the streets of Fairfax: "No justice, no peace," "Prosecute killer cops," and of course the defining call and response "Say His Name, George Floyd!"
Some chants were littered with colorful expletives that were quite fun to say in a large booming crowd. 
For a good half and hour, I realized I was walking alongside musician and actor Ross Lynch. He was not the only famous person attending the protest. Like everyone else, the lower half of his face was masked. He seemed to revel in his anonymity. 
I remember us edging to the end of the street when suddenly someone yelled at us to turn around so we could  avoid the police. 
I raised a pointed eyebrow to Grace: "Isn't the point to cause some trouble with the police?''
Around three-thirty when my feet began to hurt, and my friends decided to head back as our car was parked so far away. 
I was the first to notice billows of dark smoke escaping into the sky. 
If I could pinpoint a moment in Beverly Hills, when the tension in the air changed, it was definitely then. As we got closer to the smoke, the more chaotic people around us got. There was lots of shouting and warnings.
My feet were running towards the disaster before my brain could process it. 
I remember my friend Hector following closely behind me. Then, I assumed he also let his morbid curiosity get the better of him, but now I realize he wanted to make sure I was safe. 
A boy came into view. He took up all your attention, kneeling in the middle of the street, his left hand raised to a fist, while his right clutched a big tattered BLM flag. 
Behind him a burning cop car.
He kneeled in front of it like he was showing off the fruit of his arduously earned labor. He kneeled in front of the burning cop car like he was proud. 
It was like a renaissance painting re-imagined for the 21st century.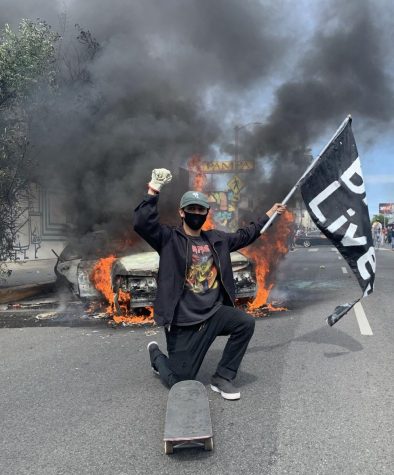 People surrounded him, flashing their expensive cameras. I elbowed my way into the front lines, not caring about how the heat from the too-orange flames made my face feel. I was also desperate to take a picture, to capture an eternal moment. 
His face was mostly obscured by his baseball cap and mask, but his sunken eyes stared straight through my iPhone lens, unafraid and unflinching. 
Truthfully, he could have been a man and not a boy like I keep referring him to. But his Iron Maiden shirt, cuffed jeans, and skateboard that he had placed in front of him reminded me of my friends, the boys I've known throughout high school. 
Maybe the unafraid boy with inferno behind him is a surrogate for the youths in his generation. They are so fed up with how the world operates. Equality is an idea that has been drilled into their heads since early childhood, but is it what they see in real life?
View Comments (1)