Would You Take the COVID-19 Vaccine?
How North Hollywood High School Students Reacted to the Development of a New Treatment for COVID-19
On October 22, the FDA approved the drug Veklury (Remdesivir) as a treatment for COVID-19 for use in patients above the age of 12. 
This treatment is to be used on patients that require hospitalization and is only to be administered in a hospital or a setting with the same healthcare abilities as a hospital. 
This is the first COVID-19 treatment to be approved by the FDA for all hospitalized cases of COVID-19 since Veklury's initial approval on May 1st was only "for emergency use" according to the FDA.
While tests to verify the effectiveness and safety of Veklury are still ongoing, FDA Commissioner Stephen M. Hahn confirmed that the approval "is supported by data from multiple clinical trials that the agency has rigorously assessed and represents an important scientific milestone in the COVID-19 pandemic."
Veklury is the same drug that was taken by President Trump when he contracted the virus in late September. The President expressed approval for the treatment when he said "I want everybody to be given the same treatment as your president because I feel great."
Students of North Hollywood High School expressed their skepticism about this treatment as a survey showed that under 31% of students would take the treatment if they or a loved one was diagnosed with COVID-19.
NHHS student Victor Montes, a junior, communicated that he would feel "uncomfortable taking a drug that may or may not help," he added that he may take it "if the situation becomes dire."
Some students explained that they were concerned with possible side effects. Another student, Keven Escalante, said that he "would want to get it but, there could be some unfortunate side effect".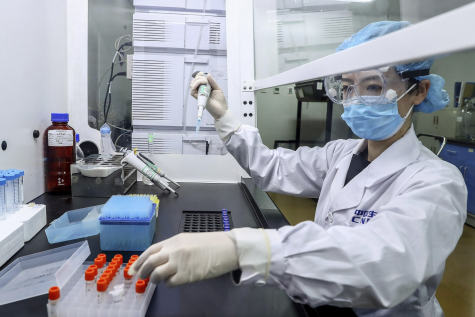 Students were less sure when it came to using the treatment on a friend or family member with an increased risk of severe illness from COVID-19. Less than 8% said "no" to a high-risk family member taking the FDA-approved drug and over 60% noted that they were undecided.
One student explained that even if the drug didn't work on their family member, "it's better than doing nothing at all." However other students, like Christian Lopez, said they would much rather have a hospital take care of them daily to avoid putting them in possible danger.
NHHS students seemed much more willing to take an approved vaccine as more than 53% of respondents said they would take a vaccine if approved by the FDA today.
James Wong, a junior, said he "trusts that the FDA tested and experimented with the solution," and that they "would take it to stay safe and to keep others around [him] safer."
Others were willing to wait to be certain the vaccine is safe. Henry Ayala, a junior, indicated that he would wait no longer than two months to avoid "any potential long-term side effects that may come up."
Most students seem to want to avoid this treatment and wait until a vaccine is approved. Until then, students are urged by health officials to stay safe and follow guidelines that prevent the spread of COVID-19.
View Comments (1)