Managing the Music
How COVID-19 Has Affected the Music Department
COVID-19 has brought many changes to the 2020-2021 school year. Online classes, no in-person social events, harder access to many resources, etc., have plagued all of us. One of the departments at our school that has undergone many changes due to COVID-19 is the Music Department, an important aspect of North Hollywood High School culture.
"We didn't get our marching season this year and we're all very sad about it…". Rubi Puente, a 10th-grade member of the Royal Regiment, details what's been happening in the band during online-learning despite the loss of a season. "We go into breakout rooms by section and work on pep songs and sight read fun tunes like Fur Elise. We do bonding activities, we get to know our newest members, and really get to connect with our band." 
While working in sections and doing bonding activities is part of the normal curriculum, some things do stray away from normal conventions. Marching season as referred to earlier puts a large emphasis on marching, an activity that can't be done during COVID-19 due to how close members need to be to one another, which can't happen due to social distancing guidelines. Members could often be seen after school for hours marching in formations on the football field, preparing for competitions to show off the dedication they have in their craft. With COVID-19 halting these operations, however, the marching band seems to have formed into just a normal band.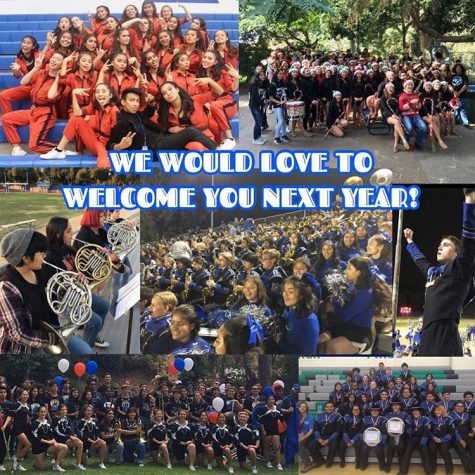 Many other difficulties come with the change-up to online school as well. Kaia Ross, a 12th-grade section leader of the Royal Regiment, chronicles the hardship in trying to help others out with their music during Zoom compared to in-person. "I'd easily be able to see if someone's posture was incorrect, they weren't marching correctly, they were holding their instrument wrong…but over Zoom, I really just have to guess what's going on."
Despite some challenges, the addition of a new production software app called Soundtrap has helped progress most of the music department. As depicted by Angelo Frisina, a 12th-grade member of the Royal Regiment, "We've been given many opportunities to learn how to create real productions in the way we never could during the busy in-person school year." 
Moving from the Marching Band to the Jazz Band, Frisina covers the semester-long project they have in the works. "Each student creates their own album with themselves playing several instruments along to backing tracks made by me, Mr. Sharp, and Mr. Donald Doyle." 
Not everything in the music department is as jam-packed as this, however. Miranda Minton, a 12th grader part of Orchestra, AP Music Theory, and Indoor Drumline, first reports how the Orchestra has been running during these times. "Normally we'd be playing for almost the whole class but now since we can't, we will sometimes play for just a part of the class along with a recording, a single player, or this website called smart music."
As for AP Music Theory, Minton expresses it as "harder like every AP class because of the shortened instruction time. We end up having to do more practice on our own rather than checking with the teacher right there." This refers to how every week, classes shortened from around 300 minutes of instruction to at minimum 140 minutes and most 210 minutes. 
Some aspects of the music department can't have anything going on during online-schooling. Minton iterates how "Indoor Drum Line just can't continue at all because of the instruments and the programming."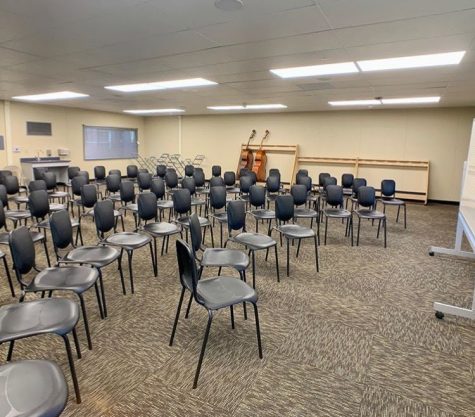 To this same effect, Vocal Ensemble hasn't been able to do much either. Kayla Martinez, a 12th-grade section leader, has stated that "Vocal Ensemble has not been able to organize activities ever since March…A choir needs to hear each other's voice to adjust to volume and tone, so participating in singing activities has been a no-go as of now." 
Francesca Cariga, a 12th grader part of the Vocal Ensemble, further elaborates on the difficulties, conveying that the Vocal Ensemble needs to be "finding a way around the Zoom lag…experiencing music together at the same time is a bit difficult."
Despite the changes, triumphs, and difficulties, musicians are still mainly in it for the long haul. As Ross illustrates "We lost a massive chunk of the band after we went online-and understandably so because the experience is absolutely different-but I can't imagine leaving…Band and the community that surrounds it has completely transformed my character and changed me into the person and the leader that I am today." 
Leave a Comment