Why you Should Attend SAS Meetings
And become a SAS Representative.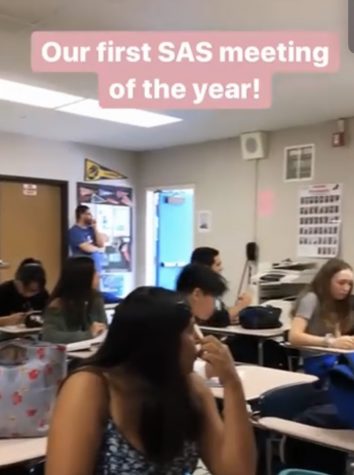 North Hollywood High School is divided into many academies that are fit for each student's interests to keep motivating them to achieve success. School for Advanced Studies (SAS) is one of them; it is full of students that are reaching for academic excellence. 
They have recurring teachers during their years, and they grow up through their adolescence in the same environment with the same people. "SAS definitely feels like a second family, we all know each other and we go through the same experiences together" Angela Shvartsman, the SAS Public Relations, says. 
Students in SAS can experience many different bonding activities that will allow them to spend time together as the community and close family they are. Some of these activities include picnics, movie nights, potlucks, and many others.
A great way for students to participate and be knowledgeable about these events is by attending SAS meetings. Anyone can go to these meetings; however, it is highly recommended to become a SAS Representative. "Being an SAS Representative is of extreme importance to keep the rest of students updated of certain upcoming events, or any news that is available about the whole academy" Shvartsman explains.
To become an SAS Representative, any volunteers will have to say so in their English classes to encounter a vote in which the two people with the most votes will become Representatives. "No matter if you are an official representative or not, it is important to not be discouraged from going to the meetings" Shvartsman states, "since you can always double-check the information and be more involved with the academy." 
Not only is attending meetings important to keep being updated, but it also helps people become more aware of the academy situation and they are given the opportunity to share their own ideas and thoughts on what they would like to see be done. The academy is made for students to be happy and to come closer together and no idea will ever be shut down. Everyone is welcomed with open arms and their help and ideas are greatly appreciated. 
Of course, things have changed since online school commenced. Most students have become unmotivated to keep in touch and to be aware of any activities that could be done from home.
Millie Caro, the SAS President, states "Now more than ever it's important to stay connected. It's one of the reasons why going to SAS meetings is important". 
Apart from coming to meetings, SAS students need to stay updated on Schoology, Remind, and social media like Instagram and Twitter since some news might be revealed on them as well. Shvartman mentions "As the SAS PR, I believe being connected is important, so anyone who can follow these social platforms is welcomed and encouraged to do so, but not everyone has them which is when SAS meetings come into play". 
The entire SAS Board is planning activities for the academy and to make online school as fun as it can be. Caro announces "The board is working hard to give the students a fun year but we can't do it without the students!". With this, many exciting activities approach the horizon and should be expected in the near future so students should keep being updated in any way they can! 
Leave a Comment