One North Hollywood High School Community
Bringing North Hollywood and Zoo Magnet students together.
North Hollywood High School has many smaller learning communities and magnets and it is easy for students to strictly connect only with those in their community. This has been the case for years, and our school's leadership teams want to change that. Most noticeably, the separation between those on the main campus of North Hollywood High School and those on the Zoo Magnet campus needed to change.
Zoo Magnet's campus is distanced far away from the main NHHS campus and has caused a disconnect between the two. To help close this gap, the presidents and vice presidents of the Associated Student Body (ASB), Student Council, and Zoo Crew decided that it was time to unite with one another to reach a common goal; to take the first step in bringing all the students of North Hollywood High School together. 
"We're all here to make only one thing, which is to give the students a voice, and to provide students some fun during this boring quarantine," comments ASB president, Jasmine Orellana. Their passion to do so is what urged them to combine National Red Ribbon Week and Halloween Spirit Week, resulting in what is known as North Hollywood High School's Halloweek.
Katie Manno, Zoo Crew's president, was especially excited about this collaboration as, "we can have those friendships between Zoo students and North Hollywood students that we can foster because that's always the goal." Manno understands that the distance between Zoo and NHHS is "inevitable" because of the distance, but works hard so it doesn't have to stay that way. She is happy that we can all be "joined together as one North Hollywood community" because of this spirit week and strives to maintain that connection long after Halloweek. 
Orellana, Manno, and Student Council President Giovanna Aldana all confirmed that they, along with their respective vice presidents, got along right from when they started planning as they were excited to collaborate. Aldana describes Zoo Crew and ASB as "collaborative, contributing" and explains that "there were no butting heads, it was all smooth." Orellana feels that the two groups were efficient in their work as they all had the goal of "making school fun."
According to Manno, the work was evenly distributed amongst the teams, and they assisted each other in the planning of the events. Zoo Crew focused more on the activities, ASB was more focused on the spirit-wear, and Student Council put their focus on incorporating Red Ribbon Week themed events.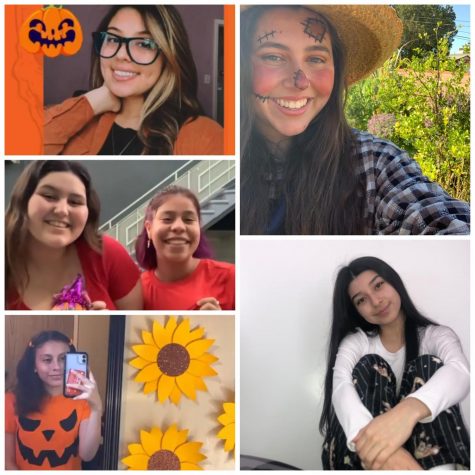 "We added on to what we had and came up with ideas that were fun," Orellana states. Although they had their respective tasks, the teams maintained communication with each other and did not hesitate in helping one another.
Having each other's back eased the stress of planning an event. Aldana feels that she and Student Council Vice President Emma Rodriguez benefitted from having the support of Orellana and Manno, along with their vice presidents, Hermione Zarazua, and Aaliyah Valdez, respectively.
This new unified team is what made this Spirit week come to life and brought together North Hollywood students and Zoo students despite distances between the two campuses. 
Aldana hopes that through these activities, Zoo Seniors will feel more comfortable being involved in Senior activities meant for all seniors. Senior packages, for example, "It's something that is for Zoo as well, it's for all seniors." By clarifying that we are one school and one community, it may get rid of the fear Zoo students have of intruding on events when in reality, it was meant for them.
Orellana confirms future collaborations and announces that "It's going to be nice to continue what we have going on and we are most likely going to have more activities with Zoo Crew and Student Council in the near future."
Leave a Comment