Fine Arts Doing Fine?
How COVID-19 Has Affected the Fine Art Classes
Visual & Performing Arts. It's a category on the A-G Requirements List that every student needs to do one year of, in order to graduate.
The classes available at North Hollywood High School for this category include Art History, Ceramics, Design Crafts, Graphic Design, Drawing, Painting, Filmmaking, and much more. 
Not every student has had the same experience with these classes. For those taking fine art classes for the 2020-2021 school year, the classes had to be modified to fit the mold for online distance learning. Just how much have they changed?
"In class, we would be mostly using Adobe Illustrator to create logos or we would make a website to showcase our work".
Skylar Chavez, a 12th-grade student of Advertising Design who took Graphic Design last year, illustrates what the class used to look like and how it's changed.
"[Now] we don't have access to Adobe software so we have to work with Inkscape and free software that doesn't work that well". 
Without the use of normal equipment, assignments have changed to activities that include gif animating and drawing.
These assignments may be a bit more difficult for students as they now don't have direct access to teacher help as they would in a normal classroom setting.
For Filmmaking, students used to be able to engage in making student films with one another using cameras that Mr. Ward, North Hollywood's film teacher, used to hand out.
This part of the course has had to be cut however due to online learning. With this being said, many of the same elements of the in-person class remain over Zoom.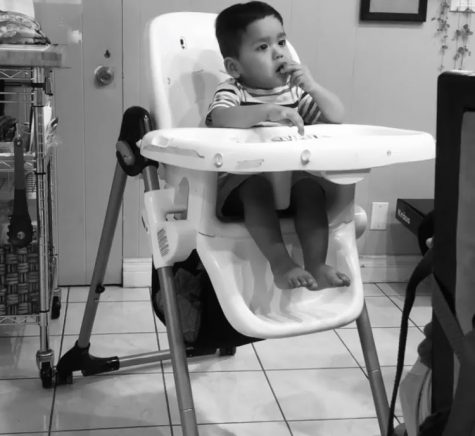 Now, students are engaging in group discussion posts, writing responses to films seen in class, and working on making films using their phones and any editing software they can get ahold of.
While in class, students view informational videos and films, watch each other's works, and host discussions amongst themselves, which is no difference to the schedule of in person classes.
The class does come with some difficulties. As mentioned by Kayla Guttierez, an 11th-grade student of the class, "There [are] lag times so watching student projects or films isn't the same". 
Aside from the technical difficulties, the class is generally regarded as a great class to be a part of.
As described by Matthew Gutierrez, an 11th-grade student of the class, "The class and teacher have great energy overall…the teacher always brightens a tiring morning, the class always has some creative pieces of work, and the movies/discussion keep the lectures alive".
A major change in the fine art classes is that Ceramics is no longer an option to take for this school year. Instead, Ceramics has been replaced with Design Crafts.
As explained by Ms. Lavieri, the teacher of Ceramics and Design Crafts, "It would take too long to send the clay and materials and get it back on time, so Design Crafts has replaced Ceramics". 
Usually, her classes would consist of doing ceramics projects all year long. However, due to distance-learning, she's had to take a different approach. 
"I've had to prepare lectures on Google Slides with a lot of images, but there are also links to radio reports, museum websites, news articles, videos on Youtube."
As for work outside the classroom, students do projects using recycled materials or items they may find at home.
For example, they've done art using plastic bottles and have created a color wheel out of different colored items lying around their households that students have deemed fun.  
Some problems remain, however. "I can't be there to guide them, advise them, give them suggestions, and I don't get to see their projects until they're turned in. There's also lots of shyness about asking for help and I'd like them to get over that so that they can learn."
If school transitions back to in-person classes in the second semester, she's looking forward to doing a few clay projects. "When I checked in with my students, half of them expected to make bowls and cups so they seemed interested".
Lastly, Painting, Drawing, and Art History have all needed to change their formats to fit in with the online schooling standards. Before, students would be given materials in class and be able to ask for help in real-time. This has had to be altered to keep up with distance learning.
As described by Ms. Kocharian, the teacher of these classes, "Most of our Zoom interactions have been knowledge and information building activities. Including lectures, tutorials, and demonstration of certain skills, techniques, and period of history and art history. They usually involve having me videotape a lesson procedure and convert it into a format usable for class setting as well as finding already existing materials online."
 Outside of the classroom, students have made their materials out of things they can find around their homes. For example, they've made paints out of spices, flowers, and leaves, and burned sticks to make charcoal to use for drawing and shading. 
For assignments, students have made art from different periods, using the different techniques used then, such as Cave Art Paintings and Ancient Egyptian God Paintings.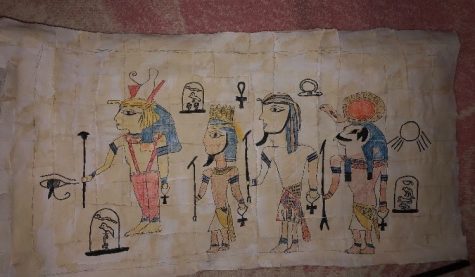 Ms. Kocharian finds for herself is not being able to assist in the art process. "It has been difficult for me to offer my guidance and input while students are working on their art. I have relied mainly on submissions of their work in a photo format which has broken the flow of the process of making art sitting in a classroom… Additionally, trying to do drawing and painting practices during Zooms have been challenging since not all students are willing to turn their cameras on and show their progress."
If we go back to school, Ms. Kocharian is looking forward to using the skills she learned during this period in her teaching.
"Despite all the challenges, I feel I have had a crash course in using technology to communicate my lesson better with the students and when we return to class I believe I will continue using some of these new platforms along with my lessons."
Leave a Comment