What Will Going Back on Campus Look Like?
Quarantine has dragged on for 8 long months, and the question of how and when school will reopen has started to float around.
In various parts of the country, the school has been open for weeks, but as COVID-19 cases continue to increase in Los Angeles and is considered one of the epicenters of the coronavirus, people still question the chances of LA schools reopening.
Though the Wyoming Department of Education decided to reopen schools back in September, the entire state of Wyoming has half the population of Los Angeles alone, so when it comes to reopening North Hollywood High School, things get more complicated. 
The recent announcement that LAUSD will be offering free COVID-19 tests to all students does have things looking on the up-and-up.
Students and parents should keep an eye out for emails regarding the time at which their appointment will be scheduled, during which they will be administered a nose swab test and, if requested, a saliva test.
 It is expected that COVID-19 testing will be done frequently to keep everyone on campus consistently safe, albeit a swab hitting the front of your brain every once in a while might get a bit tiresome.
Luckily for everyone involved, though, the district is also planning on instating daily temperature checks and wellness checks–which will entail reports on physical health, possible exposure to the virus, and the upholding of healthy practices–which will decrease the frequency of required nose swab tests.
Classrooms have received major COVID upgrades as well. "Classrooms and facilities are electrostatically cleaned top to bottom, air-conditioning systems have been upgraded with the equivalent of N-95 filters, personal protective equipment is provided to all individuals at a campus, and classrooms and facilities have been reconfigured to keep all at a school a safer distance apart," Superintendent Austin Beutner stated in a recent newsletter.
Class sizes will also likely to be significantly reduced to make social distancing in the classroom possible.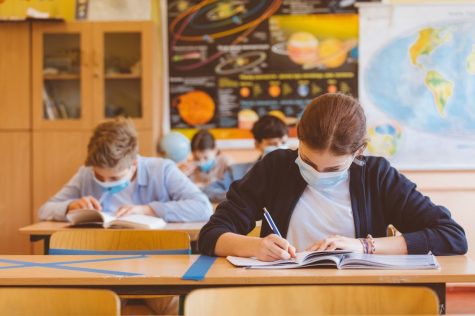 Though it's uncertain when school will resume in person, a decently sturdy schedule plan has been laid out to ensure student and staff safety upon reopening.
The most viable option currently is a staggered schedule, where some students will attend school in-person during some days of the week, and the rest of the week's schooling would be administered to them remotely.
For example, seniors may attend in-person on Mondays and Thursdays for tests or work collection, while freshmen do the same on Tuesdays and Fridays. This will ensure that there aren't too many students on campus at one time and social distancing can be properly maintained. 
Because of the measures being put into practice in LAUSD schools, it's speculated that school will resume sometime in January; however, it should be noted that this has merely been speculated by the local news, and no official statements have been made by LAUSD.
Teachers, students, and families alike are antsy to get back on campus this academic year, and with a lot of patience, understanding, and support from the NH community, it may very well be possible. 
Leave a Comment