Huddle Up?
NORTH HOLLYWOOD, CA– 2020 was supposed to be a redemption year for the North Hollywood Huskies. After back to back disappointing seasons for the Varsity team, North Hollywood made the tough decision to let go of former head coach George Espinosa in hopes of pumping in new blood to the program. After hiring former Polytechnic & Cleveland head coach Scott Faer, brighter days seemed to be for the program. Coach Faer's emphasis on technique as well as faith in his players parted the dark clouds that seemed to hover over the program. That all changed of course when practically the entire world shut down in March due to the COVID-19 pandemic.
After an entire spring and summer with no word on the upcoming season, it appeared to be very bleak for North Hollywood in what was supposed to be a revival season for Huskies football. However, as back-to-school was quickly approaching, the CIF announced in July that there were plans for an upcoming season. None of those plans would start until the 2021 calendar year. While that did mean there would be little-to-no organized activity for sports for the rest of 2020, it did provide a glimmer of hope that there would be a season, thus an incentive to prepare.
Despite the fact LAUSD has not permitted any official sports activities, the eager Huskies have found a way to be safe during these uncertain times while simultaneously sharpening their skills and being prepared for their next opportunity. Since around mid-September, dedicated members of the team have been meeting up at the Whitsett parks to run 7-on-7 scrimmages as well as 1-on-1 drills. The determination in the Huskies is undeniable, as they meet up as early as 6 am, with about 30 minutes of stretching/warm-ups followed by a constant back-and-forth scrimmage that is accompanied by maybe one or two water breaks. The Huskies have also been responsible during the pandemic, such as following public safety protocols by wearing masks and socially distancing.
"I enjoy spending time with my teammates," team-captain Israel Gonzalez commented, "although our season is not guaranteed, I just like playing football." As reflected by the team captain, for these devoted Huskies, this is a hobby, not a chore. Not many people would have that desire to wake up at 5:30 in the morning to simply read the paper, let alone engage in a physically demanding activity. It takes a special type of determination to wake up with that hunger, and for this specific group of Huskies, they not only possess that determination, but they also capitalize on it. This group has made it a weekly routine to come out to the park and it has paid off as many of them have made steady improvements since September.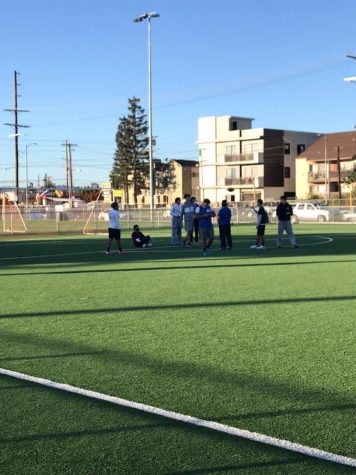 "I believe that this helps keep us in shape and stay active," claimed Gonzalez. In an interview with Gonzalez, the team-captain also revealed that this is not the only activity the Huskies engage in to stay in shape. "Along with the park, we have done occasional hikes," disclosed Gonzalez. Hiking has been very beneficial to the group as revealed by Gonzalez, due to the fact it has brought the team closer together during these tough times. For a lot of these guys, coming to the park and going on team-bonding hikes has become a haven from the uncertainty that is this COVID-19 world.
While the Huskies did receive some disappointing news about their weight-training being postponed from its originally scheduled November 6th date, they intend on continuing their training at the park until further notice. The news comes as a great disappointment to them, but what doesn't come as a disappointment is the presence of their new head coach. During the training months of February, the Huskies looked up to Coach Faer and felt there was real promise in the program with him running the show. Consequently, Coach Faer replicates those feelings towards North Hollywood.
"Knowing the history of the toughness of North Hollywood football, it was an easy decision" replied Coach Faer when asked what encouraged him to be the Huskies' new coach. "I feel like it's a perfect fit for me. Everyone is on board and all have a purpose." Like the players, Coach Faer is just itching to get back on the field. The message he preaches is a message endorsed by all the players: toughness, hard work, accountability, and passion.
No one knows for certain when, or if, the season will be ready to kick off. The adversity for these players, especially the seniors, has come as a magnificent challenge for them. But if football has taught these guys anything, it is the team that adapts to adversity the best will come out on top. So for these Huskies, they're ready to continue to adapt to this new normal and tackle anything that stands in their way.
Leave a Comment