How You Can Relieve Stress During Remote Learning
Stress and anxiety are something we all go through and many people deal with it differently.
Whether it's listening to music, exercising, or meditating, we should use that as a way to clear and calm our minds from this strange time.
At a time like this where we are facing a pandemic and social distancing, it is easy for students to feel lost.
At North Hollywood High School many students are struggling to get used to this new way of learning from home while managing our personal lives. It is also very stressful for teachers who try their best to help us learn.
While juggling school work and personal life, many people find peace in their hobbies or picking up new skills to get their minds off the stress.
Alexa Sasso, the Junior Student Council President  states, "I decide to take some time for myself and not focus on what's making me stressed. I like to paint, play any sort of instrument and talk to my friends and family which helps relieve my worries."
Picking up a new skill to learn like playing an instrument, drawing, or learning how to play a sport, can help get your mind off tedious work and chores. Always being active physically and mentally also benefits your life and keeps you energetic.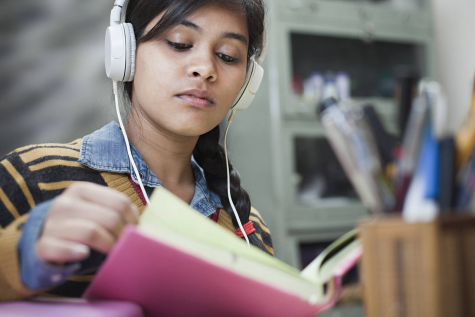 It can be anything you love to do. If you like listening to music, playing video games, or playing an instrument, you should use that as a way to calm your mind.
Though you should prioritize schoolwork or housework, it is important to remember that it's ok to take a break.
Furthermore Sasso stated, "Some students are taking care of their younger siblings or working to help their family financially, which results in them having a full plate."
A remedy to this can be to communicate with your teachers, counselors, or the school's social workers, who can help you find a solution to manage your time.
Ms. Ghazarian, North Hollywood High School's psychiatric social worker, is also a person to contact if you ever need help mentally.
She stated, "NHHS will be having a mental health newsletter…" This newsletter will be going out to students and families and it will cover information on stress and how to manage it. "Students can also get support from their advisory teachers and use LAUSD apps such as Inner Explorer and other apps like Calm and Headspace."
The COVID-19 pandemic also plays a very important role in students' stress.
Laylah Jabbari, a junior, stated, "It's a constant worry about the virus and the fact that I can't do things that I used to always do." The pandemic has limited what people can do in their day to day lives.   
The pandemic has also affected many families. Whether it is losing a loved one or struggling financially, you should realize you're not alone. Lean on your loved ones for support and focus on a positive outcome. Keep progressing and make good decisions.
Many of us students should not drown ourselves in our stress and anxiety.
The important thing to understand is your mental health is the most important thing and you should take care of that by not overworking yourself. 
Leave a Comment