Addressing the War in Artsakh
The present-day conflict over Artsakh (also called Nagorno-Karabakh) is a small part of the ongoing fight between Armenians in Artsakh and Azerbaijan. 
In 1921 the U.S.S.R took over the Artsakh region and gave it to Soviet Azerbaijan, despite the resistance of the Armenian people in Artsakh who wanted independence. 
In 1988, Artsakh made it's largest attempt to claim independence. Soviet Azerbaijan responded to their attempts at independence with violence and the mass ethnic cleansing of Armenian people in Karabakh. 
When the dissolution and downfall of the U.S.S.R began, the people of Artsakh decided to hold a referendum. In 1991 they officially declared independence from the U.S.S.R and Azerbaijan. 
In 1992, a full-scale war erupted between Azerbaijan and the newly independent Artsakh. The war went on until 1994 when Russia brokered a cease-fire. The Armenian people of Artsakh remained in control of their land. 
Since then, Armenia and Azerbaijan have attended "peace talks" mediated by the Minsk Group, but they have failed to come to a peaceful solution.
The Artsakh Republic is a de facto independent state; the main conflict revolves around the dispute between Artsakh's independence and Azerbaijan wanting Artsakh to be recognized as part of its territory.
On September 27, 2020, Azerbaijan forces rekindled the ongoing battle for Artsakh, this time presenting itself with advanced military weapons, the support of Turkey, and hired Syrian Jihadist fighters
. Throughout the conflict, there were 3 cease-fires announced by the U.S, France, and Russia, but they were broken just as fast as they were announced.
The conflict turned into a 44-day-long full-scale war between Artsakh and Azerbaijan.
Russia was able to intervene and offer a cease-fire agreement signed by the Prime Minister of Armenia, President of Russia, and President of Azerbaijan. This agreement allowed for the deployment of Russian peace-keepers along the line of contact.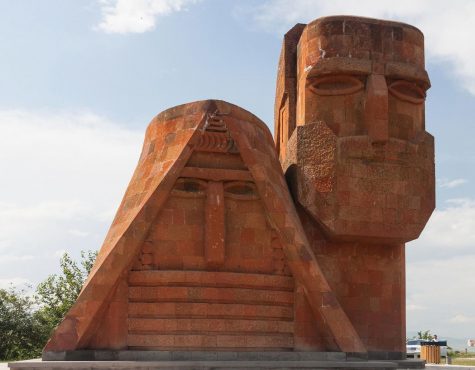 Armenians around the world were heavily affected by this conflict, they came together and rallied for a peaceful solution, raised money and supplies to send to troops, and some doctors and nurses in the U.S even went to Artsakh to help with the injured soldiers.
In a recent interview with Ellina Abovian on KTLA 5, Dr. Hiag Aintablian from UCLA says, "I've seen a lot of death just based on my job, but what I saw in Artsakh was a death of culture." 
Even Armenian social media influencers, makeup artists, and business owners are taking to Instagram live and social media to raise awareness and money for Armenia Fund, a humanitarian organization that provides aid to the people of Artsakh. 
The famous Armenian-American rock band, System of a Down, was released for the first time in fifteen years; they released two songs in support of Artsakh and Armenia. 
Artsakh, in all of its natural beauty and historical significance, is the heart and home to Armenian culture. To lose this land along with thousands of young soldiers (most from ages 18 to 21) who fought for it means losing the heart of Armenia. 
Roughly 50 percent of Artsakh has been given to Azerbaijan, forcing many Armenians to leave immediately. 
The Dadivank and Amaras Monestaries lie in the land that will be given to Azerbaijan. These monasteries have been standing for thousands of years, they symbolize the Armenian faith and are historical landmarks because they are some of the oldest monasteries in the world (since Armenia was the first country to establish Christianity as its state religion). Russian peacekeepers are protecting these monasteries.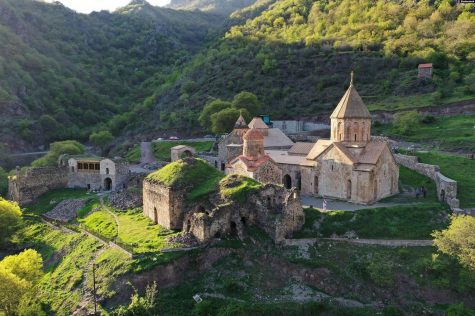 Many of the Armenians that are forced to flee their homes are burning their villages and houses to the ground, some people are even disassembling statues of heroes and leaders so that they can take the statues with them to Armenia. 
A quote from a Pulitzer Prize-winning Armenian writer, William Saroyan, in response to the Armenian genocide is being passed around and remembered by Armenians:
"I should like to see any power of the world destroy this race, this small tribe of unimportant people, whose wars have all been fought and lost, whose structures have crumbled, literature is unread, music is unheard, and prayers are no more answered. Go ahead, destroy Armenia. See if you can do it. Send them into the desert without bread or water. Burn their homes and churches. Then see if they will not laugh, sing, and pray again. For when two of them meet anywhere in the world, see if they will not create a New Armenia."
Leave a Comment