Weighing the Pros and Cons of the Hybrid Model
As we LAUSD students near the 9-month benchmark of self-imposed isolation, the rhetoric around returning has evolved from rumored dates to proposed plans awaiting approval. 
Just last week, LAUSD sent out a survey to respective families, asking whether or not students and parents are willing to return to campus based on a hybrid model.
The survey is an alleged indicator of the school district's return to in-person classes despite a growing number of cases; LAUSD, however, acknowledges the currently unsafe conditions. Once LAUSD deems it safe to return, we may see the following implemented: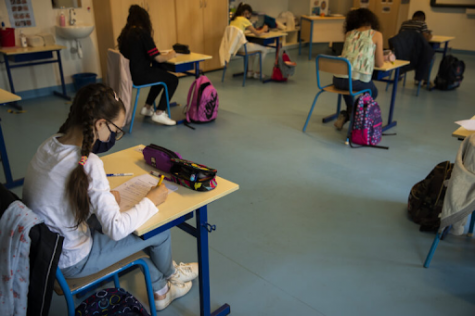 Integrating elementary and preschool students would be prioritized, followed by middle schools, and subsequently, high schools. 

Students would only go to school for part of the week and do online learning whenever they aren't on campus. There is also potential that students will be categorized into two switch-off groups that attend in-person school while the other group participates in virtual learning.

There is a possibility that upon returning to campus, students will be split into mini cohorts of no more than 15 people, where they will be situated into designated classrooms with one teacher, and participate in their corresponding zoom lectures.

Cohorts will most likely be chosen at random and are still expected to maintain social distancing guidelines.

There will be daily COVID screenings for returning students consisting of no-touch temperature checks and "daily health checks" through an application designed by LAUSD.

Students can opt for the Online Only model at any time.

Teachers will have the option to continue educating in an online format or participate in the hybrid learning model; however, the former choice risks reassignment to a different online-only facility.
Here are the assets and liabilities we could see with hybrid learning implementation:
Pros
For elementary and preschool students, the emotional aspect of a school is vital to their social development; the hybrid model, in turn, will then function as a mediator for their communal growth.
The shift to virtual learning has conjured up inevitable disadvantages for many students; those in noisy households, those with limited access to the internet, those who have malfunctioning devices despite LAUSD's effort to make technology available to students, etc. 
Just as well, students' motivation to do homework plummets without the proper scholastic environment. Home is just not an ideal place for some people to work.
As for the students at North Hollywood High School, it seems as if distance learning has been more than just a hindrance.
 Jacob Miguel, a Freshman studying at North Hollywood, contends, "I feel as if I would've been more content if virtual learning was implemented any other year. But as a freshman, joining clubs, socializing with unfamiliar faces, upon more and more, is a lot more difficult. Students from all grades can probably relate, and hybrid learning could potentially help with that"
Cons 
Without a vaccine, there is still an assumed risk of contracting COVID-19 at school. We have already seen other school districts and colleges attempt to reopen and promptly shut down after seeing a spike in cases (e.g. University of Notre Dame).
Cohorts of students with varying schedules may result in a disrupting environment where students pose the threat of interrupting others in attempts to either socialize in breakout rooms, participate in class, give presentations, etc.
North Hollywood Senior Valeria Salazar shares her thoughts on the downfalls of hybrid learning, elaborating that "It seems as if distance learning has some-what mitigated my 'Senioritis.' I can sleep in early and have more time to balance my academics and socials. And while our anticipated senior events may not follow through this year, I think distance learning is the safer option here. Hybrid learning just seems inefficient, and I'm sure many people would rather stay home and stay safe than not"
As observed, the hybrid model is still in the works and requires prompt tweaks. It is still too early to determine whether or not the incorporation of hybrid learning will be more or less beneficial for LAUSD students, let alone those studying at NHHS, but as students will have the choice to opt-in or out regardless, the implementation could be of appeal to some.
Leave a Comment