A New President, A New Beginning
A Recap of the 59th Presidential Inauguration of the United States
President Joe Biden's Inauguration took place on January 20, 2021. As important an event as the inauguration was, not everyone in the nation could spare the time to watch it from beginning to end, but there were plenty of highlights that shouldn't be overlooked.
One such event occurred before the Inauguration, but still deserves mention: Former President Trump's second impeachment. Although it was not long before the end of his term, Former President Trump became the only President in US history to have been impeached twice, and the first President in the last 180-odd years to not attend his successor's inauguration. 
This breaking of tradition was partially remedied by Former Vice President Mike Pence's attendance, where he performed the ceremonial obligations in Trump's stead. Instead of attending the inauguration, President Trump departed for his Mar-a-Largo resort in Palm Beach, Florida after his departure ceremony.
Because of events that preceded it, President Biden's inauguration was under the protection of more than 20,000 U.S. troops. Additional precautions were taken, but these were against the pandemic, and not violence, including a limit on attendees to the event, a requirement of face masks, and many other standard procedures.
Some notable attendees, however, included Former Presidents Bill Clinton, George W. Bush, and Barack Obama, along with their respective first ladies: Hillary Clinton, Laura Bush, and Michelle Obama. However, for the first time in more than two decades, not every Supreme Court Justice attended, with the oldest members, Justices Clarence Thomas, Stephen Breyer, and Samuel Alito not being present due to concerns about COVID.
Among the speakers at the ceremony was Senator Amy Klobuchar, who opened with a short speech that addressed the storming of the Capitol. She was followed by Leo J. O'Donovan, who delivered the invocation, calling "American patriotism, born not of power and privilege, but of care for the common good with malice toward none and with charity for all" a "thrust of the Spirit."
Vice President Kamala Harris made history on multiple fronts, being the first female Vice President, first south Asian Vice President, and first black Vice President of the United States. However, she was not the only woman of color to make history in many ways during the inauguration, with poet Amanda Gorman becoming the youngest poet to speak at the inauguration of a U.S. President.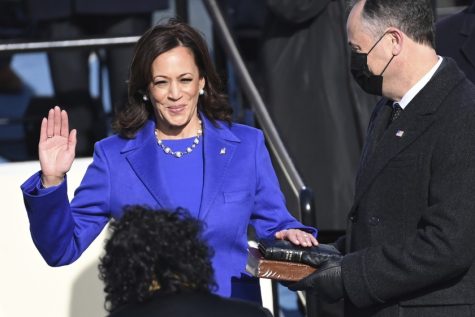 Gorman's poem called "for unity and togetherness" (BBC), which captured millions of Americans' attention. 
Another powerful display of the arts at the inauguration was the National Mall having been covered with 191,500 U.S. flags and 56 pillars of light. These things were representative of those Americans who were killed by COVID-19, and the 50 United States, D.C., and the five U.S. territories, respectively.
President Biden was sworn in on a Bible that has been an heirloom of his family since the year 1893; it was the same Bible that was used during his swearing in to the offices of Senator and Vice President.
Vice President Harris, however, was sworn in on two Bibles: one held by her husband, belonging to Regina Shelton, and another held by her sister Maya Harris, belonging to former Supreme Court Associate Justice Thurgood Marshall.
President Biden's inaugural address was 2,514 words long and lasted 21 minutes, having started at 11:52 am and ended at 12:13 pm. The main themes of this speech revolved around ideas of unity, and he laid out his plans to create a more unified America. He credited the political strife in the US to such issues as the COVID-19 pandemic, economic issues, climate change, and racial injustice.
The New York Times described the address as a "direct rebuttal" to Former President Trump's inaugural address in terms of tone. He recognized the struggles of the American people and highlighted the fact that their problems would not be helped through distrust and turmoil, but through compassion and unity. He cited such historical events as the Civil War, the Great Depression, the World Wars, and the September 11 attacks as moments when such thinking prevailed.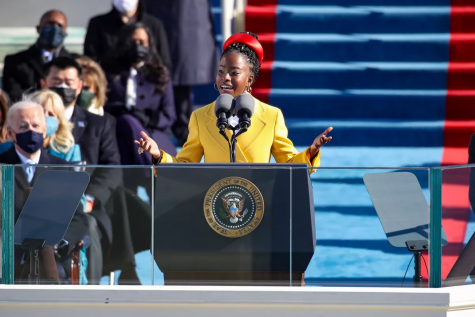 President Biden's inaugural address was followed by Garth Brooks' performance of "Amazing Grace" and, as aforementioned, poet Amanda Gorman, who recited "The Hill We Climb." The benediction was delivered by Silvester Beaman, a Methodist pastor of Bethel in Wilmington, Delaware, and personal friend of the President.
In a country feeling divided, Biden's inauguration left many Americans hopeful for a new beginning of unity.
Leave a Comment