What's Going on With the Vaccine?
The announcement of the COVID vaccine revealed the arrival of a new dawn, one where masks are no longer required, and families can greet each other freely. 
When a vaccine was first announced back in January, vaccine distribution in the U.S averaged 359,000 doses a day. It has since grown to about 1.6 million doses a day and is expected to continue increasing, indicating potential to meet the Biden Administration's goal of 300 million vaccinations by the end of July.  
Currently, in the stead of positive news, restrictions are easing nationwide, and whether or not it is positive is yet to be seen. 
For California, specifically, distribution of the vaccine has met multiple hurdles within the past month. On February 1st, anti-vax protesters managed to temporarily cut off access to Dodger Stadium, one of the largest vaccination sites in LA county. The site was shut down for 55 minutes as a precaution, however, no appointments were cancelled. 
In a more recent turn of events, five vaccination sites (Dodger Stadium, Crenshaw Christian Center, San Fernando, Lincoln Park, and Hansen Dam), which were scheduled to close Friday, Feb.12th to restock, were shut down Thursday following an unexpected vaccine shortage.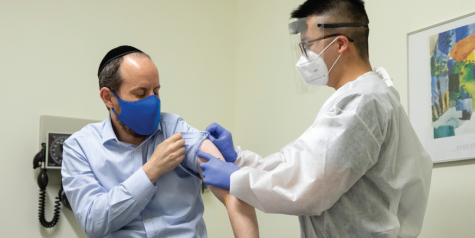 This is indicative of the larger supply shortage within California, a problem of which Los Angeles Mayor Eric Garcetti has expressed concern. "Supply is the issue. That's the constraint," as stated by Garcetti at a recent press conference.

Healthcare worker Manuel Mendez shares his thoughts on the issue regarding vaccine distribution, stating, "As of right now, only healthcare providers and seniors have access to the vaccine, although vaccine pacing should speed up around March or April, allowing more people, including students such as yourselves, to begin getting vaccinated." 
Manuel Mendez, along with his colleague, whose name will be kept anonymous, have both taken their second round of the vaccine in the past week. His colleague states, "All centers are currently full and it is very hard for some to set up appointments. At the rate we're going, I'd expect everything to go back to normal in a few years." 
After almost a year, yearning to return to campus is commonplace within every household. It is uncertain whether or not LAUSD will reopen this semester, however, LAUSD Superintendent Austin Beautner is pushing for LA county school officials to begin distributing vaccines to students. 
It is unclear when exactly us students will be able to begin getting vaccinated, but most sources point to the uniform conclusion that children and teenagers alike will have access to the COVID vaccines around springtime. And when we are vaccinated, we will most likely take an initial, priming dose of either the Pfizer or Moderna vaccines followed by a second booster shot roughly 3-4 weeks after the first dosage. 
As of right now, Newsom has announced that 10% of all vaccine doses will be reserved for teachers & child care workers, with vaccine allocations continuing to increase by a margin of about 1.5 million starting March. Since the primary concern of returning to campus deals with the safety of older teachers & immunocompromised children, this means that there is a slight possibility that we could return to campus this semester, even before our [the students] expected vaccinations in Spring.


About the Writer
Lorenzo Mendez, Staff Writer
Lorenzo is a senior studying at North Hollywood High School and has just recently started writing for the arcade. He enjoys all types of arts: ranging...