What Schools Need to Do to Reopen
Update from LAUSD Superintendent
As the pandemic continues to affect the opening of North Hollywood High School, LAUSD superintendent Austin Beutner delivered a message on recent updates. 
He mentioned that the district has provided 102 million meals and other supplies since March, making their efforts "the largest school-based relief effort in the country."
Schools are unable to be opened unless a variety of conditions are met. Student learning, safety, health, and other factors must work together in order to allow a return. 
North Hollywood High School senior Shion Murakawa believes that obtaining vaccinations for everyone is the most important requirement: "Vaccinations promote a degree of certainty on safety and allow students to feel better about being on campus."
 Due to the interconnectedness existing in schools (teachers, cafeteria workers, bus drivers), there is a need for everyone to be vaccinated. 
He mentions that it is particularly important for low-income communities to receive the vaccination as they are disproportionately affected and often lack access. 
Beutner acknowledges that schools must be open because they are the ideal environment for learning and there are many people struggling with remote learning due to issues such as many family members or parents with outside jobs or lack of food. 
He also mentions how if teenagers are allowed to go to places such as shopping malls, surely they can be at school with the proper precautions.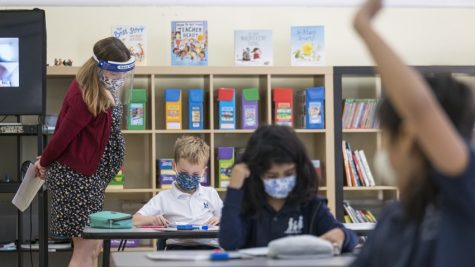 But because the county is not meeting standards for coronavirus, schools are unable to open by state law. Ever since the standards were created in August, they have surprisingly never been met.
More specifically, California health standards allow primary schools to reopen when the rate of new daily cases is below twenty-five per one hundred thousand and the rate is seven per one hundred thousand for primary schools.
 These rules have no waivers or exemptions. North Hollywood High School senior Albert Zhang agrees that secondary schools should be prioritized: "Younger students have a harder time learning new material in the absence of a physical classroom so they should definitely return first." 
In order to accelerate progress, the district has taken multiple actions such as installing health-screening stations and training staff, and placing hand sanitizer stations.
 Wearing a mask can reduce spread as well and FAM Brands has been supporting this cause by donating 3.6 million reusable cloth masks. 
Beutner proposes a "60-day challenge" in which everyone gets together (figuratively) and works out how to return. He remains hopeful by citing successful examples of schools that have minimized cases: UCLA, Baltimore, and Illinois schools. 
Though the situation differs for every school, Shion believes that LAUSD has done pretty well: "Despite the large number of cases in Los Angeles, the district has managed to be pretty responsible for the students' safety." 
Shion and Albert and many others still remain hopeful about going back to school. As Shion says, "Though returning to school in the near future is unlikely, hopefully, we can have a graduation." 
Leave a Comment