Mental Health during the Pandemic
How Social Workers Are Helping Students Cope With Stress
Already a year has passed since the beginning of the pandemic. As time progresses, students are increasingly losing motivation and finding themselves depressed.
 To alleviate these conditions, social workers such as Ms.Ghazarian at North Hollywood High School are helping students cope with their problems. 
These times have caused society to focus more on mental health and find ways to reduce stigmas associated with receiving assistance. Ms. Ghazarian believes that social distancing has resulted in less interaction between students. 
She states that though it is hard to pinpoint a specific group that is most affected by the pandemic, she is especially concerned for "school-aged children and teens because of not being able to be in school physically and having to navigate remote learning." 
To help students struggling with this new learning, she and other practitioners have adjusted their methods of face-to-face interaction to phone calls and video conferences. This makes the whole process more difficult as both people must attempt to emulate a physical environment.
She mentions that "NHHS admins/teachers/counselors are all aware of the difficulties with online/remote learning and are available to support students as needed." To support students, teachers "have been provided with professional development and resources on social-emotional learning."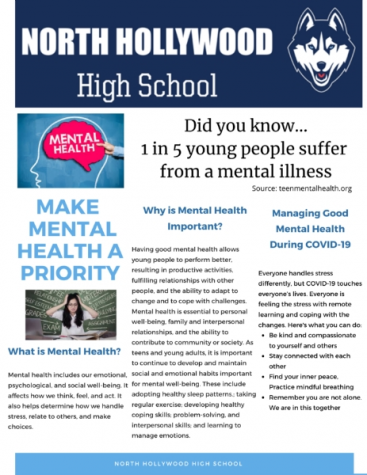 Along with other social workers, she has created a "Mental Health Resources" section that can be accessed on Schoology in the NHHS Counselor's Schoology page or the NHHS website.
 These resources feature information such as who to call in case of an emergency or mental health crisis and specific files related to various aspects of mental health (newsletter, coping mechanisms, grief process, etc). 
 Additionally, there are links to national organizations such as Teen Mental Health and the National Alliance on Mental Illness.
 One interesting statistic provided is that 1 in 5 young people suffer from a mental illness, which shows how prevalent the issue is especially right now. 
Our school highlights mental health in many different ways. Last semester, Ms. Ghazarian, members of ASB, and others held a virtual Mental Health Awareness Week to help students understand the significance of dealing with mental health issues. Another similar event is being planned this semester with the same purpose. 
She emphasizes how even during these times, there will always be an outlet for students to reach out to; they can talk to their teachers or counselors, visit the aforementioned websites, use advisory to relieve stress, or download apps such as Inner Explorer, Calm, and Headspace. 
Although there will be times when students feel unmotivated or gloomy, they should know that the school will always be there for them.
 Many students may not be aware of the infrastructure centered around mental health, but they shouldn't be afraid to look into it if they find themselves in such a dilemma. According to a recent poll in class, 73% of people are willing to return to school in late April to early May when the school reopens. Hopefully, students will soon be able to go back and be released from the escalated mental issues. 
Leave a Comment