Spring Break or Spring Bleak?
How Students Feel About a Vacation in the Middle of a Pandemic
Spring is the time of growth, the time of hope, and the time of new beginnings. This spring, hope is blossoming for an end to the COVID-19 virus that seems to be drawing nearer and nearer as the months of isolation drag on.
The cause of this newfound global optimism that the world can soon return to some semblance of pre-pandemic normalcy? The approval of multiple vaccines (Moderna, Pfizer, and Johnson and Johnson to name the frontrunners) that are proving to be quite safe and effective.
However, we are not yet in the clear. Though Los Angeles County may have entered the "orange tier" already, which allows for more attractions and sources of entertainment to open up to the public, this spring break still came a bit too soon to be throwing out those masks and abandoning that hand sanitizer.
Olivia Ortabasi, a Junior at North Hollywood High School, reflects on the hardships of being a social teen in the age of coronavirus, saying, "Spring break was just like always: staying at home. I wanted to go out and see my friends but it's complicated."
Ortabasi's feelings reflect that of millions of spring breakers around the world. Before the virus struck the country in March of 2020, it was not uncommon to expect college students to be vacationing in sunny spots such as the beach, or to see high school attendees out with their friends at a local hangout.
Now, society is all too familiar with the necessity of seeing those familiar faces over a phone screen or six feet away.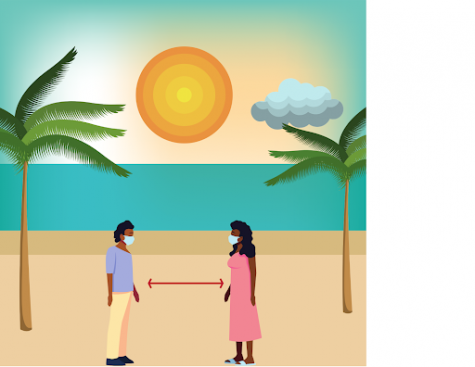 However, many cities in the U.S. are beginning to ease restrictions and recover from the lockdown, which makes people feel much more comfortable going out (while still practicing safety) than they did over one year ago today.
On how the current COVID situation is finally starting to improve, Russell Medrano, another resident Husky Junior, says that this spring break was "definitely better [than last spring break] because my family got the chance to spend time together, like visiting my aunts and uncles, and I was able to visit a friend, so socializing specifically for me got better this year."
While we are still not out of the woods quite yet, the light at the end of the tunnel is becoming bigger and brighter as the chilly nights of winter melt into the warm afternoons of spring.
By this time next year, we can only hope that spring break will be filled with lots of hugs and maskless interactions.
Leave a Comment