Hope After All?
The high possibility of school sports coming back.
A year after the shutdown, Californian high school sports are finally seeing an opening to return.
Countless students and teachers would enter a new phenomenon called a "quarantine" that was tentatively scheduled for just two weeks. A year later, those same students and teachers are finally seeing a light to return to campus.
After LAUSD and the teachers union agreed on a path to reopening, what was thought to be unimaginable is starting to become possible. And as plans to bring kids back into the classroom begin, the plan to bring athletes back on the field has already been underway.
On March 3rd, 2021, LAUSD superintendent Austin Beutner announced outdoor sports can resume on campus after having to be put on pause after the drastic winter surge. With cases going down and vaccinations going up, Beutner made this decision with strict adherence to public health guidelines.
Beutner remarked in a statement, "Allowing students to resume athletic competition is not a decision we made lightly. The spread of the virus is still categorized as widespread in Los Angeles County.
At the same time, the opportunity for young adults to be with friends and teammates while participating in a sport might help ease the anxiety and isolation many are feeling.
And for some, the understanding they need to remain in good academic standing may help motivate them to stay on track in their schoolwork."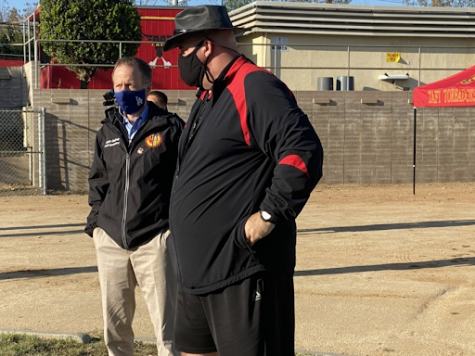 There are guidelines and strict rules for all the sports to follow.
For starters, all practices and workouts must be held outdoors with the athletes being required to wear masks and social distance when necessary. Additionally, all athletes must participate in weekly COVID testing and have their parent's informed consent to participate in any athletic activities.
As of now, the CIF is planning on playing just two seasons of sports instead of the usual three.
In the first season, cross country, football, and water polo will be allowed to play.
In the second season, baseball, golf, lacrosse, soccer, softball, swimming, tennis, track and field, and traditional game day cheer matches/events will be held.
The plan to return to the field has been a fresh breath of hope for student-athletes all over California. The struggle it took just to get to this point took a massive toll on all students, coaches, and athletic directors.
And while many athletes are just itching to get back to the field, some have held their reservations, citing their distrust in others' ability to follow the guidelines.
"My biggest concerns are just social distancing," said senior Francesca Cariga of the girls' soccer team, "I'm still nervous to practice with people."
For North Hollywood High, athletics have been granted permission to hold conditioning and practice on campus. A week after being granted permission, North Hollywood High athletic teams held prospective zoom meetings after school with details and procedures for the upcoming season.
With the idea of returning to the field becoming increasingly more likely, some athletes couldn't ask for anything more. "I only have four years and I didn't want one of them taken away from me," pleads junior Shaquille Brookins (multi-sport athlete), "As long as the people I'm gonna be around aren't careless, then I'll be fine."
While some athletes are holding their breath, most athletes are comfortable with the prospect of going back. "I'm completely comfortable returning because I know our coaches have our overall safety as their number one priority," declared senior baseball captain Ryan Monreal.
As for those who are holding their breath, commitments to masks, distance, testing, and vaccines have all been focal points in terms of feeling safer.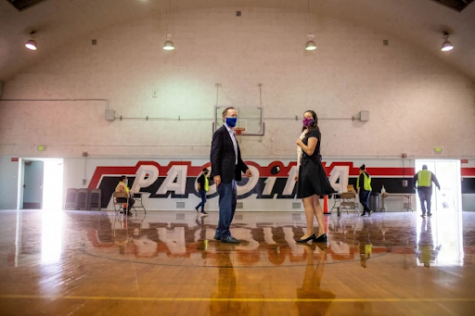 The choice to go return to the field will be exactly that, a choice. No athlete is required to go, but those who go will be required to follow the guidelines.
After an entire year of a struggle though, it is remarkable California has reached this point.
What was thought to be doomed from the start, the idea of sports being played on campus has shifted from a dreamy fantasy to a potential reality. 
Leave a Comment
Your donation will support the student journalists of North Hollywood High School. Your contribution will allow us to purchase equipment and cover our annual website hosting costs.