Noho Robo Club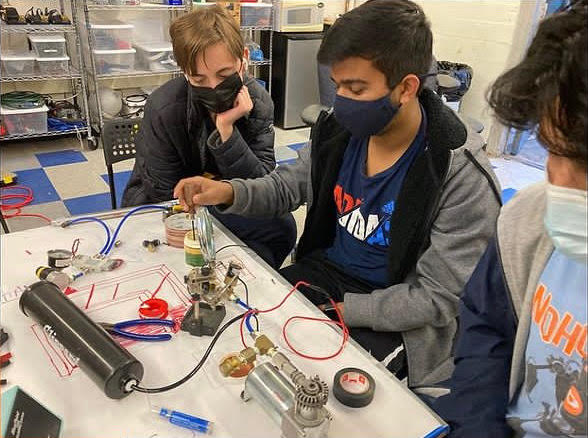 Want a taste of the future? A way to experiment with technology?
Join the Robo Club and become a part of a group with supportive members and positive encouragement. They are flourishing with innovative ideas for upcoming projects.
Sam Fahimmanesh and Emmanuel Castillo are seniors in STEM who are very proud of their club and the competitions. The presidents and the rest of the members are currently trying to get themselves together to participate in Battle-Bots (their upcoming competition) in which they build robots to fight other competitors. "It has less restrictions than most competitions, so we all look forward to it because it's a fun event to just fool around in," states Natale Ireland, senior in the Robo club. 
Another competition they have participated in was "…the Vex Robotic competition," Castillo mentions, in which students are designed to build a robot in a game-based engineering challenge.
"We have worked on a variety of robots using various functions like throwing and picking up objects," Ireland adds. She also mentions that they utilize dummy robots for newer members to copy as building workshops and to test completion robots on.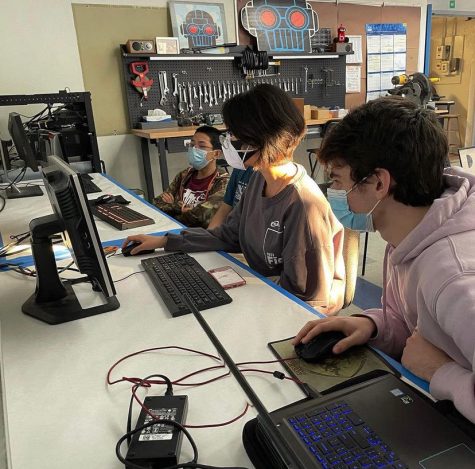 The robotics club meets on Wednesdays and Mondays after school in RM 178. They bring new ideas and goals that they plan on reaching with regard to brainstorming, designing, and then creating robots.
The incorporation and role that each member in the club plays is crucial. No one is left out and each member helps out in one way or another through every step of the development process. The club activities commence every other day after school. 
"Our club is constantly coming up with new ideas for our robots, such as one we designed for our most recent competition, that was designed to take up as much room on the game floor as possible to maximize the amount of points we could earn in the game," says Ireland. This is one of many projects they have worked on as a group.
Fahimmanesh states that they have three teams, saying "So [they] each split off to work on [their] respective assignments: the engineers design and build robots and parts while instructing newer builders. The coders work in various programs to improve the code for our robots, and the notebook team documents each part of the process for the other teams." He believes that doing so would allow the members to improve their overall ability.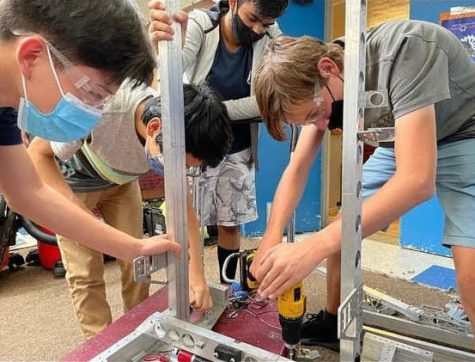 Many of the members agreed that the club is enjoyable and that even though they may occasionally have a couple of rough patches, at the end of the day it's fun to work with others. "It has improved my problem solving and organizational skills. Especially with so many hands moving around the workshop, it can become quite messy," Ireland states.  
With many goals set in mind, the team thinks it's important to look at their past ideas and the way it was executed in order to learn from them. Emmanuel states, "We can sometimes overestimate either the resources or time we have when we have an idea we like. Leading to it not being what we wanted it to be. However," he adds, "everyone makes mistakes and it's all a part of the learning process."
The Robo Club is an innovative and creative club, ready to take initiative in order to create whatever their minds desire. 
Leave a Comment
Your donation will support the student journalists of North Hollywood High School. Your contribution will allow us to purchase equipment and cover our annual website hosting costs.