Who Are CyberPatriots, and How They Can Benefit You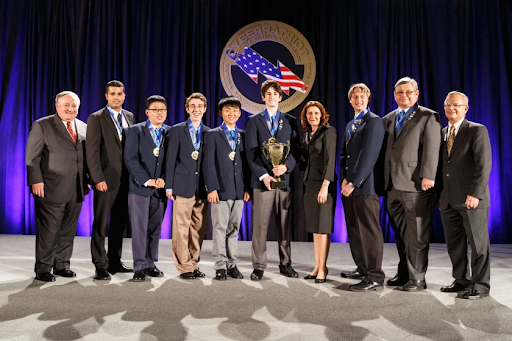 CyberPatriots are one of the many teams here at NHHS (North Hollywood High School); they are an excelling team led by Coach Gehringer. The focus of the team is to inspire students toward careers in cybersecurity or other sciences such as technology, engineering, and mathematics.
A freshman of the HGM (Highly Gifted Magnet), describes the team as, "It interests me about computers and the software inside them, with the fall semester almost done, I'm interested in how the team will lead me to think about my future."
North Hollywood's Cyberpatriot team participates in the "The National Youth Cyber Defense" competition yearly, with the season happening during the fall semester consisting of three divisions based on grade level and program specialty.
The competition consists of three rounds, where students from all over the country compete in teams of 5 to secure the Windows operating system by removing malware/viruses, setting proper security configurations, and removing other security risks.
Challenges in the other rounds consist of additional challenges such as linux operating systems, decoding & decrypting, and network configuration.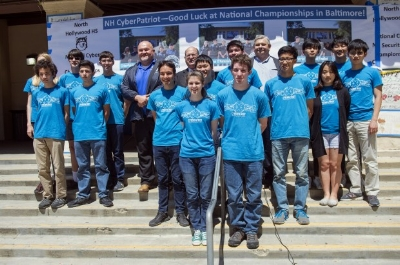 North Hollywood's CyberPatriots team has excelled in tournaments, having national championship teams in 2014, 2015, 2017, and 2018, also winning the California Cyber Innovation Challenge for the last four years in a row.
North Hollywood High School won the 2014 National CyberPatriots championship, with over 1,600 teams coming from the United States, Puerto Rico, and Canada.
With teams reaching nationals, students get to participate in highly competitive tournaments with locations all over the United States, such as the teams in 2017 that got to participate in Nationals, in Baltimore, Maryland.
Teams meet afterschool on Thursday from 3:30 to 5:30 PST (Pacific Standard Time), as well as one Saturday every month.
A senior in the STEM magnet describes his experience as, "A very helpful addition to my high school experience; I joined the STEM magnet because I was very devoted to my future as a software engineer, and being a part of CyberPatriots helped get me closer to my goal. Not only has it helped me achieve that, but it also counts as an extracurricular activity that looks excellent on my college applications!"
Moreover, they are a team/program that will advance your understanding of cybersecurity and other STEM related subjects as well. The open community that CyberPatriot offers ensures a student's social & academic development.
A Junior describes her experience as, "I've really enjoyed my time as a CyberPatriot, it's advanced my mastery in cybersecurity and gives me a very bright idea about what I want to do in the future; they also have a very open community and you will feel welcome here no matter your race, skin color etc."
CyberPatriots are a team established to educate K-12 students about cybersecurity and other STEM related fields. Their open and diverse community helps students strive socially whilst educating and helping them establish themselves for life after high school.
Leave a Comment