Lady Huskies for the Win!
That's one for the history books! Our girls on the volleyball team took it all the way to City Finals and ended the hard-fought season on a high note: bringing home the championship.
The playoffs were a series of fortunate events: on November 1, our Huskies made it to City Semifinals. It was not long until November 3 that their high spirits carried them to the City Finals. Finally, on November 6, they claimed the City Championship. This was a long-awaited achievement, and the team members and audience shared many positive emotions after the win.
Melodee Zamilan, a senior player, says, "Winning the volleyball championship was very satisfactory because none of us thought we would get to that point when we first made the playoffs. We were surprised to even make the playoffs." 
Another top player, Kenya Soto, reflects on the moment she knew they could make it to this point. She says, "I feel like we realized we had the ability to win during playoffs when we dominated the first game." The Lady Huskies won 3-0 in each of their playoff matches. "We defeated the hardest schools so we had the mentality of 'if we did it then, we can do it again.' Their previous wins built up their confidence to succeed. 
It was not only the players who felt assured that our team could make North Hollywood High School proud; the spectators felt a surge of confidence as well.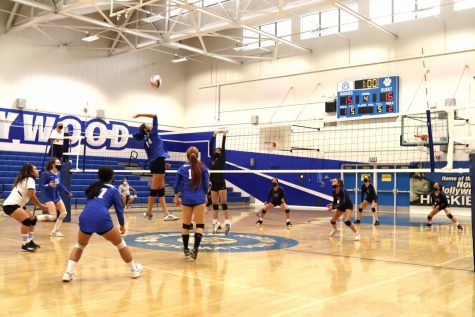 Harold Kim, significant other of Hailey Truong, one of the volleyball players who played a key role in this win, says, "The team was playing so skillfully and they were so serious during it." It was apparent to players, coaches, and onlookers alike that this team had the strength and persistence necessary for an accomplishment like this.
The team members knew they were not alone. They had support from all of their fans, which only made them more determined to win. Hailey Truong says, "I definitely felt supported by coaches and teammates who knew I was playing. It was a good feeling."         
Samantha Molinari was the team captain who led them to the win. She was the first female athlete to win a volleyball championship in North Hollywood history. Her drive as the leader cemented the team's collaboration.  
The win was especially exhilarating for Amber Mendoza. "I was the only person on the team who made varsity without being a returner, and Coach Kevin Cruz was new to the sport as well so it was amazing to see how we all came together and everything worked out in the end." This was a new experience for her, but definitely one that positively impacted her and that she will remember forever.
One of their coaches, Mr. Chavez, also felt a sense of accomplishment helping lead this team to success. "The girls made me proud to be their coach. The win was historic!" he states. 
Congratulations to the 2021 girl's volleyball team! Here's to hoping next year's team can repeat this joyous moment and bring home another championship win.
View Comments (1)