Huskies Basketball is Back
With a strong start from their preseason training and an outstanding performance from their first game, the North Hollywood High boys basketball team is confident and ready to crush the 2021 season.
The NoHo high boys basketball team is off to a great start as they won their first game.  The boys are prepared and zealous for this season, confident they will dominate the courts.  Although the games are just starting, the team has been training for over a month working on the fundamentals and ridding the rust.  The Huskies are ready to crush this season.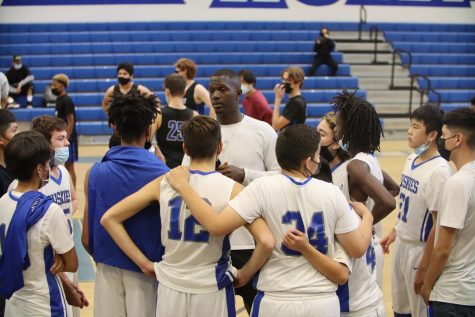 Although the team's starters were yet to be determined during the pre-season, the boys all got to work with each other and all helped out. Syed Hussain said, "the pre-season training was amazing for getting back into shape and conditioning for the games to come."  All preseason trainers showed good improvement as well as the new team members.
Throughout COVID all sports, including basketball, had to be put on hold. Daniel says, "We are all a little rusty after the break, but we have a strong team now and are off to a good start with the season so far."  The team is still working on conditioning and has been practicing every day.
The season just started this month, and the Huskies are 2-1.  The player compatibility is strong, with the older players excited to be back, and the new players are excited to finally play for the school team.  Regardless of their experience, they both have one goal in common: winning.  Daniel says, "I'm a sophomore so it is finally my first year playing basketball for a high school team."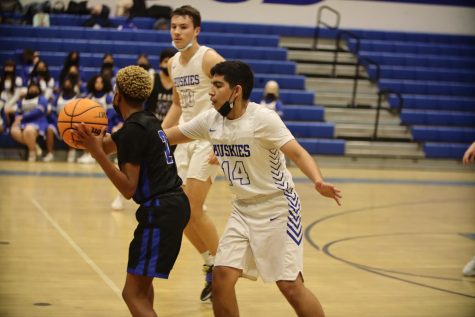 Since Huskies basketball has been postponed for almost two years, most of the team's players are new.  Although new, the seasoned players still see lots of potential in the new players. Hussain also says, ¨The new players are actually really good, they make a good addition to the teams¨.  
Though it's been a while since the huskies last season, they are ready to come back strong.  With preseason training and daily practices, the team believes that they are more than ready this year. Hussain also stated,  "Our biggest strength is definitely our team practices, we have them every day followed by a game every weekend."
Leave a Comment