Battle of the Books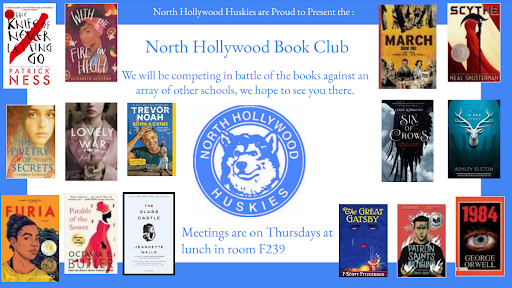 Battle of the Books is a much-anticipated district-wide event. It gives participants the chance to show off their knowledge about modern and classic literature while working in teams to accomplish a common goal.
Battle of the Books happened on April 22nd, after lunch. The event had not taken place for two years due to the pandemic, but this year NHHS and a few other high schools were able to compete. 
Battle of the Books works like Jeopardy. The host gives questions about the fifteen to twenty books assigned. There are about four team members and four teams per school. This year, four schools from across The Valley competed against each other. 
One of our teams, known as the "Fruity Farmers," got 1st place in the competition. 
Mr. Hamerick, the school librarian, talked about the setup of Battle of the Books, and how it was a challenge to get participants and the other schools to do the event online, saying that "it was difficult to get the three other schools to participate, especially when COVID-19 limited us to do the competition on Zoom."
He continued, "it was also challenging to get publicity and find participants to read the books. But our school's book club helped to get some attention for the Battle of the Books."
The book club helped work with Battle of the Books to get the competition going. Their president, Sofiya Vasquez, worked especially hard to get the word out for the contest, and it latched on. Vasquez comments: "The purpose of the book club would be to read certain books and discuss them. But before Battle of the Books, we would read the same books from the list. This would get participants to join the Battle of the Books."
It's great to see our Book Club helped with getting participants for this event. But they aren't the only ones with experience in Battle of the Books.
Members of "Fruity Farmers", Katie Chen, Gayanne Cherechyan, and Rachel Colby, talked about their experience with Battle of the Books.
Gayanne joined through her friend Katie, who was an experienced opponent. Katie started through middle school, which was a game-changer for the team. Rachel had also done Battle of the Books before as well.
All three had explained, "It was a more relaxed experience from Middle School. It helped that the books were interesting to read, unlike the last few years." 
They all explained, "It was also different with how the meeting was set up. We did it through Zoom, and it works like Jeopardy, where we get asked different questions and the first team to buzz in answers."
All three players were excited to announce: "We won 1st place!" 
Needless to say, the return of Battle of the Books was exciting for many students, who hope that the tradition can continue for years to come.
Leave a Comment