UCLA Blood Drive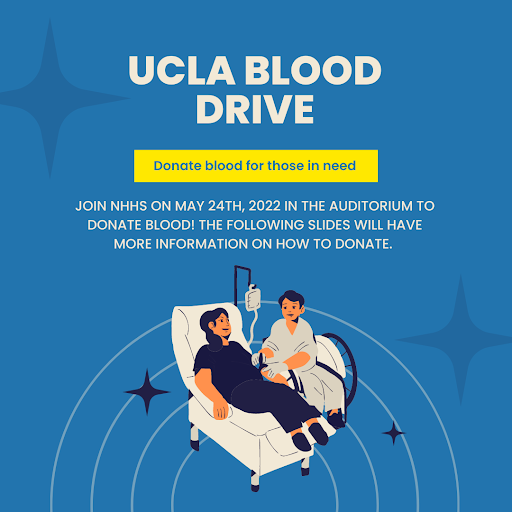 Donating blood may be a new experience for some and so it is understandable to be hesitant, but it is good to participate and help others. The UCLA Blood Drive here at NHHS has come and gone. To have participated, you would have needed to fit into fairly specific criteria.
Blood donations are important for many reasons. They can play a key role in the treatment of physical injuries and chronic illnesses. They can even aid a person who is suffering from cancer.
Hospitals need their demands for blood to be satiated. This is true, especially now. "Although the pandemic is improving in our region, there is still a need for blood as hospital demands continue to outpace donations. There is a severe blood shortage affecting our center and blood suppliers across the nation such as American Red Cross. The shortage is expected to continue for the foreseeable future," Medical Directors Dawn Ward and Alyssa Ziman share.
Those who participated in the UCLA Blood Drive needed to be at least 17 years old. If they were not 17 years old but instead 16 years old, they were still able to take part. However, they were only able to do so with a parental consent form.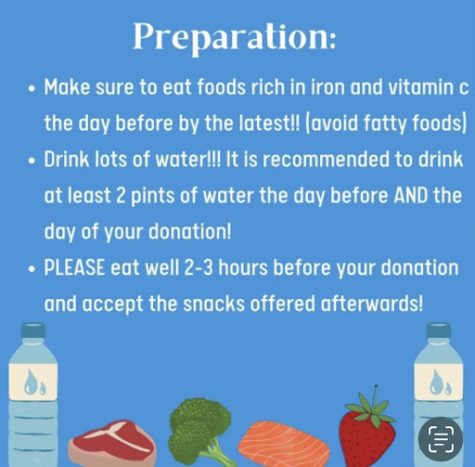 Unfortunately, this means that freshmen and sophomores were excluded. "I know that the UCLA Blood Drive is coming up and I do kind of want to give it a try, but I'm not old enough yet," freshman Alexis Dionicio shared.
For safety reasons, there were a handful of other requirements in addition to age. The UCLA Donor Self-Screening Information mentions 10 other things to be mindful of. You can check out NHHS ASB's Schoology updates and their Instagram to view the document which describes eligibility.
The 10 main things mentioned are: weight, feeling well, medication, pregnancy, foreign country traveling, recent surgeries, tattoos, piercings, hepatitis, and general Per FDA Guidelines.
Senior Dyllan Hager states, "In my opinion, the requirements seem extremely specific. Then again, when I consider the fact that the UCLA Blood & Platelet Center is receiving blood from strangers, it makes sense."
Naturally, when you donate blood you don't go unrewarded. You usually are given a light snack and a drink afterward. It's a little cherry on top of your efforts.
Once again and in general, those who are able to donate their blood should consider doing so. You would contribute to the overall blood supply and help a person on the road to recovery.
Leave a Comment