A Great Day To Be A Husky
It's a great day to be a Husky when LAUSD superintendent Alberto M. Carvalho comes to visit North Hollywood High School. He made a PA announcement with the help of someone he expressed as his 'boss', the student council president and LAUSD school board member Nathaniel Shin.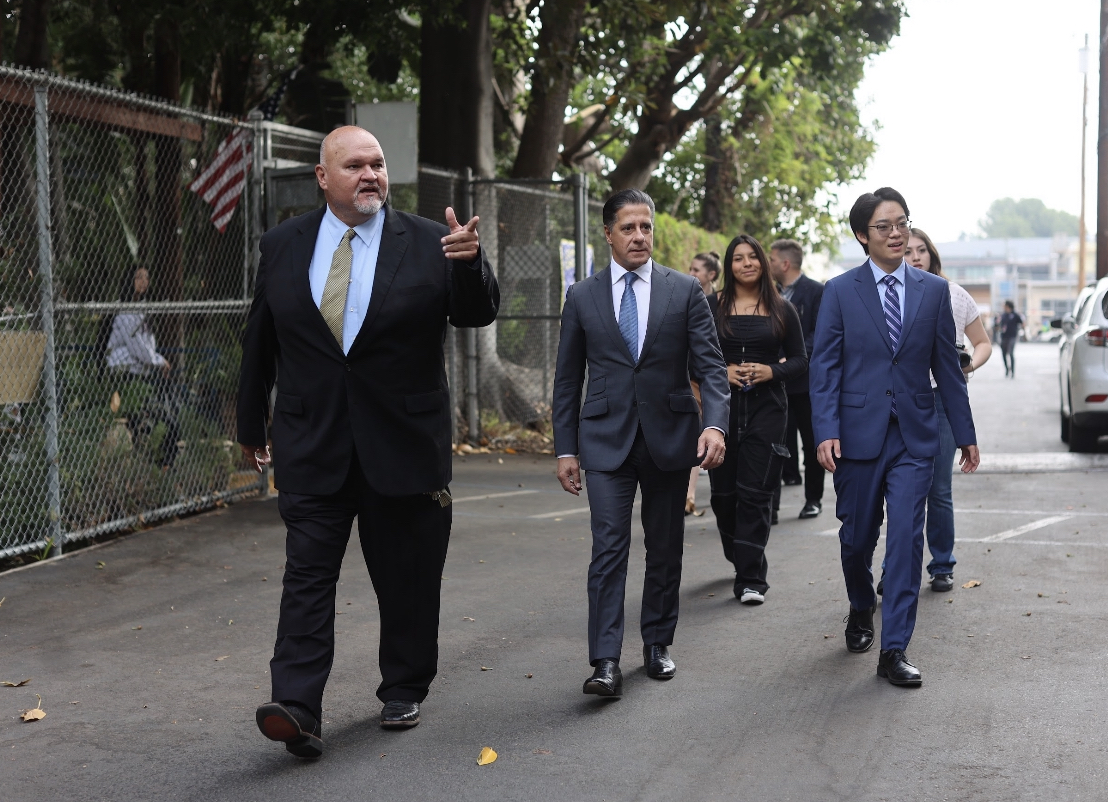 Mr. Carvalho and his team came to tour the campus, and visit a history class. They also made a surprise visit to the agricultural area. With the help of NHHS principal Mr. Rosales and other assistant principals, Mr. Carvalho was able to see everything he wanted, and at the end of the tour made a PA announcement for the students. 
During the PA announcement, Mr. Carvalho said: "Today is High School Student Voter Registration Day, September 30th, and between now and October 24th you have an opportunity – if you are 16 years of age – to actually register to vote."
Eleni Mayberry, a senior from North Hollywood High School found it shocking to hear that now, as early as the age of 16, students can pre-register to vote and have a voice in future elections with the voting age being 18. 
Mr. Carvalho not only had a message for the students but for the entire Husky community. He said "No doubt the future is in good shape knowing the people I have met today. I want to begin by thanking every single teacher in this remarkable school for your dedication. I want to thank your principal, the entire staff, and the team but today I'm here actually accompanied by my friend and my boss Nate Shin, the student school board member"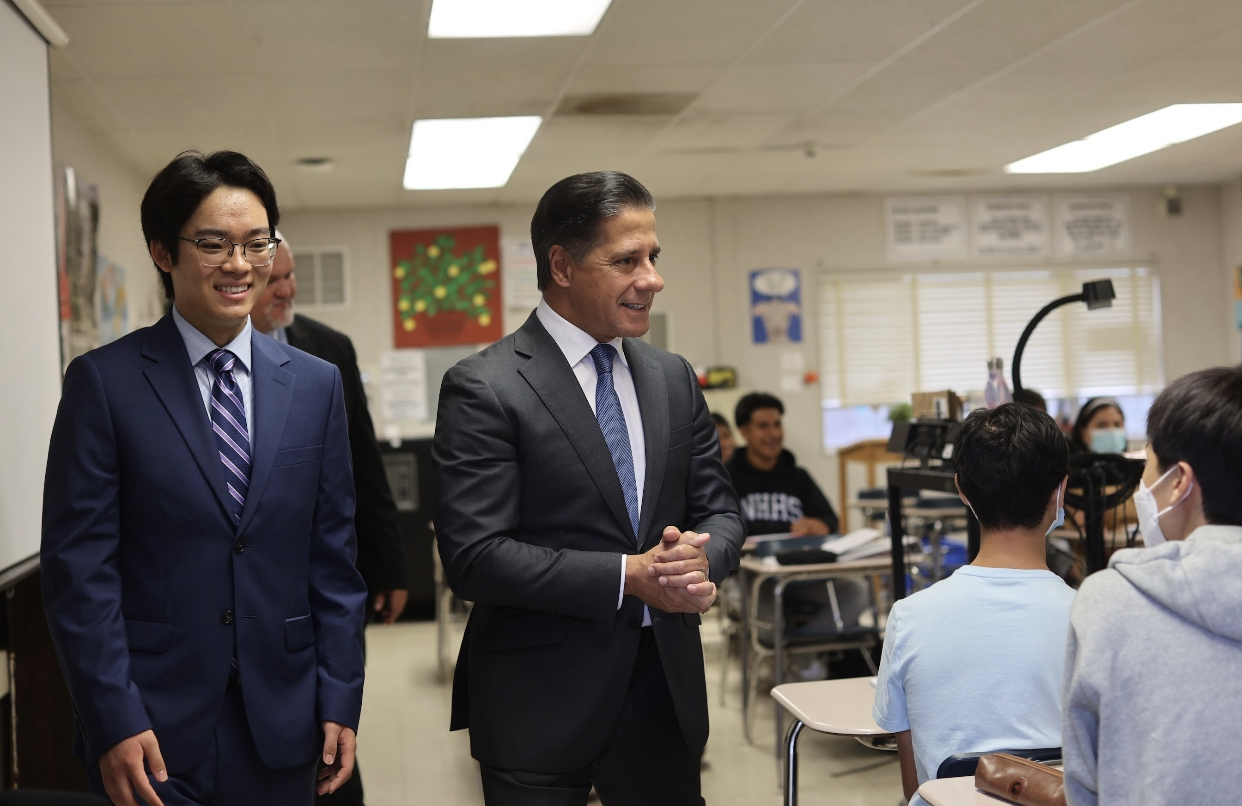 Mr. Carvalho came not only to give the news on the PA system but also to stop by Mrs. Bunis' first-period junior AP history class. Mr. Carvalho listened to the students express their concerns on not only voter's rights but as well as the gender pay gap, gun control, LGBTQ+ rights, and the controversial topic of lowering the voting age to 16.
After touring the classroom Mr. Carvalho met FFA president Edward Mateo, vice president Brianna Navarijo, and advisor Mr. Lepore in the agricultural area. While touring the vineyard Mr. Carvalho FaceTimed his wife, Maria Carvalho, to show her how impressed he was with the vineyard. He also tasted the wine grapes with Edward and Brianna.
The pigs, sheep, alpacas, and bunnies gave Mr. Carvalho a warm welcome. FFA member Mileena Francis brought a baby sheep out for Mr. Carvalho to pet. Mr. Lepore had a parting gift of fruit, flowers, and eggs fresh from the chicken coop waiting for Mr. Carvalho. Student council member Valeria Gopar made sure that Mr. Carvalho got to see the donkeys, as he refused to leave without seeing them.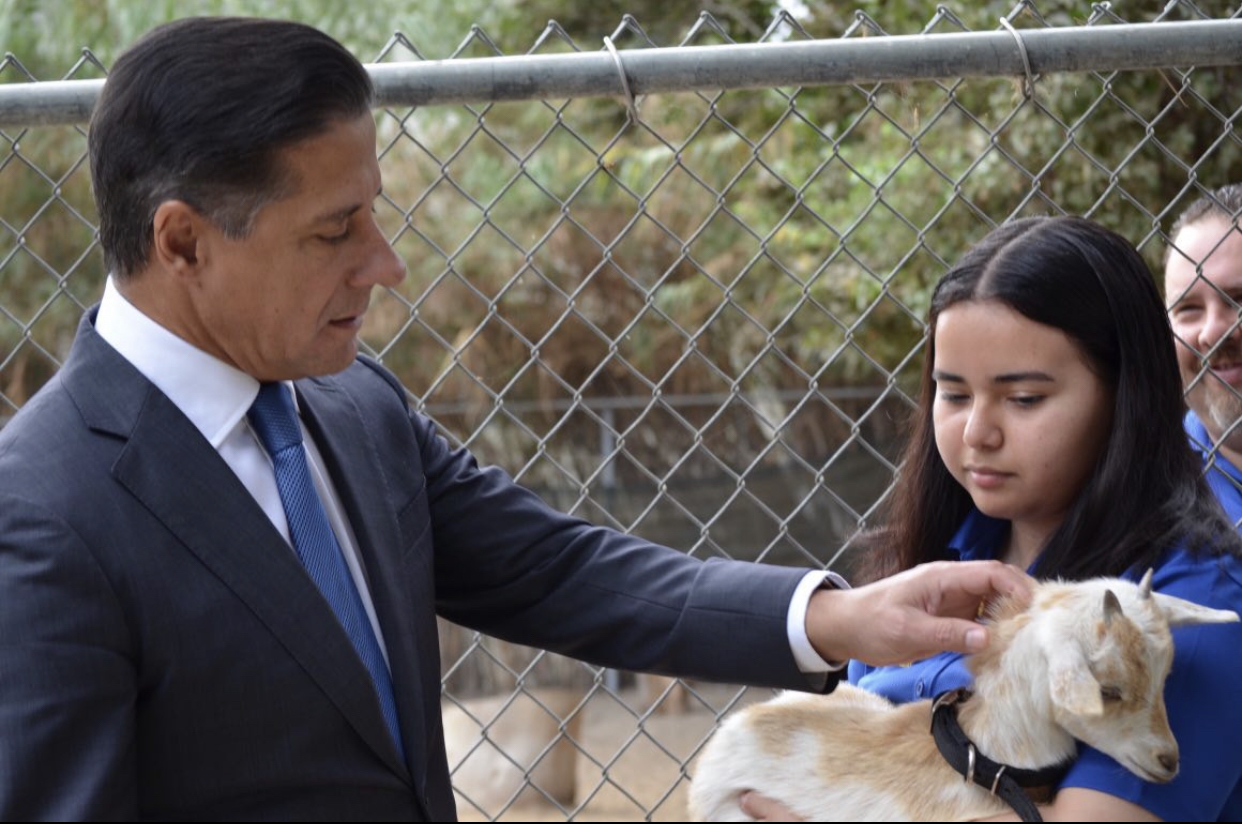 Ms. Estrada, an NHHS campus aid, expressed that although she was nervous about Mr. Carvalho coming, she felt it was nothing short of an honor. Principal Rosales had Husky swag bags with a stress ball and a Husky t-shirt waiting for Mr. Carvalho as a gift to express the NHHS Huskies' gratitude for the visit and PA announcement.
North Hollywood High School is one of the 1,000 schools that have been part of the $7 billion upgrade, consisting of also 2,000 classrooms to be renovated for safety and structure. LAUSD is the second largest district in the nation serving over 1,000 schools and 600,000 students. This change has been in the works for a while and huskies are excited to see more of the changes the district has planned.
Alberto M. Carvalho became superintendent of LAUSD in February 2022 after a unanimous decision from the school board following Austin Beutner stepping down in June. Mr. Cravalho and his team are working hard to go to different schools and engage in different communities so that students are made known of the opportun ities they have.
While on campus, Mr. Carvalho and his team made sure that the students knew of a table in the quad making it easily accessible for students to pre-register and have a voice. "Look, in November either you have a voice you cast your vote or you don't have a right to complain," said Mr. Carvalho over the PA system before his departure from North Hollywood High School.
Leave a Comment
About the Contributor
Valeria Gopar, Social Media Editor
"I am a Senior at North Hollywood a part of the student council and part of SAS an SLC on campus. I am also a member of the photography club."