FFA Flower Sale
Future Farmers of America save Valentine's day
Are you panicking because you forgot to get a Valentine's gift? Or because you need something cheap and last minute? Then come down to our school's own Agricultural Area because they are selling flowers on Valentine's day.
Every year Mr. Lepore and FFA (Future Farmers of America) sell and make flower bouquets. They come in a variety of different sizes, such as a single stem rose, red roses with a bit of baby's breath in a bud vase, and a mini bouquet. These flowers are delivered fresh and arranged by hand, perfect for your special someone. They even help support our school's FFA program. 
"The fundraiser helps support the FFA program, conferences, and FFA officer uniforms." says Mr. Lepore, our school's agriculture teacher.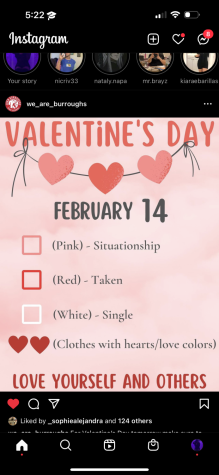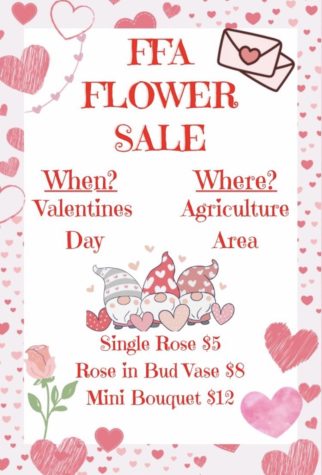 The flower sale was a tradition started by a previous teacher, and Mr. Lepore carried it on in 2010 when he started work as a teacher's assistant, as he thought of it being a great way to give back to the students at Noho and help him as well. 
"I enjoy doing this sale every year because it brings my FFA team closer together and it really does help me support my team," says Mr. Lepore.
The funds go to our schools FFA program, conferences, and FFA officers uniforms. It normally takes about 2-3 days to prep and can be challenging to make because they make about 200 batches just for our school.
"This is my first time being a part of the flower sale, and I'm very excited because I get to be with my FFA family and it's a fun way to give back to our school." says Sabrina Medrano, a freshman who is also our school's FFA Treasurer. 
The vibrant single stem rose is going for $5, the red roses with a bit of baby's breath placed neatly in a bud vase is $8, and the mini but grand bouquet is going to cost $12. 
"I'm planning on getting my mom a mini bouquet because knowing me, I'm going to forget to get something over the weekend. Either way it's more convenient for me and it'd be nice to see her surprised face," expressed Michael Arriaga, a senior at North Hollywood.
With this being an already long school year, especially for seniors, it's been especially hard for FFA's president Edward Mateo.
"This is my second  year doing this (flower sale) and it's kind of tedious getting everything to look nice, but it's surprisingly therapeutic," explained Edward Mateo, a senior and FFA president.
Mateo became President in the school year of 2022-2023, and even though it's only been one year, he has done so much already. He comes every morning and even on weekends to feed the animals, run meetings, schedule them for events, and make sure everyone is happy.
"Even though this is my first year, it has been really stressful, to do our 3-4 day conferences, open and closing meetings, and even competitions. I don't regret it though," Mateo expressed. 
FFA is more than just a program, but a family. We can show our support to them by going to the agriculture area on Valentines day and buying something for you, a loved one, family member, or friend. Even if it's just a single rose, you are helping in so many ways.
Leave a Comment