The Power Of The People
"They stood with us 4 years ago and now I will stand with them and will not return until things change."
North Hollywood High School teachers will be walking out in support of the SEIU starting Tuesday March 21st until Thursday March 23rd.
"SEIU Local 99 Executive director Max Arias and UTLA President Cecily Myart-Cruz – we are waiting for you. Our offer to continue to negotiate is still on the table until a resolution is reached." This was part of a statement released by Superintendent Alberto Carvalho on instagram Wednesday March 15th.
SEIU Local 99 is a labor union representing Los Angeles school workers whom are planning a three day strike starting tomorrow Tuesday March 21st. Los Angeles Unified School District being the second largest school district in the nation causes this strike to cause a shutdown of over 35,000 schools. 
The SEIU is made up of cafeteria workers, bus drivers, custodians, teachers assistants, campus aids and many other vital workers that make school days possible and complete. This strike is not new; the SEIU came to a unanimous decision after nearly a year of attempting to negotiate with LAUSD. 
In January 2019 UTLA the United Teachers of Los Angeles struck for six days demanding salary increases for teachers, librarians, nurses as well as a reduction in class sizes. In 2019 Ms. Patatanyan, a North Hollywood High teacher, had a class size of 46 students. "students sat on counter tops and at some point the fire department came and gave the school a ticket." Ms. Patatanyan was one of the thousands of teachers who did not cross the picket line catching media attention across the globe and finally getting the reduction of class sizes and salary increases that were long due. 
Now nearly 4 years after the UTLA strike the SEIU is taking a stand after 3 years of working under the same contract. The SEIU refuse to negotiate in their demands of better wages while the SEIU is striking the teachers are walking out meaning that for those 3 days teachers will not attend school and will not be paid. Ms. Patatanyan stands with the SEIU "They stood with us 4 years ago and now I will stand with them and will not return until things change."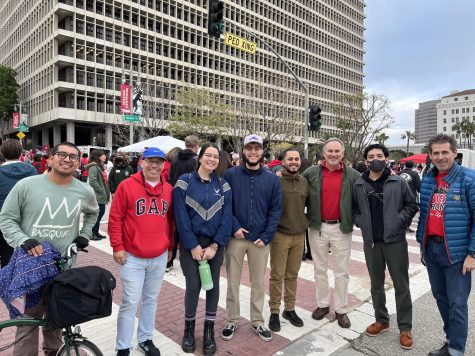 Mr. Gamboa, a mathematics teacher at North Hollywood High School took the metro line heading down to Downtown Los Angeles. "I think the message was pretty clear we think that working conditions or just living conditions or just like living conditions for students and staff they've just been stagnant for way too long it's not a lot that we're asking for the best way to put it is we're asking for living wages and better working conditions." On Mr. Gamboa's ride to Grand Park he was running late but saw the metro full of different teachers wearing red and purple from neighboring schools he was joyed to see all these people coming together for the strike. 
Ms. Jordan, the new photography teacher at North Hollywood High School, has just returned to teaching after a temporary break. Although she had not taught in the education system for some time she will always remember "the understatement the district makes when it comes to the power of the people" the power of the people is a century old saying that hasn't lost its meaning. 
A campus aide at North Hollywood High is part of the SEIU Local 99 explained that the wages LAUSD pays them are not livable. "Like I said we gotta work two or three jobs to be able to make it." Campus aides at North Hollywood High keep the students safe and make sure they do not leave campus as well as watch out for any dangerous or illegal activities. With Campus Aides at our campus there have been less trash can fires and overall the campus has become safer and quieter. Without them what happens with the students safety?   
Schools are more than just teachers, principals and nurses. Our custodians work day in and day out to make our campus shine and help the students have their basic needs. The baskets in the morning that our full of breakfast do not fill themselves up our cafeteria team helps feed our campus. Our main office administration, attendance administration, counselors, psychological social workers, teachers assistants are all vital to our community the same way our deans, vice principal and principal are.

Nathaniel Rhine an NHA Senior at North Hollywood is passionate about supporting his mother Mrs. Rhine a special education assistant for North Hollywood High School. "My mom and the rest of my teachers are in support with the SEIU and we will all walk out Tuesday morning even in the rain with umbrellas and signs. My mom walked out four years ago and now she will walk out supporting all her friends and coworkers for livable wages. I will stand along with my teachers for change." Nathaniel Rhine is ready to be striking with his friends Nataly Pastukhov, Mark Rein, Daniella Padilla and the rest of his teachers Tuesday morning. 
Joshua Gilmore an SAS Senior at North Hollywood is in complete support of the possible walkout/strike. "I believe the teachers are completely justified in walking out to support SEIU. It is not just because I get a 3 day break either The workers in our schools go underappreciated, and underpaid for having to work around high school students. So when you hear the superintendent is making ~7x the average teacher salary you start to understand where they are coming from."
"While I am no expert in how school districts work you have to ask, who allowed for one person to be paid so much while their essential workers are paid so little." Gilmore is conflicted as to how the Superintendent of LAUSD Alberto Carvalho can be paid 440,000 dollars annually making double what the President makes and still not pay his employees a livable wage. 
North Hollywood High School employees and students are preparing for tomorrow. Superintendent Alberto Carvalho has sent out a district wide email as well as posted on Instagram "Despite our invitation for a transparent, honest conversation that perhaps would result in a meaningful solution that would avoid a strike, we must formally announce that all schools across LAUSD will be closed to students tomorrow. We continue to be available to have a conversation tonight, early morning and all throughout the day tomorrow."
If everything continues as planned North Hollywood high school teachers as well as neighboring teachers and students will meet at the front of the school but will not cross the picket line from 7:30 in the morning to 10 in the morning from there they will head down to LAUSD headquarters at 333 South Beaudry Avenue, Los Angeles, 90017.
For more information stay updated on @nhhsarcade the official North Hollywood High School Arcade Instagram.
View Comments (1)