Selena Gomez, the most followed woman on Instagram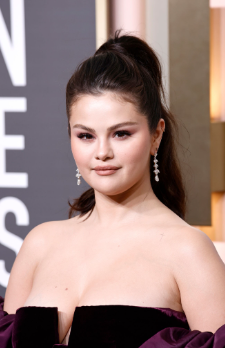 The internet chooses between Selena Gomez or Hailey Bieber, was this feud all a misunderstanding taken out of context?
On February 21, Gomez posted a story on Instagram showing her newly done eyebrows resembling Bella Hadid's,  soon after on the 22 both Kylie Jenner and Hailey Bieber posted eyebrow-related stories which immediately caused people to assume these were directed at Gomez, attempting to mock her appearance.
Selena Gomez is a 30-year-old woman of many professions: a businessperson, actor, singer, stylist, producer, and more. She is considered one of the most beautiful and successful women in show business and currently, she is working on two shows Selena+Chef and Only Murders in the Building, she's also known for founding the successful beauty brand "Rare Beauty"
 She began acting and singing at the age of 7 because she was inspired by her mother, an actress who pursued theater. She is most known for acting in Wizards of Waverly Place a Disney Channel show back in 2007 where she played the protagonist Alex Russo, the show was a big success and caused her to obtain better and more mature opportunities, like her singing career.
Selena Gomez and Justin Bieber, one of the most popular male singers at the time, dated back in 2011, their relationship was one of the most talked about in that era due to their cute interactions, both having high celebrity status, and Justin's fascination with her, when they broke up a year later they went on and off for about 8 more years, but their relationship never seemed to last.
In 2020, Gomez accused Bieber of emotionally abusing her throughout their relationship. In a few of her songs, she describes and confirms how much damage he caused to her in a few of her songs, one of them being "Lose You To Love Me", in the lyrics it states "I saw the signs and I ignored it
Rose-colored glasses all distorted
Set fire to my purpose
And I let it burn
You got off on the hurtin'
When it wasn't yours, yeah"
She continued to talk about the hardship she had to face in the relationship but eventually, she learned to move on, she claims to still care about him but no longer has any romantic feelings for him.
Even after many years Bieber never seemed to forget about Gomez and wrote many songs saying he wanted her back, for example, "Sorry" and "Love Yourself" from 2015 as well as "Ghost" and "Anyone" from 2021.
In 2009, 12-year-old Hailey Baldwin met Justin Bieber for the first time backstage after his appearance on the TODAY show. It was confirmed that Hailey's father, Stephen Baldwin, introduced her to Bieber. 
In 2016 Bieber and Hailey confirmed their relationship to the public, and eventually married Justin Bieber back in 2018, many fans were distraught because they cared about the relationship Gomez and Bieber had.
The media portrayed Hailey as a lousy replacement for Gomez. They didn't recognize her as a person, only a fan that ended up with her celebrity crush and got lucky due to her father's success in getting a connection with Bieber.
Hailey was always compared to Gomez and many believe she attempted to be like her in order for Justin to like her more and because the media accused Justin of not loving her as much as he loved Gomez. After these accusations there seemed to grow bad blood between them.
Hailey is known for being a copycat of Gomez, from using phrases and words she said, copying her Instagram pictures, and getting an almost identical tattoo of Selena dedicated to her sister in the same exact spot.
After Gomez posted a story on Instagram with a picture of her with her eyebrows with the text "I wish I were as pretty as Bella Hadid" Kylie Jenner posted on her story a close-up picture of her face with the text " this was an accident?????" 
Sometime after both Hailey and Jenner posted a story including a screenshot of them on facetime showing specifically an eye-to-head photo focusing on their eyebrows.
The internet went wild and most assumed this was an act to shade Gomez, many began to bash both Hailey and Jenner. The situation went beyond Instagram with apps like TikTok that caused creators to make videos choosing sides, attempting to debunk this situation, or talking bad about their opposing side.
Yuliza Santiago, a sophomore states "I am team Selena, and I think that Hailey does deserve the criticism, I don't know about Kylie though" 
"I'm team Selena but honestly some people on the internet are taking it too far" states Belinda Lopez a sophomore 
Jocelyn Campos, a sophomore, states " I'm really on nobody's side because in my opinion, they are not acting like mature people. I believe that neither Hailey nor Kylie deserves the hate they are getting because nobody should be getting hate when they don't know the reality of the situation that's going on."
Gomez gained over 12 million followers in the span of 10 days and the numbers just keep increasing. Many went on Gomez's side and began to follow her and her Rare Beauty brand account which now has 4.7 million followers.
People started sending hate to Both Hailey and Jenner, both lost up to 800k followers combined from not only fans but celebrities like Rihana, Harry Styles, Miley Cyrus, Kit Kittredge, and many more.
 Gomez has reached over 390 million Instagram followers, surpassing the previous most-followed woman Kylie Jenner.
Leave a Comment