A Royal Experience
North Hollywood High School Prom 2023
You see it in movies, TV shows, even books: prom is undoubtedly the epitome of the American high school experience; and this year, it's clear that North Hollywood's night at prom was an unforgettable experience for all!
After months of preparation and planning on behalf of a dedicated Student Council – from every minuscule floral decoration to choosing a DJ to play roaring and enjoyable dance beats – North Hollywood's 2023 Prom took place this past Saturday, April 15th from 7 o'clock in the evening to 11 o'clock at night at the Skirball Cultural Center.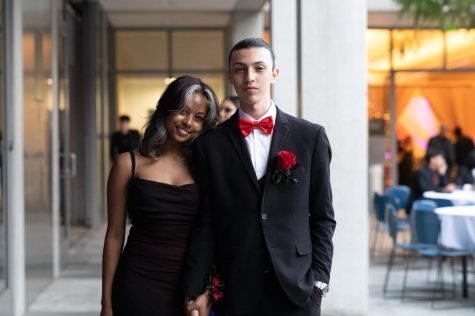 From various accounts, Saturday night generously flowed with iconic music hits, feelings of community and commemoration, and overall, a lively Senior class, relishing in the fact that this would be their last night altogether, savoring their final moments as high school students before they open up a new chapter in their young adult lives. 
Being that prom is one of the most anticipated moments in a high school Senior's year, it really is a big deal, even for those who are not in the moment of nearing graduation just yet. When asked about witnessing the craze for this year's prom and how it affected attitudes for her Senior year next year, SAS Junior Adriana Hernandez said, "It's scary because it's your last year of high school." 
To add, "It feels like a kind of once-in-a-lifetime experience, because once you're older, you will most definitely reminisce about high school, prom included." And those are many of the feelings attached to prom: nostalgia and bittersweetness.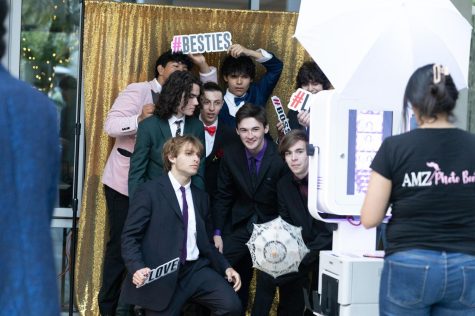 Especially when we see in the media how high school experiences are portrayed, it really builds up prom to be a monumental event that you will forever cherish and keep close to your heart. Erica Sherkin, a SAS Junior, says, "It's interesting because you're going to this huge party with your class who you've been in school with all four years in a setting where none of you guys have ever been. So, it's an interesting dynamic for sure because it's a once-in-a-lifetime thing."
Even though Erica has not experienced prom just yet, there can still be a lot of pressure to even think about it as a concept. And as Junior year comes to a close, Juniors like Erica realize now the excitement and allusion that comes with prom, even some nerves as well. 
However, North Hollywood is known for always being conscious of its students' needs, ensuring each and every event presented to them surpasses an important goal among many: making sure everyone is having fun! For HGM Senior, Colt Reichman, "It was a really good time. It was also interesting because you got to really dance your heart out and have a giant party with your entire class, there's nothing else really like that."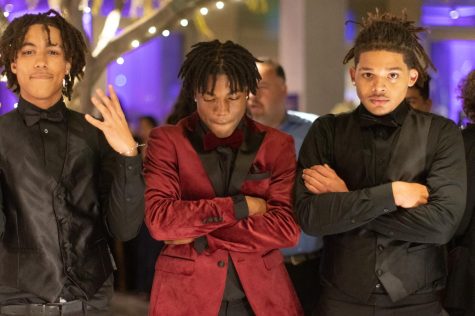 Colt even explained that preparing for the prom was great in itself. " I was a bit late, but I was also just practicing my dance moves so I could dance on the dance floor." What's worth mentioning though is that the dance floor is where most of the "togetherness" took place. 
Throughout the night, it was obvious that everyone, despite being from separate academies or even different grade levels ( as some underclassmen were invited as well!), simply enjoyed each other's presence and wanted it to be a special night. Colt says, "Because I'm in the HGM, I live in this secluded sense of the campus, but prom gave me the opportunity to see everyone in the Senior class. 
He emphasized, "I really got to see everyone that was with me Senior year was going through the same stuff I'm going through as a graduating Senior. It instilled that we are really graduating."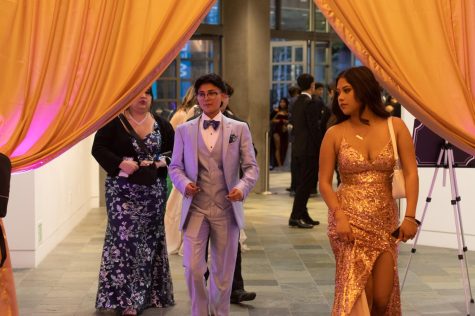 To add, Junior class President, Jocelyn Alas-Castillo observed that herself: "On the dance floor, everyone was dancing together! I kind of realized that because everyone wanted to make it a special night, so they put past all that (academies)." 
But, even if you weren't on the dance floor, the layout of the venue made it so that no one felt excluded. Colt continued, "I really liked the whole thing because you could go away from the main floor of the party, but still feel like you're there. You rarely saw people walking around themselves. Overall, the vibe was just happy to be around everybody." 
To add, there was a vast selection of meals to choose from. According to Colt, he was pretty impressed by how much there was to eat: "They had good food. There were vegan, gluten-free options, some pasta, chicken, cucumber, and a lot more." And as some students are skeptical if food for hundreds of people will actually live up to their expectations and hope they got their money's worth, North Hollywood students seemed to be satisfied with the menu!
All thanks to the Student Council, many of those who attended were pleasantly satisfied with the obvious planning that went into setting up the venue. Jocelyn, being one of the main helpers in getting the Skirball ready, added all the final touches before the students arrived, and said, "The Skirball was a really good balance because it wasn't too far.
"In the end, it looked really nice because we put thought into the small details. We even got real flower centerpieces and they're super expensive! But, they added a really nice touch." In fact, what was also nice was the various areas to hang out. You could live it up on the dance floor, or even hang out with your friends on the upstairs terrace. 
The overall set-up was really intriguing to students as well. Everything was carefully placed to ensure that every attendee could enjoy the party from all areas of the venue. As the dance floor was front and centered, inclusive of all students, the DJ was positioned in front of the pond, spotlighted with eclectic purple lights, moving with the beat of the music, exuding good vibes.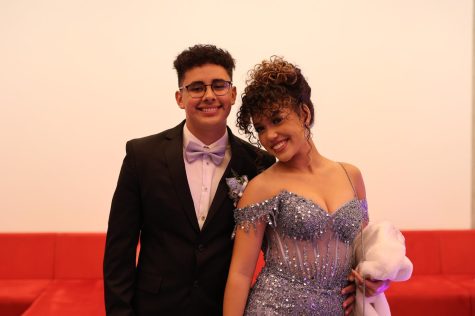 Furthermore, not only was this a night to remember for Seniors, but also for teachers who attended, as it allowed them to reminisce on their high school years! Mr. Menjivar, an SAS chemistry teacher who in fact, attended NHHS, and won Prom King expressed, "It was nostalgic especially because now that I'm working with people I went to prom with. Like, the music brought back memories." 
Because prom is meant to bring people closer together, it's a night in which you observe your fellow classmates in a different, more unapologetic light. With energetic music and the good vibes, this year's prom brought students all over NHHS to celebrate and go all out on their final months as part of the school. 
According to Mr. Menjivar, it was clear that everyone was just "doing their own thing and having fun with their friends." As Senior year comes to an end, it's unquestionable that Seniors are going to make this night worth it. Menjivar states, "Senior year hits you, like this is it." Coming from a teacher's perspective though, there were definitely some bittersweet moments among the chaperones.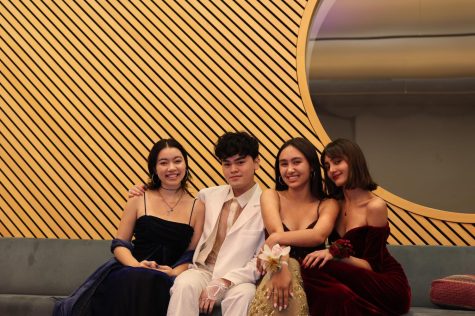 Not only would this be a hard goodbye for Seniors and their friends, but Seniors and their teachers as well. Ms. Rebulard, a Spanish teacher for our school's STEM magnet, as well as Track and Field coach says, "Overall it was kind of sad. I got to see Seniors I've had for all four years and now they're graduating, so it was a bittersweet moment. It made me want to chaperone next year though."
 Considering the fact that Ms. Rebulard also shared that she did not get to experience a high school prom, she enjoyed observing individuality among the students: "There was a little bit of everything and that was crucial too in making it an exclusive and inclusive experience for everyone; it was really great!" 
To continue, Ms. Rebulard observed, "A lot of well-dressed young adults. As a female, the dresses were something that was very nice to see!"
Having the opportunity to recognize self-expression is undoubtedly one of the best parts of attending prom. Our very own Royal Prom Queen, Brie Almeida, expressed, "I loved the preparation process! Even getting ready for a normal day is my favorite part. I loved seeing everyone dressed up, so really getting done up was fantastic!"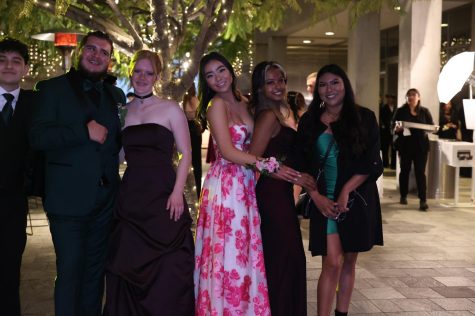 As someone who is very extroverted and is involved on campus, Brie shared, "Being a new student at this school, I really thought I was given a new opportunity that most aren't. I got to really take the best parts of myself and put them forward into who I am." 
When asked about winning Prom Queen, Brie made it clear that, "Winning wasn't a big deal to me, but it's all thanks to the friends I've made in the last two years." Hence, as much as winning the royal court is glorified in pop culture about high school, in reality, it's students like Brie who saw it more as a way to continue the party with friends and still keep other people included in such a special night. 
Being that prom is only four hours, it's difficult to have to leave behind those feelings of fun and belonging. But, as Seniors wrapped up the night it was emotional. "It definitely was hard as prom was approaching. It was easy to be like 'Oh my god prom is coming up' and then you're just there." 
However, as the year comes to a close, it's a nice way to recognize the Seniors and their hard-working high school years, ready to move forward and open a new chapter in their lives. Prom symbolizes more than just partying, dancing, and loud music, it's the night that marks the most indelible experiences that one gets the anticipatory chance to say farewell to young adulthood, and embark on an even brighter future.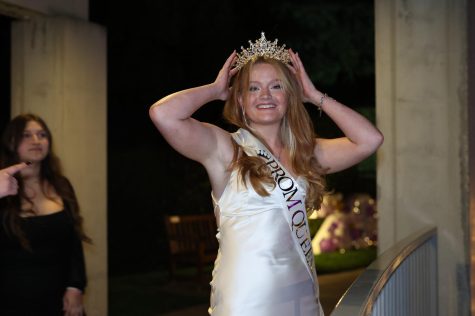 Leave a Comment