The Rise and Fall of Kanye West
A Look Back on One of the Most Controversial Artists Ever.
Kanye West: controversial figure, producer, visionary, designer, born again Christian, absolute madman. Just a few words used to describe the man who's taken the world and shaped it in his image.
In recent years Kanye West has had some very shaky experiences, from a drug-induced breakdown leading to a life-changing hospitalization, all this led to his eventual support of current President Donald Trump. These recent antics have led to many people on the internet to "cancel" him. This really hasn't led him astray; he still continues to make as much music as he can, and he still continues to be one of the highest-selling artists ever, recently tying with Eminem for his 9th consecutive number one album, the self-proclaimed "god" is still as popular as ever.
Starting as an underground beat-maker, gone mainstream, producing hits for artists such as Jay-Z and Common, Kanye West was thrown into the spotlight once his high pitched, sample-heavy style was heard around the world with such a huge hit like Izzo (H.O.V.A.).
An ever-changing artist who is always breaking down barriers and ushering in new eras of the music world; Kanye is known for always innovating and re-imagining himself for his new projects. In his 2004-2007 era, he was a college student on the come up: making feel good, soul sample-heavy, eccentric beats. These albums also never relied on the gangster or bling rap aesthetics and instead relied mainly on talking about emotions and even politics occasionally. College Dropout, Late Registration, and Graduation were instantly hailed as classics, and are still as infectious as they were nearly 15 years ago, of course, things are bound to change though.
In 2005 came controversy when during a broadcast to benefit victims of hurricane Katrina, Kanye blurted out that President at the time, George Bush "doesn't care about black people", with many responses ranging from shocked to negative to applauding, this was a first of many outbursts from Kanye and in the public eye surely the worst he could do, well that's the least he could do.
Of course, things happen, and everything changed for Kanye when in 2007 his mother died from a botched surgery procedure, causing him to mourn and also release his most controversial and polarizing release to date, 808s, and Heartbreak(released in 2008). With this album, he ditched rapping entirely, and instead relied on autotune, the Roland Tr-808 drum machine, as well as heavy use of synthesizers. This album completely revolutionized the scene once it hit the market, polarizing the audience Kanye had attracted with his first three albums, while influencing an entirely new generation of artists, including Drake, one of the biggest artists in the world at the moment.
Along with this era came a controversy no one could possibly predict. During her acceptance speech for winning best video at the American music awards, then rising country(currently turned pop)star Taylor Swift was interrupted by a drunk Kanye, claiming that Beyoncé had the best video of all time(ALL-TIME) and that basically, Taylor did not deserve the award. This caused so much public backlash that even the president at the time, Barack Obama responded by calling him a jackass. This caused Kanye to reclude and evaluate himself, he was no longer a figure a lot of people looked up to and saw as a hero, he instead was someone even the president of the United States hated, and whom the writers at South Park could make fun of.
This new reclusive Kanye was so scared of screwing up, so scared of embarrassing himself again, so he moved to Hawaii and began to record a follow up to 808s. This time, setting up a grandeur studio and inviting a grand cast of guests out to join him, including Nicki Minaj, Kid Cudi, Jay-Z, Rick Ross, Bon Iver, Chyi the Prince, Pusha T, and even Elton John. This new album, titled My Beautiful Dark Twisted Fantasy proved to be just what Kanye West needed to prove himself worthy of his spotlight he was given all those years ago. Songs like ¨Runaway¨, and ¨Devil in a New Dress¨ with their large in scale and beautifully orchestrated backgrounds proved to be grandiose as well an example of perfection. West had found beauty in his imperfections and used it to his advantage to create a truly unique and cinematic album that pleased all the right crowds and won back the audience he had polarized years ago.
After the success of Twisted Fantasy in 2010, as well as the success of his spiritual follow-up project with Jay-Z, "Watch the Throne", Kanye wanted to venture into new territory. The shoe and fashion industry was blowing up, and Kanye soon wanted to participate. Signing a deal with Nike, Kanye was used mainly as a face for the company and not as a designer as he had intended.
Kanye was frustrated, so frustrated he began taking it out in his music. This music was angry, compassionate, and raw. Collaborators such as Rick Rubin, Daft Punk, Chief Keef, Bon Iver, and Arca really bring this album to life.
Along with Yeezus, led to the birth of a more hectic side of Kanye, knowing that he could gain more attention through being controversial and more aggressive. The tour and rollout for Yeezus showed these factors in full action; going on rants, wearing provocative masks, using religious and controversial symbols, and also overall being more and more hectic. The world had turned its back on Kanye once again, becoming tired of his constant antics, controversial comments, and egocentric image.
Eventually, Kanye found a glimpse of peace in 2015 with this new hectic lifestyle he was developing, marrying girlfriend Kim Kardashian and having a child, North, with her. Things seemed to be finally shaping up to be okay for Kanye and with a new album on the way slated to feature Paul McCartney on multiple tracks and with the singles sounding great, people were beginning to pay attention again. In classic Kanye fashion, the album was canceled and started from scratch.
Nearly a year later in 2016, Kanye had started a new brand, Yeezy, a shoe brand that currently in 2019 has crossed the 1b line and is raking in money daily. At a Yeezy event at Madison Square Garden, Kanye premiered a new album, unfinished in nature, but a new album nonetheless, titled The Life of Pablo. This album shared many of the central themes of Yeezus but had toned down the anger and replaced it with more sexual as well as a more personal and depressing fueled ride through Kanye's ego. It's an ego trip through hell. The rollout of this album was a spectacle, originally only released through Jay-Z's TIDAL and updated regularly with changes to songs, and new songs, the album was officially finished and released in April of 2016 and topped the charts. Kanye was in the spotlight again, just as he always is.
This touring cycle, for the most part, seemed innocent, a floating stage above the crowd that floated across the arena while West performed. Not much happened minus a few rants, but that was considered a normal occurrence at these concerts. It wasn't until November when Kanye had a drug-induced meltdown on stage and made controversial remarks like that he would vote for Donald Trump, that he soon canceled the tour and was hospitalized.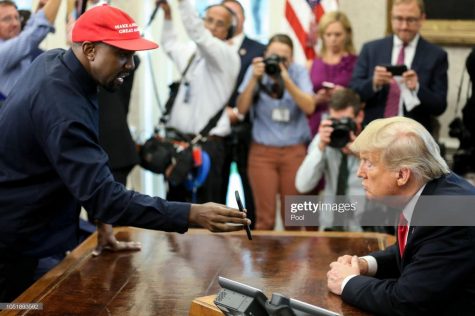 There was nothing but mostly radio silence for two years, deleting all media and other than an appearance at Trump Towers in December of 2016, and the ins and outs of recording studios as well as releases of new Yeezy shoes and clothes throughout the years, Kanye was rarely seen.
Seemingly out of the blue, Kanye reactivated all his social media and continued his frenzy of controversy on Twitter, this time with a situation that would completely change his public perception. He was tweeting strange philosophy and once again fortified his support of right-wing ideals and the current president, Kanye was invited onto TMZ's broadcast show, but that went terribly awry. Stating that slavery "was a choice", he was propelled into the spotlight once again, but in the worst way possible. With these antics, Kanye was soon lauded for the things he would say on Twitter and in subsequent interviews. There was not much good public opinion towards him, and while his music was still just as innovative as well as acclaimed, there was a lack of awareness.
Claiming to be releasing 2 albums fully produced as well as performed by him, and 3 albums by other artists produced by him in 5 weeks, Kanye had been hard at work for the past 2 years making new music that would possibly not be well received due to his antics. These albums were generally well-received, especially Kids See Ghosts, the debut of Kanye's new group with rapper Kid Cudi. This album was very well received and has since become a cult hit among smaller music circles. The solo album, Ye, was nearly unfinished and was made in two weeks following the TMZ debacle, and the cycle for the rollout of all five of these albums was completely unorganized and was filled with last-minute changes and multiple updates of the mixing and features, as well as delays of all five albums by almost entire days. This was the start of Kanye's descent into complete madness.
After the summer release cycle, the tour of hype didn't die down at all. Releasing the satirical single "I Love It", as well as its accompanying ridiculous music video, there was much speculation as to if there was another album on the way. These suspicions were soon confirmed after a weeks notice announcement of an album titled Yandhi would release following Kanye's performance on Saturday Night Live, but after holding the cast and audience hostage (basically) and giving a pro-Trump speech, off-camera as well as delaying the album twice(!), the public started to grow tired of these antics and soon lost interest.
After a hectic year, Kanye disappeared once again, this time seemingly just to separate himself from the negative climate he had created in the previous years. Around January there were some clips shared online of something called "Sunday Service", a gospel collective that he had seemingly formed on short notice. Sunday Service only performed on Sundays, and Kanye was not the center of attention either, instead, he left the focus to the group and instead provided minimal support.
Soon news began to surface of Kanye announcing himself a born again Christian, as well as a small announcement that a new album, titled Jesus is King would be released in September. Jesus is King was released in October after multiple delays, following this was an announcement that he would only ever release music with no curse words from now on as well as rerecord his old music to reflect his "Christian values". The album was met with lukewarm reviews, but sounded unfinished. The full version of Yandhi had been leaked months prior and was unfinished as well, but sounded somehow more complete than the finished product.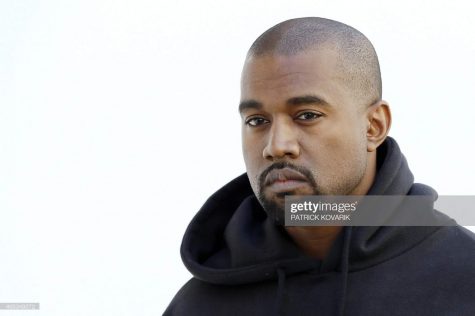 Currently, Kanye is riding off the tails of Jesus is King, going on a small tour with Sunday Service, as well as doing more interviews. It seems he has found comfort in religion, and while it's hard for many (including me) to accept what he has become in the past year, it's near impossible to deny his influence on hip hop as a whole. Reshaping the scene many times, starting new trends musically, as well as being prolific and identifiable just through his name. Starting from nowhere, to reaching the top, to becoming a born again Christian, he has made a name for himself in the music world, and there may never be another artist like him.
Leave a Comment