Apple Music vs. Spotify
This is the question I asked in a survey, which received 37 responses and surprised me quite a bit at first. As a user of both Apple Music and Spotify, I'm more used to Apple Music and never really thought that one app would be superior over the other. Apple Music and Spotify are two of the biggest music streaming services in the world right now, with over 50 million+ songs in their libraries. Chances are almost everyone has either one or both of the apps on their phone, tablet, or computer.
According to the survey, Spotify was chosen 83.8% of the time while Apple Music only got 16.2% of the votes. When I asked why they chose this, one student said, "The selection of songs on Apple Music are so limited.
Spotify is constantly updated to include the latest songs as well as some old goodies that may not be as popular. Plus, if you try to look for an unpopular song on Apple Music, you'll get a cover of it more often than not. This stuck out to me because whenever I search for a song from a video game soundtrack or by a lesser known band, the only results that usually pop up are either an instrumental, dreadful cover, or none at all. However, if I were to search for the same ones on Spotify, they most likely would be available. Another pro Spotify user said, "Spotify has more accessibility, especially since I am strictly Android. I pay for Spotify premium, and have had no issues for the general music that I look for and listen to. Plus, they recently sent me a free Google Home… so that's kinda sweet."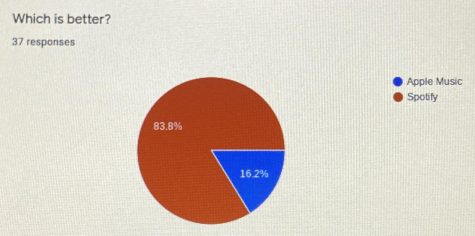 Spotify has a premium and regular (with ads) version, with premium being the paid version. Apple Music doesn't have a free version at all, and that's most likely why so many people use Spotify as their first choice. But contrary to popular belief, Apple Music does have its pros. One being Apple Music pays their artists more than Spotify does, with $0.00735 per stream. Spotify only pays its artists $0.00437 per stream. Also worth mentioning is that both of the apps are $9.99 a month and $4.99 for students, and both have an up to 6 people family plan for $14.99, so when it comes to pricing they aren't that different.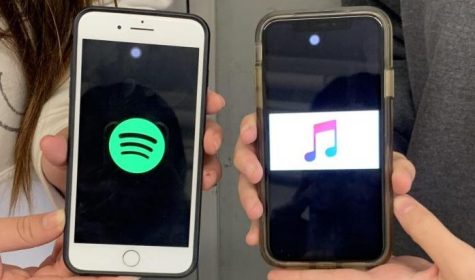 After researching both and seeing these responses, I can assume people prefer Spotify for its aesthetic, wider range of personalized playlists, and free with ads version. Its popularity can be attributed to the end of the year wrap up feature in which Spotify shows you your most streamed songs, artists, albums, etc., of the year. Though Apple Music did introduce their own version of it in 2019, Spotify has been doing theirs for a couple of years. In the end, when it comes to aesthetics and personalization, Spotify wins. But for a more realistic point of view, Apple Music is better when it comes to paying artists for their streams. In the end, both apps connect artists to their fans.
Leave a Comment