A Window Into Zoo
What's it really like over there?
Located on an isolated, secluded satellite campus of North Hollywood High School, the Zoo Magnet program offers a unique high school experience for animal-loving teenagers. In addition to its tranquil scenery, this program works intimately with the Los Angeles Zoo, which is located right across the street, to provide exciting opportunities for students to work at the Zoo. 
There are many reasons why Zoo students are especially fond of the program "I like having close friends and being able to work with animals," says senior Thea Jones. 
During her time at the Zoo Magnet, Thea has participated in a meerkat research internship and takes a course called Animal Husbandry; "My internship involved observing meerkats for long periods of time, which was pretty difficult…I like my Husbandry string-I shadow the keeper in charge of the Tasmainian devils!" 
The Animal Husbandry course is only open to seniors and provides an opportunity for students to shadow a zookeeper. Thea then explained what a "string" is; "Instead of taking care of only one animal, zookeepers are in charge of many animals who are near each other at the Zoo." 
During a student's junior or senior year, they have the opportunity to participate in one of three internships. One is a research internship at the L.A. Zoo, another is graphic design at the Zoo, and the third is an internship at the Autry Museum of the American West.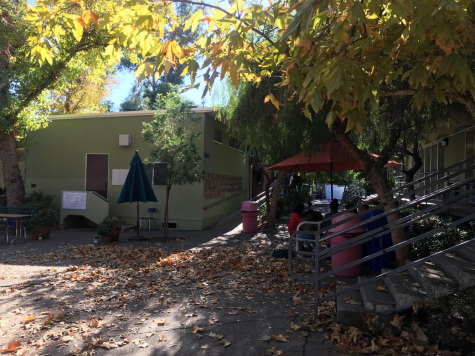 Raquel Frohlich, another senior at Zoo Magnet, was selected for the graphic design internship at the L.A. Zoo.  Raquel describes her duties as an intern; "I help design animal info signs, posters, and basically anything else the Zoo needs…Lately, I've been helping make a wooden board look more weathered…and I have been adding color, including shadows and highlights, to black and white illustrations of humans and birds." 
She goes to the Zoo twice a week for about two hours each day (the internship is in place of one class period). According to Raquel, this internship not only offers a fun opportunity, but also a chance to get outside, "Working at the Zoo is a lot of fun…I like getting out of the classroom for a while,"
Although the Zoo Magnet is a wonderful program, there are some downsides to its size and remote location. Because class sizes are so small (less than 35 kids), keeping good relationships with all of one's classmates is very important, as they'll be in most of your classes for the next four years.
Esme Soler, another senior at Zoo Magnet, describes why she likes small class sizes, "It's more one on one with the teacher."
The same is true with teachers: students have teachers for multiple years, meaning it's very important to maintain good relationships with them as well. The Zoo campus' remote location severely limits options for lunch pass holders, but the surroundings of Griffith Park provide very tranquil scenery, full of wildlife.
The Zoo Magnet program at North Hollywood High School is truly unique. From its unique opportunities to beautiful surroundings, this campus provides animal-loving students with an experience that cannot be found elsewhere. Senior Thea Jones says, "I really love it here…You can't find another school like it."
"
Working at the Zoo is a lot of fun…I like getting out of the classroom for a while"
— Raquel Frohlich
View Comments (1)