Dave's "Not So" Hot Chicken
Is the Valley's new hot chicken spot worth the hype?
Juicy, tender, and delicious Nashville hot chicken is taking the nation by storm. It's simply just not "hot wings", it's spicy crispy goodness. I like to believe I am a hot chicken connoisseur due to my years of experience eating at hot chicken restaurants, especially living in the Valley where there are many pop-up hot chicken spots. So with my expertise, I know when I'm eating a good Nashville hot chicken.
Recently, a new location of Dave's Hot Chicken (or "Dave's") opened up in the NoHo Arts District, and since then, it has been the biggest talk in North Hollywood High School. After hearing about this "legendary chicken" I finally decided to go to Dave's with an open mind and an empty stomach right after school. Since I entered on a Wednesday afternoon, there were many empty tables (locals know it's usually packed). I got a "Combo #2"; two sliders with fries. I decided to get the spice level "extra hot", one below the spiciest level "reaper". Many people have told me that the "medium" itself was spicy. I decided that "extra hot" was my best bet as I would get the burn and flavor I craved. 
About ten minutes after ordering, I received my sliders and I quickly found a seat. What I noticed first about the sliders was its size. The size of it is definitely bigger than an average slider; it was like a normal burger with a tender in the middle. If you've never had a hot chicken sandwich or slider, you will be greeted with a wave of heat, but alas, as I took my first bite of the slider from Dave's, I was greatly disappointed. No spice whatsoever. 
I continued to eat it, hoping the heat will kick in but it merely bumped into me, then apologized, and I never saw it again. A portion of the tender in the slider was overwhelmingly salty which didn't make the experience any better. Also, the wavy French fries were just mediocre. 
However, I didn't hate everything. The coleslaw was crisp, the brioche bun was soft and buttery, and the comeback sauce was flavorful, but the tender did not match up to the hype. It's sad to say that I was greatly disappointed in Dave's Hot Chicken.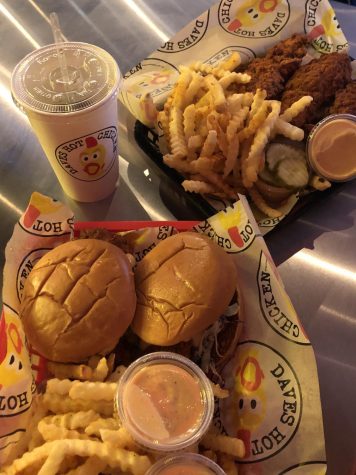 Some may call me a "psychopath" for not feeling any burn, but I am not the only one who felt this way. Lamia Khan, an alumni of NHHS Zoo Magnet, ordered a "Combo #1", two tenders with fries, also at the heat level "extra hot." Lamia claims, "I went in with low expectations with the spice and it met those expectations." Still, she wasn't completely dissatisfied because it tasted like a good chicken sandwich. Customer Sawan Tiwari, who got a "Combo #3" (one slide, one tender, and fries) and heat level "extra hot", was also let down. Sawan felt like the tender lacked the spicy flavor. He said, " I basically didn't reach for my water at all, it was just very underwhelming."
After talking to Lamia and Sawan, I decided to conduct a survey to see what others thought of Dave's Hot Chicken. 60% of respondents ordered a spice level of either "hot," "extra hot," or "reaper." All those individuals who ordered amongst these three spice levels generally did not find it to be spicy, giving it a rating of 3 or 4 on the "spiciness scale," 1 being not spicy and 10 being extremely spicy. Even with giving it a low rating on heat, many people found the hot chicken as a whole delicious, and would continue to go to the establishment. 
I, on the other hand, will most likely not go again. To say that I was underwhelmed is an understatement. I was advertised a very hot chicken that may burn my taste buds off, but I was sadly presented with a very salty chicken sandwich from Jack in the Box. 
Despite all these shortcomings, there are still some positives about Dave's; the efficient service, welcoming ambiance, and fun art. However, if you like looking for a hot chicken, I doubt that you'll be getting that from Dave's Hot Chicken.
"
To say that I was underwhelmed is an understatement"
— Leana Khan
View Comments (3)