Bringing Home the Bacon
A Look on Our Basketball and Soccer Lady Husky League Champions
2020 has not only brought victories to our all girls JV basketball team, but our Varsity soccer team as well. Both teams went up against several schools, using their blood, sweat, and tears to take home the victory as the league champions. 
No matter the tier of sport you are in, it will always be difficult going up against other players that you know nothing about. It isn't easy to work in sync, but our huskies accomplished this with trial and error, a key component to their victory.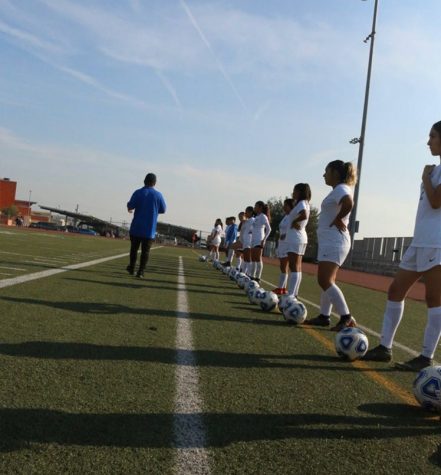 Seventeen of our outstanding players took the spotlight as our league champions.  "Our communication has improved a lot." says one of the Captains of our Varsity soccer team, Erika Samayoa as she explains one of their improvements that led to their win. Soccer isn't only about kicking the ball around, you must be able to strategically maneuver it swiftly among other players to score the goal. With this being said, strategizing is extremely important on the field. Although not every team can fully perfect it, they give it their all, which is all that matters. Evelyn Reyna, another Captain for the team dabbles on this point, stating, "Our plays or formations aren't always the best, but we make the best out of it and and avoid playing kickball. We try to move and pass and create 1 2's or give our halls or create crosses." With being committed to a sport so deeply, our lady huskies learn not only to improve their plays, but to learn the true idea of what being on a team is all about. Kayla Gutierrez, a member of the team who takes on the field as #8 reflects on what being a part of such an amazing team has shown her. She recalls what the true meaning of being part of a team is, "It's taught me to be able to rely on my teammates and have them hold me accountable as well. A team needs to have each other's back, no matter the wins or losses because we need to improve together."
Taking 1st place with the most wins, our JV basketball team conquered many schools, including games against Grant and Taft High School. Their hard work and dedication paid off in the end, leaving the court as our district league champions. Working as one is most important when coming to this sport. Kayla Martinez, a current member of the team, expresses, ""Personally, I ultimately feel generally proud as a team. I must say that I as an individual don't feel fully accomplished just due to the feeling of wanting to have put even more during the games. However in terms of practice and the hard work we put in together, being league champions was something we worked for." Being a part of such a complex sport also requires you to know your team, their moves, and their thinking.  It's all about knowing who and where to pass the ball to in order to make the shot. Kayla strongly agrees with this idea, saying, ""I feel that the longer we played together and interacted with each other throughout the season, the more we played better due to the underlying companionship and familiarity with each other. We spent time with each other everyday after school and we became friends, more than just teammates." Just like any other sport, dedication will always be a priority benefiting both your team and the game. Sarah Rivas, another member of the team, explains her experience " [It's] teaching me that you have to be humble and motivate yourself and everybody else because we all are team and we need to lead each other to be the best we can."
We are satisfied to conclude these seasons of two amazing sports teams, who gave it their all throughout the games. Although it wasn't easy to say the least, they conquered all obstacles and took home the title.
Leave a Comment