The Soar of Korean Food
Food that has taken America by storm
It is well known that Korean culture has taken countries all over the world by storm, but food has come out on top. There are a wide variety of dishes and snacks that have made their way to the US. 
Let's start with the hundreds of different kinds of instant ramen that everyone has come to love and enjoy. With all the focus Korea has been getting lately for their film achievement with "Parasite", the ramen dish that was presented has been the center of attention which is called "Ram-Don". It is also called Chapaguri, which is the mix of Chapagetti and Neoguri with sirloin steak and it has spiked not only in Korea, but also in America. I'll have the recipe down below if you would like to try it!
Now out of these hundreds there is one that has stuck out to the public the most: Hot Chicken Fire Noodles also known as Buldak Bokkeum Myun. This particular ramen has gone viral for its throat burning spice that makes you drool, sniffle, and cry all at the same time. There is such a wide array of flavors that has launched starting from Carbonara to Elote Corn. They are attempting to present a multitude to flavors that would appeal to a variety of people. This has been popular worldwide as social media influencers came up with the idea of the "Fire Noodle Challenge" which is how it became known to a bigger audience. If you enjoy tongue burning sensations then you should definitely give this a try but beware of the aftermath. You can always find these at your local Korean supermarkets or even on Amazon!
Moving along to another dish that has also grasped the attention is tteokbokki which is simply spicy rice cakes. It's not quite as spicy as the fire noodles but it has a hint of sweetness. It's also known as "street food" in Korea and multiple famous tteokbokki restaurants have made their way to America. A particular place is Yuppduk and they are known for their extreme levels of spice and strong flavors; it's a place you can always go to enjoy with friends especially because their portions are huge! A little bit of a warning, if you can't handle spicy foods make sure to order it as EXTRA MILD.  It will save your life or always have milk by your side. I'll have some of their locations in LA at the end of the article so check them out!
Away from all the spicy dishes, there was a hit spot in Koreatown called Myungrang Hot Dog which had become insanely popular in Korea and was finally brought to LA. It was crazy the first couple months and you'd have to stand in line for at least 30 minutes to an hour and you can only order 5 per person. The most popular kind is the one with full mozzarella in it.  Usually they coat every corn dog in sugar, however it's coating is different from your typical corn dog, it is made out of rice. There are 8 different kinds of hot dogs and honestly after one or two it starts to get greasy so it's recommended that you pair it with Yuppduk's tteokbokki to get rid of the grease. It is definitely worth trying to get a taste of what's trendy in Korea!
Last but not least Korean Fried Chicken. It's very different from what you're used to because American-style fried chicken has thick coating as you soak it mostly into buttermilk. While Korean-style chicken is very different, we tend to focus on rendering the fat in the skin which creates a thin crust and it's dipped into the batter only once before going into the fryer. This is how Korean fried chicken is light and doesn't have that overpowering seasoning like American-style. Korea also has fried chicken that is tossed in a thick sweet and spicy sauce which is called yangnyum chicken. To create this flavor is a mix of gochujang (red chili pepper paste), ketchup, corn syrup and garlic and it has this immaculate flavor that envelops your mouth. It helps get rid of the greasiness of the fried part with the kick of spice. 
Korea is widely known for their impact in technology, entertainment, and most importantly food. I wanted to share some of the most popular items and crowd pleasers that people are crazy about!
Recipe for Chapaguri aka Ram-don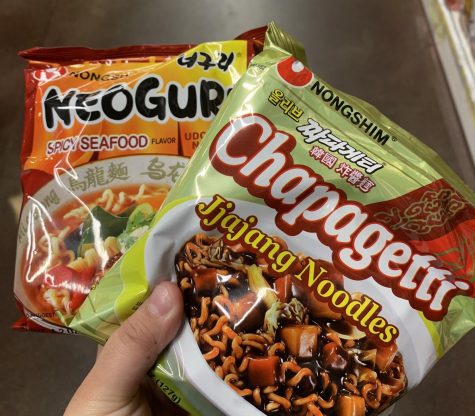 How to Cook the Noodles
Boil the water in a pot.

Once the water is boiling add the noodles and the dried vegetable flakes.

Cook for 2-3 minutes and loosen up the noodles

Drain most of the water out make sure to leave about a cup 

Add your Chapagetti sauce packet and ⅓ of the Neoguri sauce packet

Mix well and enjoy!
Yup Dduk Locations:
YUP DDUK LA: 3603 W 6th St, Los Angeles, CA 90020
YUP DDUK OLYMPIC: 3132 W Olympic Blvd, Los Angeles, CA 90006
Myungrang Hot Dog Locations:
450 S Western Ave Ste #313, Los Angeles, CA 90020 
2130 Sawtelle Blvd Ste 211 West Los Angeles, CA 90025
 6970 Beach Blvd Buena Park, CA 90621
Leave a Comment