Lakers Assert Dominance: Knot Up Series at 1-1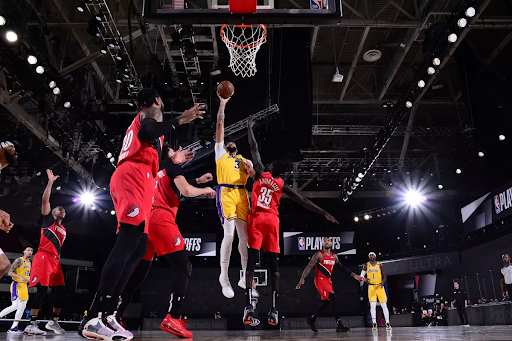 Anthony Davis (3) puts back up a heavily contested floater in Game 2 of the 2020 NBA Playoffs (Photo by Jesse D. Garrabrant/NBAE via Getty Images)
LAKE BUENA VISTA, FL– Despite both Games 1 & 2 being two days apart, the Lakers looked like a completely different team in Game 2. Led by the dominant Anthony Davis (31p/11r), the Los Angeles Lakers cruised by the Portland Trail Blazers 111-88 to tie the series 1-1. What's even more impressive? LeBron James scored only 10, which means the Lakers were able to get the dire offensive help that was missing in Game 1.
The Lakers knew they had to be two things they weren't in Game 1: more aggressive and more efficient. They played this mentality into existence as they were able to jump out to an 18-9 lead, partly thanks to back-to-back 3s from Kentavious Caldwell-Pope. From that point on, it was all Lakers. Los Angeles was relentless driving to the basket, controlling the paint, and distributing the basketball. It was the type of offense LA expected in Game 1 and why Game 2 was so promising for this Laker offense.
As equally impressive though was LA's defense; holding the league's hottest offense to 39 points and 37% shooting from the field in the first half. The control of the paint to go along with a much improved defense led Los Angeles to take a 56-39 lead at halftime. What followed was a complete shutdown of Portland's offense, as the Lakers held Portland to just 19 third quarter points and just 88 points in total. 
LA's defense was so suffocating that they actually allowed their shooters to shoot better than Portland's. LA shot 47% from the field and an impressive 36% from beyond the arc. Considering who was shooting for the Lakers, 36% from downtown is something LA will take any day of the week. If the Lakers can take anything away from tonight, it's their ability to turn up the intensity and realize urgency. That bodes well for a team with championship aspirations.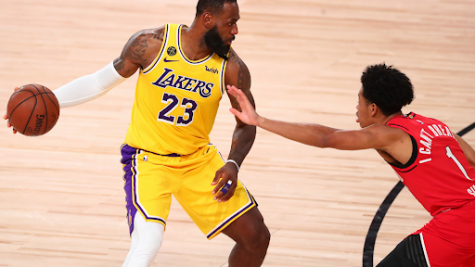 Game 2 was overall a very encouraging performance from LA. While the Lakers are still not and probably won't ever be a good shooting team, they can sleep well knowing their defense can make a great offense look average. What's even more impressive however is just how pedestrian LA made Portland look from the perimeter. Portland sports the best 3-point shooter in the Bubble in Damian Lillard (who left the game with a dislocated finger, but isn't expected to miss time), yet the Lakers held the Blazers to 27% shooting from long range. That was shocking in itself because defending the 3-point shot is one of the deterrents of the Lakers' season talked about in the previous article. 
The other question marks for the Lakers, however, were partially present throughout the game. While LA did improve on their 3-point shot from Game 1, it was still 17 misses to 10 makes. Not the worst thing in the world, but certainly not ideal. It's especially troubling when the misses come from guys who have made a living off the 3-point shot (i.e. Danny Green). Still, 10/27 is leagues better from 5/32 and the Lakers have both Kentavious Caldwell-Pope (⅘ from beyond the arc) & Anthony Davis (¾ from downtown) to thank for that. 
Speaking of KCP, he had himself quite a night (16pts) and was surprisingly the Lakers' second leading scorer. It's especially uplifting to see a performance like that after the way Caldwell-Pope struggled in Game 1 (1pt, 0/5 from downtown). However, it once again reverts back to a drawback of the Lakers' season and the big question of the season: Who is going to be the third guy? Well according to Head Coach Frank Vogel, it's a rotating position. Some nights it's Kuzma, other nights it's KCP, and other nights it's Danny Green. While it is good to always have three guys to rely on, it lacks consistency. 
Even King James knows it–that's why he was so keen on Kuzma being the third guy after a thrilling win against Denver earlier this month. However, Kuzma only scored 9 points in Game 2 so it appears the revolving door of "Lakers' third guy" keeps revolving. It didn't hurt LA tonight, but will it eventually? We may get an answer as soon as Saturday, as the Lakers are set to do battle again for Game 3 on Saturday @ 5:30pm on ESPN.
Leave a Comment
Your donation will support the student journalists of North Hollywood High School. Your contribution will allow us to purchase equipment and cover our annual website hosting costs.