No More Testing?
No Required Test Scores for UCs Until 2024
On May 21, 2020, the University of California Board of Regents unanimously approved the suspension of the standardized testing requirements for Californian freshmen applicants. However, this suspension will only last until Fall 2024 as the board is creating a new test that will, "better align with the content the University expects students to have mastered for college readiness." 
But what does this mean for future applicants?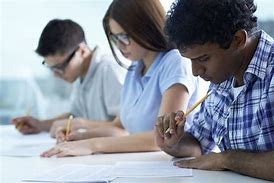 Veronica Gonzalez, the college counselor at North Hollywood High School, believes that the new testing policy will cause high schools to focus more on the SBAC, also known as the CAASPP. "What [colleges] want to measure, they can measure from the school sites," she explains, "What that means for students is that they have to really hone in on that aspect. This is so that universities and colleges have something to go by because there is a need for some kind of measure in tests." However, this is only speculation as there has been no news about whether or not the SBAC will be playing a bigger role in the college admissions process. 
When asked about her thoughts about the new UC testing policy, Gonzalez exclaims, "I prayed, and I'm not a prayer, for the approval of the suspending and the removal of the SAT and the ACT.
"It clearly is not a measure of a student's success." She adds that she was extremely happy when she found out about the suspension of the testing requirements. This sentiment is profound within the applicants as well. Kailen Grottel-Brown, a current senior at North Hollywood High School, recalls the moment he found out about the news: "This is actually good because they can see the other parts of me that are stronger than my standardized testing." 
However, not everyone shares the same sentiments. 
Dana Lee, a senior at Fairfax High School, feels as though, "there was no point in [her] taking the SAT in the first place." For her, the rescinding of the testing requirements meant that she is not given the chance to stand out from the pool of also highly competitive applicants. Some students have even gone out of state to take these standardized tests. Grace Kim, another senior at Fairfax High School, went all the way to Arizona to take the SAT as she, "didn't want her studying to go to waste." 
Not only do seniors have to worry about other competitors, but they also have to worry about different parts of their application now that testing is optional. Julia Garcia, a senior at North Hollywood High School, states that "focusing on enhancing my PIQs as well as my extracurriculars is more important to me now." However, this is not an easy process as many students were relying on their test scores to make their application look more appealing to the college admission officers. Andrew Tafur, a senior at North Hollywood High School, was planning to take the SAT once more to achieve a higher test score, but he is now, "stressed since I have to worry about the other parts of the application." 
It is no doubt that the college admissions process this year will be extremely unpredictable, but Ms. Gonzalez offers words of advice to the class of 2021: Be a solution-oriented person and keep fighting the fight.
Leave a Comment
Your donation will support the student journalists of North Hollywood High School. Your contribution will allow us to purchase equipment and cover our annual website hosting costs.